Amber Lowry is in her first year as head coach, but she's been coaching in the Montoursville High School cheerleading program for six years. Over that time, there had always been discussion about inviting former cheerleaders to come back and cheer at a game; kind of a cheerleader alumnae event. When she heard football coach J.C. Keefer was organizing a 30-year reunion of the 1989 state-final team, Lowry, and assistant coach Teresa Shaffer, decided this was the perfect time.
"Homecoming would have seemed like the obvious choice, but there's too much going on at homecoming," Lowry explained. "We figured if they're having a football reunion on October 4, then let's have a cheerleading reunion the same day."
The response was shocking.
"I put it out on facebook, and within one week I had over 30 ladies sign up. We had practice the other night and 25 showed up." Lowry said.
The reunion created a group that spanned decades and even generations. It's also provided some unique family experiences.
Sisters Bekah Lundy and Taylor Lockerby got to cheer together for the first time as did Courtney Petrowski and Alivia Boroch. It also gave Colleen (Leisenring) Bolton a chance to cheer with her daughter, Abby. After coaching Abby for close to a decade when she was younger, Colleen got to cheer alongside of her. It didn't matter to Colleen that it was her first time in action since the Fall of 1988.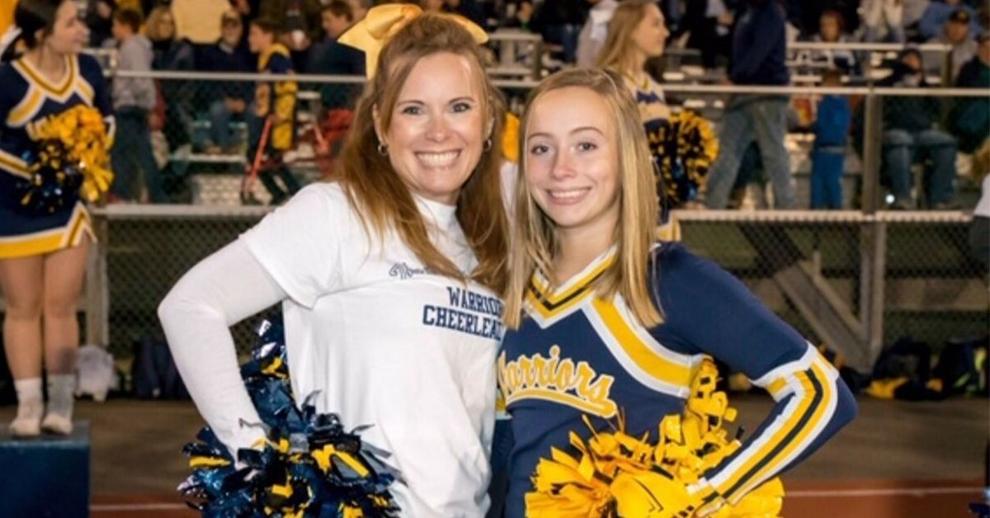 "When I first told Abby about it, she said 'you're going to do what'?" Colleen laughed. "But it was really fun night, and as a mom, I was excited to get to cheer next to my daughter."
Abby eventually warmed to the idea as well. "I think the alumnae cheerleader thing they're doing at Montoursville is really cool. I know how much my mom loved cheering, and I'm glad she got to do it again. And it's cool that I was on the only one on the team whose mom was out there with me."
Why does Lowry think she got such a positive response? "Cheering isn't like other sports. We go almost all year round. The girls tryout in April, go to camp in June, then get ready for football, which rolls right into basketball and wrestling. Then we compete in February, so for most of the girls, this is their only team and it creates a special bond."
Lowry plans on having this be an annual event and thinks next year will be even better. "We've heard from some ladies who live out of state who would have loved to come back but needed more notice. (Next year) we'll pick a game as soon as the schedule comes out and people will have plenty of time to plan.