Incumbent McKernan announces his write-in re-election candidacy for Lycoming County Commissioner, seeking a unique three-Republican opportunity Williamsport, Pa.
"I think I'll be a good fit for a third Commissioner," states incumbent Republican Lycoming County Commissioner Jack McKernan. "It is important to know that Lycoming County can have three Commissioners from the same party if the third is selected as a write-in. Our neighbors to the north, Tioga County, have had three Republican Commissioners the last eight years."
Most importantly, McKernan pointed out that he is running at "the request of scores of concerned Lycoming County constituents," so today McKernan is announcing his write-in for re-election candidacy for Lycoming County Commissioner in the general election this November 5, 2019, seeking to continue representing the 116,000 citizens of fifth-class Lycoming County.
"I have just as much to offer as the two Democratic contenders running, figuring the two Republicans will win with the strength of the party," McKernan shared. "I'm more than thoroughly up-to-date on all things we are working on, issues, and problems, so I'm doing a disserve to myself and the voters if I do not run."
"The biggest issue in running will be that historically 65 percent of the voters in the county vote straight party," the four-year veteran Commissioner explained. "It's a shocking number and we only have 60 days from Labor Day to educate the voters on this, as I need as many people voting for me and just me to continue serving."
McKernan gave himself until the end of last week to decide, even reaching out to the two Republicans that received the top two slots of the nine Republicans vying to be on the November election ballot, discussing the possibility and unique opportunity for what would be a three-Republican Commission.
"The first couple days after the spring primary, I was in disbelief of the results and then over the last two months I had a number of people approach me to do a write-in campaign," said McKernan, a father of two grown daughters. 
"So, I thought… I'm not gonna wait four more years -- Now is the time!"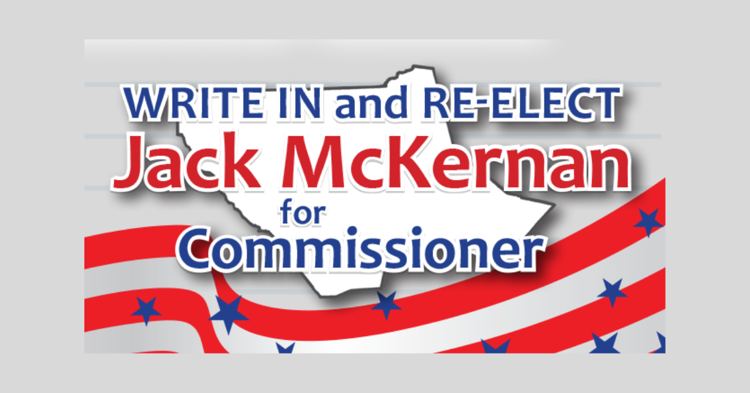 McKernan states that he "demonstrates a tireless work ethic and leadership for the betterment of all Lycoming County residents," wanting to see a few projects in the works and issues on the Commissioner's plates to get resolved. 
In his private-professional life, the 61-year-old businessman is the president of his family's locally owned and operated moving business, Williamsport Moving, on 3340 Wahoo Drive, which will serve as his campaign headquarters.
The Williamsport native and Loyalsock resident stated he would like to continue working on cost-saving projects, like on the coordination of countywide EMT and volunteer Frie Departments; the possibility of jointly sharing IT resources with the City of Williamsport; and some of the findings from the EIP (Early Intervention Program) report. McKernan pointed out some EIP particulars: namely steering the county's finances away from an impending deficit, having tax revenues provider our main source of county income, and cost savings from the new insurance program for county employees, the levee project for the City of Williamsport completed, and bringing an updated broadband system in place for the county.
"We will be impacted greatly by the 'retirement wave' of 45-50 people retiring by the end of the year,"
McKernan stated, "so there will be cost savings there in chopping off long-term costs off from that program." Two areas that he says will provide saving will be by the next commissioners combining jobs and by hiring new qualified people at competitive but lower starting salaries in replacing retiring department heads, many of whom are long-term employees and at the top of their pay grade.
Likewise, measures taken by the three current Commissioners will see cost savings now for the county's overhaul of its new healthcare program, being in its second year and now includes a health and wellness component. McKernan is proud of the work he and the other commissioners achieved, especially in surpassing the 25-30 percent wellness sign ups needed with a whopping 70 percent employee involvement in its initial year. "It's a good sign that they care not only about their health, but the county's financial health."
"I'm a numbers guy and I try to find solutions to problems and am a practical, middle-of-the road person that is a fiscal conservative," McKernan explained of himself. "This is a great opportunity for Lycoming County to keep a commissioner who is dedicated, energetic, and trustworthy and is the best qualified candidate for the third seat, having solid understanding of county finances."
"I am appealing to Republican, Democrat, and Independent voters to join my effort to have a Board of Commissioners that are focused on getting things done, as we need to avoid untimely delays," the current Lycoming County Commission Chairman added. "I know and work with our local, state, and federal elected officials and already have all the tools to help and keep moving Lycoming County forward successfully."
McKernan stated he has served recently on the STEP Board of Directors, STEP Area Aging Council, SEDA-COG Board of Directors, attended the majority of Williamsport-Lycoming County Chamber Board meetings, and has attended Farm Bureau and Conservation District annual meetings.