AccuWeather estimates the total U.S. damage and economic loss due to weather-related causes in 2019 to be $142 billion, according to AccuWeather Founder and CEO Dr. Joel N. Myers, based on an analysis incorporating independent methods to evaluate all direct and indirect impacts of the events based on a variety of sources. 
The $142 billion estimate includes 2019 damages and losses due to California wildfires ($80 billion), hurricanes ($22 billion), tornadoes and severe local storms ($19.5 billion), flooding ($12.5 billion) and winter storms ($8 billion). 
AccuWeather's estimate includes, among other factors, damage to homes and businesses, as well as their contents and cars, as well as job and wage losses, farm and crop losses, infrastructure damage and auxiliary business losses, and also the long-term impacts unique to the particular weather events such as the lingering health effects resulting from flooding and the disease caused by standing water as well as health impacts from poor air quality from forest fires. 
"Our decades of experience forecasting high-impact weather events and witnessing the damage left behind enable us to calculate damage and economic loss estimates that have proven to be the most accurate," said Myers. 
For comparison, the annual average cost for billion-dollar disasters is $42.8 billion (adjusted for inflation) from 1980 to 2018, according to the National Oceanographic and Atmospheric Administration (NOAA), which does not account for all of the damage and loss factors that AccuWeather does. Using AccuWeather methods, the average annual loss over this time frame is approximately $95 billion. 
California wildfires: $80 billion 
AccuWeather predicted earlier in 2019 that the California wildfire season would be extended into December and that the total damage and economic loss caused by the state's wildfires would be $80 billion, a pair of predictions that accurately reflect what occurred during the 2019 California wildfire season. 
There were a total of 259,823 acres burned in California in 2019 and the wildfires that scorched the most land area were Kincade (77,758 acres), Walker (54,612 acres), Tucker (14,217 acres) and Maria (9,999 acres), according to the California Department of Forestry and Fire Protection. October was the most active wildfire month this year with 119,814 acres burned, followed by 83,908 acres consumed in September, 21,454 acres burned in July and 16,430 acres charred in August. There were also documented wildfires in every month except February, March and December. 
"There were much fewer acres burned this year than last," said Myers. "But there were more power outages in 2019 than in 2018, which increased costs for businesses and individuals. We predicted power outages – both proactive and reactive – would be more of a factor and they were, resulting in a significant cost per customer during the duration of the blackouts."
Hurricanes: $22 billion
AccuWeather estimates the total damage and economic loss caused by named storms in 2019 to be $22 billion in the U.S. and an additional $5 billion in the Bahamas, according to Myers. The 2019 total includes AccuWeather estimates of three major storms, plus the combined damages and losses estimated from other 2019 storms. 
During the course of the 2019 hurricane season, which officially began on June 1, there were 18 named storms, a total that included 10 tropical storms, two subtropical storms, two Category 1 hurricanes, one Category 2 hurricane and three major hurricanes (Category 3 or higher), with four storms making landfall in the U.S.
AccuWeather estimated the economic impacts for three storms at the time they approached, predicting damages of $8 to $10 billion for Hurricane Barry, $10 billion total for Hurricane Dorian ($5 billion in the U.S., $5 billion in the Bahamas) and $8 billion for Tropical Storm Imelda. 
"Tropical Storm Imelda is a great example of the value of the AccuWeather RealImpact™ Scale for Hurricanes that we invented," Myers said back in September as the storm approached. "It would be easy to dismiss Imelda since it is not a hurricane but a tropical storm, but the rain and subsequent flooding is the main source of what will be substantial damage."
Given the major flooding with a high risk to lives and property in eastern Texas and far southwestern Louisiana, Imelda was rated as a 3 on the AccuWeather RealImpact™Scale for Hurricanes for the overall tropical storm, which was never rated on the Saffir-Simpson Hurricane Wind Scale by the National Hurricane Center. 
Similarly, AccuWeather predicted that Hurricane Dorian would have a RealImpact™ of 5 in the Bahamas and 2 in the Southeast U.S., which was accurate to what occurred. 
Tornadoes and severe local storms: $19.5 billion
In 2018, the U.S. set a record low for the number of fatalities with just 10 people killed, the lowest number since tornado fatality record-keeping began in 1875. In 2019, tornadoes and their destruction killed a total of 41 people in the U.S., also well below the average of 80 U.S. fatalities annually.
"As the tornado warnings have improved, tornado-related deaths have declined," Myers said. "Delivery of severe weather information is absolutely critical to our audience—particularly when so many people rely on a mobile- or digital-driven experience and weather impacts very specific locations at precise moments in time. An independent third-party confirmed that AccuWeather delivers National Weather Service warnings faster than any other push-notification product, so people can take action when seconds count and lives are on the line."      
AccuWeather's 2019 forecast released in February accurately pinpointed the areas to be hit hardest this year, with a higher frequency of severe weather risks in the traditional Tornado Alley -- notably Oklahoma, Kansas and parts of Texas – which is more than they had experienced on average the previous three years. 
Texas, with 188 tornadoes, experienced the most of any state in the U.S. in 2019, according to preliminary, unconfirmed data from NOAA. Oklahoma was second with 147, while Kansas was third with 127.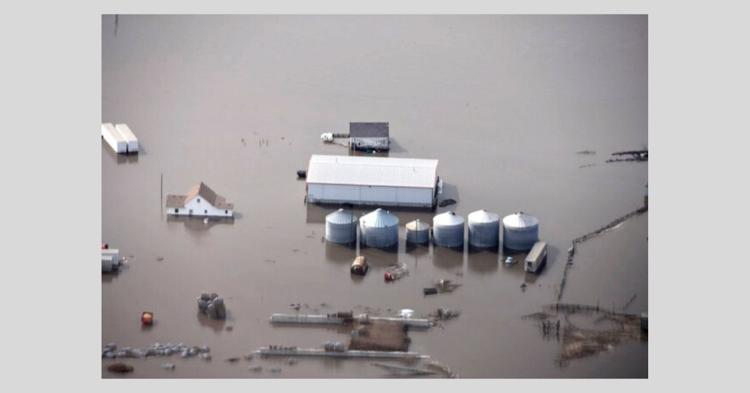 Flooding: $12.5 billion  
AccuWeather estimates the total damage and economic loss caused by the record-breaking flooding in the Midwestern U.S. this spring totaled $12.5 billion. 
The flooding erupted in the wake of a historic bomb cyclone and the economic damage rivaled that of some of the worst hurricanes to hit the U.S. The $12.5 billion estimate for flooding would compare to Hurricane Matthew in 2016. 
"These losses occurred in farm states that contribute significantly to the nation's Gross Domestic Product," Myers said. "Our independent analysis shows that the aggregate economic toll of these floods is far greater than official estimates initially suggested. Official estimates of damage do not fully take into account uninsured losses as well as lost work hours and damage sustained by contaminated water, in addition to a range of other direct and indirect impacts."
Winter storms: $8 billion
AccuWeather estimates the damage and economic loss from winter storms totaled $8 billion. The two main events include the extended winter freeze in January that pounded entire regions of the U.S. causing roughly $5 billion in damages and losses, and also the blizzards, thunderstorms and severe weather across much of the U.S. in April that totaled approximately $3 billion.