Story published earlier, features updated weather graphics
"The weekend storm may bring the most substantial wintry precipitation of the season so far for parts of the Northeast, including the I-95 corridor," AccuWeather Senior Meteorologist Eric Leister said.
One weak storm will spread a bit of snow across upstate New York and northern New England later Tuesday into early Wednesday.
A second storm is forecast to follow with snow or a wintry mix as far south as northern Pennsylvania and southern New England late Wednesday night and Thursday.
Gusty winds will follow this system and allow cold air to take root at the end of the week.
The greatest chance of a wintry mix for Virginia and snow for northern New Jersey and the New York City area is likely to come this weekend as a large storm moves in from the Midwest and taps into fresh cold air in the region.
The far-reaching storm will first hit highways and major airline hubs of the Midwest beginning Friday, and ripple-effect delays are possible across the Northeast prior to the storm's arrival in the region. Flight delays and cancellations are likely to ramp up Saturday as snow and a wintry mix spread eastward.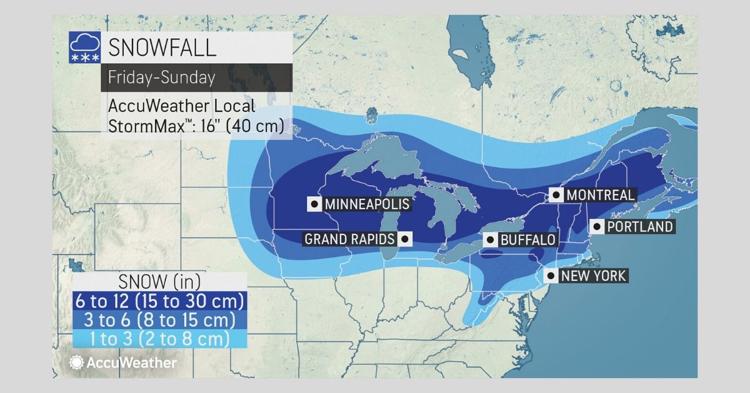 Motorists with travel plans along the Pennsylvania, New Jersey and Massachusetts turnpikes, as well as the New York Thruway and Southern Tier Expressway and interstates 64, 66, 68, 70, 78, 79, 80, 81, 83, 84, 88, 89, 90, 91, 93 and 95 should be prepared for wintry conditions and travel delays.
Snow is forecast to transition to ice and rain from northern Virginia to southeastern New York at the storm's peak, and up to a few inches of wintry mix is expected over areas farther north across the upper mid-Atlantic region. Meanwhile, a foot of snow or more could pile up in parts of the central Appalachians and New England.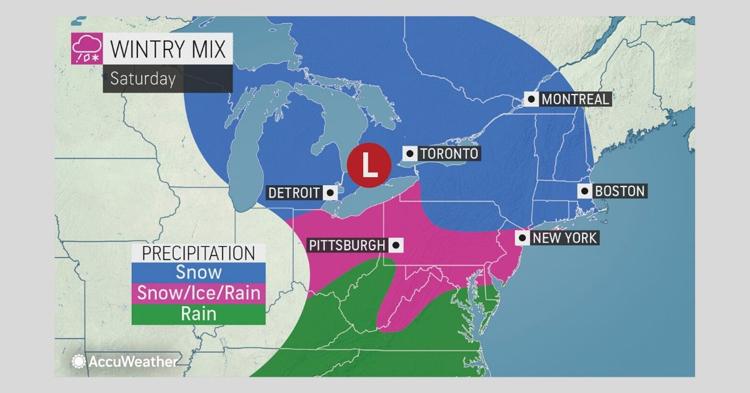 "It's a tricky forecast at this stage with the timing and primary form of precipitation from the central Appalachians to the upper mid-Atlantic and the southern New England coasts," AccuWeather Senior Meteorologist Dave Dombek said.
"Regardless of how warm it has been, we are at the point of the winter where cold air does not give up too easily and this cold wedge on the front side of the storm could spell wintry trouble for a number of locations," he added.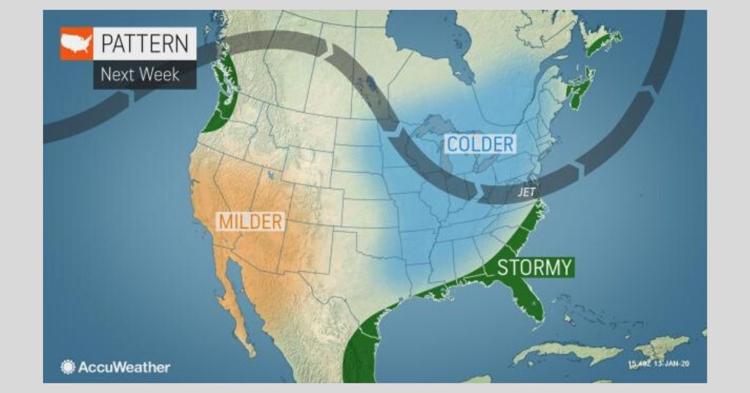 A period of lake-effect snow and snow squalls is likely to follow the storm on Sunday across northern and western New York, western Pennsylvania, northeastern Ohio, western Maryland and northern and eastern West Virginia.