A "technical system issue" caused some PPL customers to find a surprise in their mailboxes in January.
One Williamsport area reader wrote to NorthcentralPa.com saying, "I was shocked to open my PPL bill today and have a 63% increase. We have not changed our usage."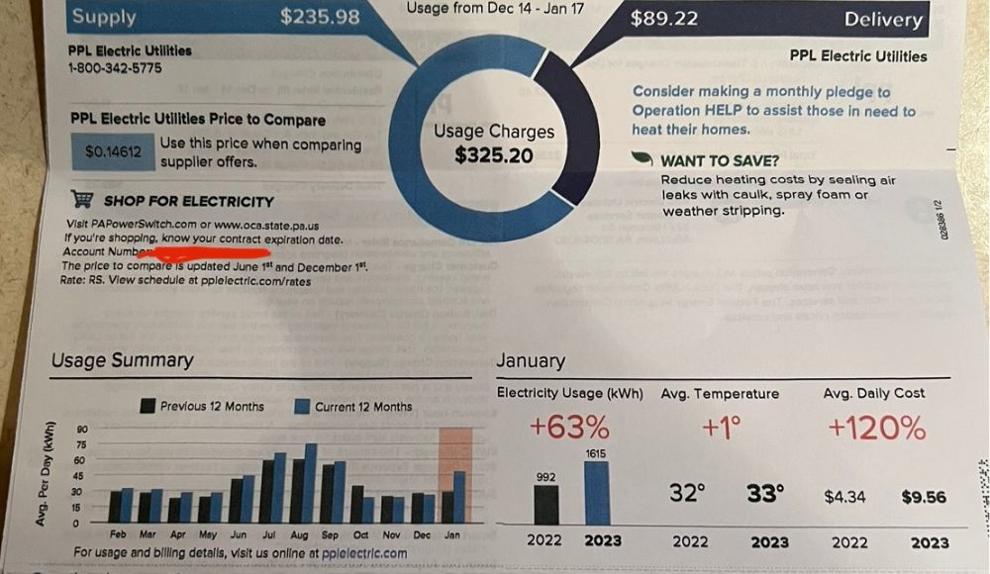 Some customers took to social media to express anger that their bills were at least twice what they expected and they were experiencing long waits on the phone with customer service.
"Awesome that we have PPL being Jesse-James like and just modern day robbing everyone this month," a post on Ho Bott News said, naming a "glitch" that "doubled people's bills for no reason."
The post generated nearly 300 responses in less than 24 hours.
While it's true that bills were sometimes double or more than expected, there was a reason for the increase, a company spokesman said.
Bills were estimated based on historical customer usage data because of a technical issue as meter information was being gathered, according to Tracie Witter, PPL regional affairs director.
A statement from PPL regarding the technical issue is as follows:
"While data from customer meters was being gathered as usual, a technical system issue made the data temporarily unavailable in the systems that generate bills and display customer usage data, causing us to estimate bills. In situations such as these, the Pennsylvania Public Utility Commission (PUC) provides guidelines whereby a utility can bill using estimated usage data.  
"Some of our customers received estimated bills with a January or February 2023 due date. These estimated bills were based on the customer's historical electricity use. We ask that customers pay the estimated bill amount, as any difference between the estimated bill and actual usage will be reconciled when the next bill is issued. We have resolved that issue and began issuing bills with amounts due that reflect actual electricity use.
"Ongoing market conditions that are impacting most sectors of the economy, such as the rising cost of energy supply sources, supply chain issues, overall inflation, and other global economic events, have impacted the price of energy over the past year."   
Witter noted that the company's role is to deliver electricity to customers, safely and reliably. However, they do not own the power plants where the electricity is generated.
"In Pennsylvania, customers can shop around and choose the electricity supplier that is right for them," she noted.
Customers who do not choose a supplier receive default supply through PPL Electric per state law.
"That default rate is called the Price to Compare. It is updated twice a year based upon competitive energy auctions. The auctions are designed to secure the lowest rate offered, which PPL Electric then passes on to customers based on their electric use at no profit to the company," Witter said.
The Price to Compare must be updated regularly, as required by the Pennsylvania Public Utility Commission (PUC).
The estimated bills reflected the current price of their energy supply, whether the customer contracts directly with a supplier or receives default energy supply through PPL Electric.
Customers are encouraged to visit pplelectric.com/bill101 for information on the breakdown of charges and electricity use on their bills.
PPL offers options for paying bills, including budget billing, assistance programs, and payment plans. Customers who need help paying their bills are encourged to visit pplelectric.com/billhelp.