The Third Circuit Court of Appeals upheld PA Attorney General Josh Shapiro's office's nationwide injunction against the Trump Administration regarding contraceptive care late last week. The lower court's decision to block the rules from the Department of Health and Human Services (HHS), sided with the Democratic attorneys general of Pennsylvania and New Jersey.
The Trump administration's rules aimed at exempting employers from an Obama-era mandate that required them to offer contraceptive health care coverage with no co-pay.
In a statement, Shapiro said, "contraception is medicine- pure and simple. Today's decision by the Third Circuit Court of Appeals to uphold my office's nationwide injunction is a win for the women of this nation. This is a huge victory for women's rights and the rule of law-- two things the Trump Administration has disregarded from day one. Pennsylvania women can be confident I will continue to fight for their right to health coverage and contraceptive care."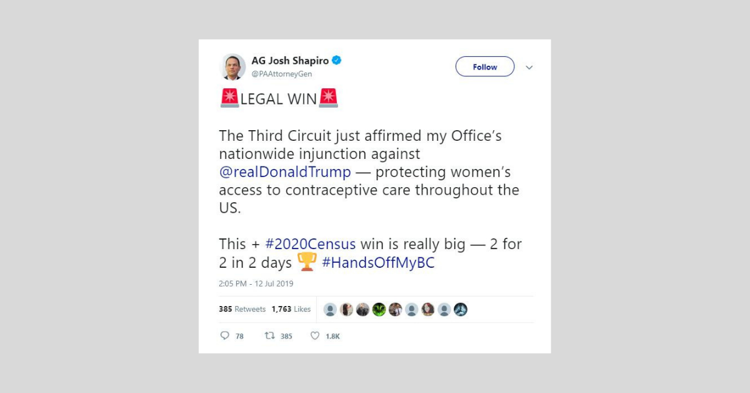 Louise Melling, the deputy legal director of the American Civil Liberties Union (ACLU) praised the decision, calling the rule "discriminatory." In a written statement Melling said, "Yet another court has stopped this administration from sanctioning discrimination under the guise of religion or morality. The Trump administration's rules authorized employers and universities to strip women of birth control coverage — a benefit guaranteed to them by law, and meant to advance their health and equality."