SELINSGROVE - Kids attending the Selinsgrove Regional Engagement Center (The REC) Tuesday got up close and personal with fish and aquatic insects, learned about water quality, and watersheds as part of a special program that brought in researchers from Susquehanna University.
Approximately 25 kids from the REC's summer camp program had the opportunity to venture out to the nearby boat launch by the river with Matt Wilson, Susquehanna Univeristy's Freshwater Research Initiative Research Scientist, and several research assistants. Though the recent rain caused murky water and cut the field trip short, while there, kids still had the opportunity to get a firsthand look at some of what lives in the local waterways.
"Our intended focus was to get the group out and in the water at the Susquehanna River and Penn's Creek to help us sample (particularly aquatic insects)," said Wilson. "Our primary goal when putting on these sorts of programs is always to generate excitement and foster an appreciation for the river they call home."
Kelly Feiler, REC director, said Wilson's program fit in perfectly with the curriculum she's been working on with the kids this summer.
"Our curriculum this year is Teamology, and it features six characters that have positive behavior traits," she explained. "One of those characters is Philo, who is focused on problem solving tied to the environment."
At camp the kids have talked about different careers and how problem solving can help with some of the environmental problems. Feiler said she reached out to the university to ask for programs or presentations that might tie in with what the kids were learning, and she was put in touch with Wilson.
During these types of programs Wilson said "we usually look at the health of a stream through biomonitoring - looking at the fish and aquatic insects that live there, their diversity and their tolerance for pollution. Today was really about showing them there are many different species of fish and bugs in the river, and that it's possible to use those to understand how healthy the river is."
Abagail Ranck, head camp counselor, said while at the river the kids were able to see various bugs and fish that live in the water as well as learn more about how the Susquehanna River flows from New York and connects to the Chesapeake Bay.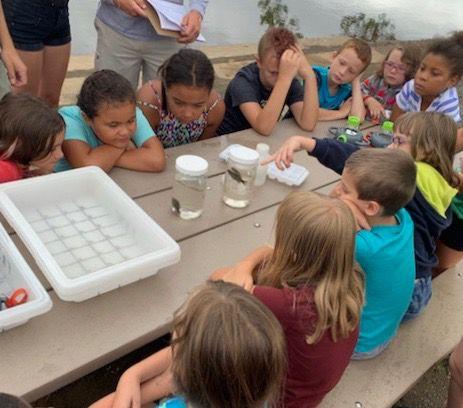 "They talked about how they could reduce waste to help make the river a clean place," said Ranck. "They enjoyed it and we hope to do it again since this time it was cut short."
William Cragle, 9, of Selinsgrove, said he learned a lot.
"We learned about the water shed and may flies, and we also learned about where the animals live, where the river starts and ends and where it goes," he said. "We played a game about the water shed. We also got to see fish, bugs and rocks."
Cragle enjoyed getting to see baby catfish and a large-mouth bass and was thrilled for the opportunity to "touch bugs."
"I really liked when we got to see the bugs through a microscope," said Cragle. "I also liked seeing all the fish."
Once back at the REC, Wilson turned his attention to an activity aimed at understanding how a watershed functions.
"The biggest focus there was water quality and teaching the students that streams can get sick just like us, and we need to follow clues to figure out why."
Using a large tarp laid out on the floor, Wilson used small paper plates to represent nutrients and sediments to help kids visualize how a watershed functions, and see that everything flows downstream.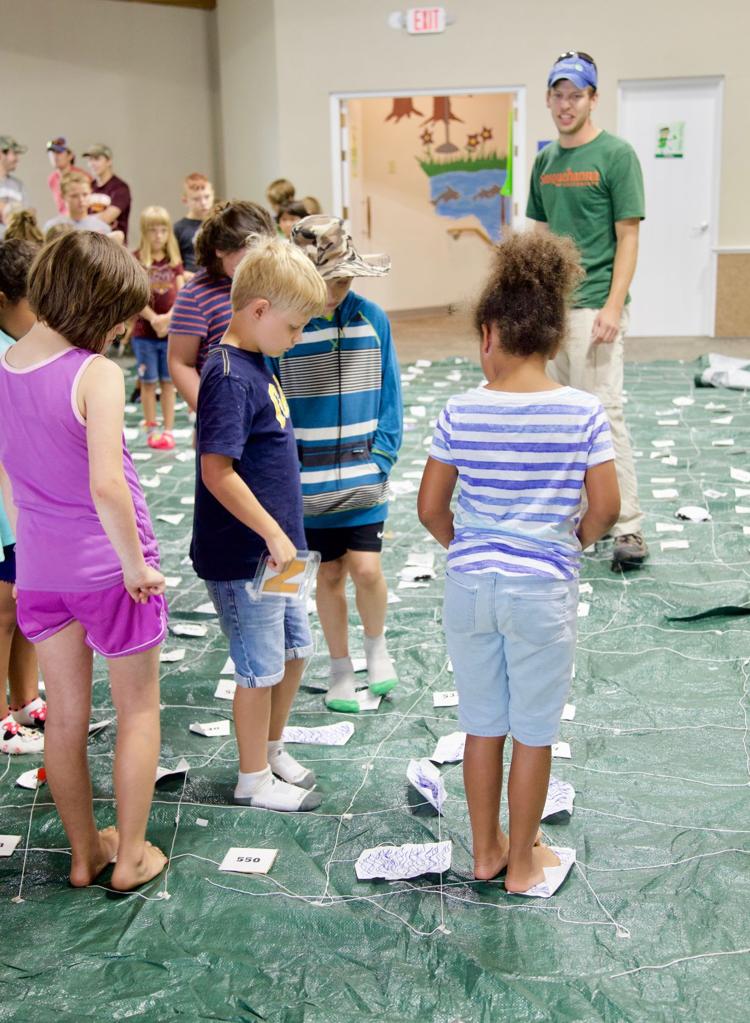 "The plates for nutrients and sediment being captured by trees is a secondary part, to say that a healthy riparian area protects the river, and reduces the sediment and nutrients flowing downstream," he explained. "I would usually have them redistribute the nutrients and trees to try again, but it was after lunch and I could tell we needed to expend some energy on the playground before trying to absorb anything else."
This program is a continuation of others that Susquehanna's Center for Environmental Education and Research has held for children from The REC. Previous educational programs have taken place at Susquehanna's Campus Garden.
Feiler said a program on recycling is also on this summer's agenda.