On Wednesday, Aug. 14, 2019, Williamsport welcomes the world with their annual Grand Slam parade.
Festivities in town--including a street fair with food, entertainment, and vendors--begin at 4 p.m. and the parade kicks off at 5:30 p.m. Each of the sixteen teams ride aboard flatbed trailers, waving to the crowd and tossing candy to fans along the street.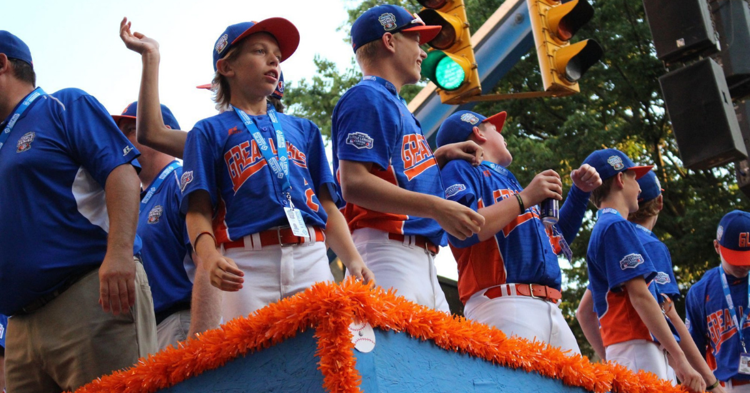 The parade begins at the intersections of Susquehanna Street and West Fourth Street and crawls along Fourth Street past City Hall, ending at Market Street.
Officials report over 100 participants involved in the parade, from school marching bands to antique cars, fire trucks, military equipment, local organizations and businesses, dance troupes, and more.
Sixteen teams will battle it out for the World Series Championship. The teams include:
U.S. Qualifiers
Great lakes Region: Bowling Green East LL, Bowling Green, Ky. 
Mid Atlantic Region: Elmora Youth LL, Elizabeth, N.J. 
Midwest Region: Coon Rapids/Andover American LL, Coon Rapids, Minn. 
New England Region: Barrington LL, Barrington, R.I.
Northwest Region: Sprague LL, Salem, Ore.
Southeast Region: Loudoun South LL, South Riding, Va. 
Southwest Region: Eastbank LL, River Ridge, La. 
West Region: Central East Maui LL, Wailuku, Hawaii
International Qualifiers
Asia-Pacific Region: Chung Nam (B) LL, South Chungcheong, South Korea 
Australia Region: Cronulla LL, Australia
Canada Region: Coquitlam LL, Coquitlam, British Columbia 
Caribbean Region: Pabao LL, Willemstad Curacao 
Europe - Africa Region: Emilia Romagna LL, Bologna, Italy 
Japan Region: Chofu LL, Chofu City 
Latin America Region: Cacique Mara LL, Maracaibo, Venezuela
Mexico Region: Epitacio "Mala" Torres LL, Guadalupe, Nuevo León
Thursday, Aug. 15 begins the first day of play for the 16-team tournament. Four games are scheduled on Thursday, beginning with Game 1, 1 p.m. between Caribbean Region and Australia Region; Game 2, 3 p.m. between New England Region and Southeast Region; Game 3, 5 p.m. between Asia-Pacific Region and Latin American Region; and Game 4, 7 p.m. between Midwest Region and Great Lakes Region.
For the full tournament schedule, visit littleleague.org.