Upon State Rep. Garth Everett's announcement on Monday that he will not seek reelection this coming November after seven terms in office, Combat war veteran and local leader Joe Hamm announced his plans to run for State House in the 84th Legislative District.
Everett, age 66, represents the 84th Legislative District, serving parts of Lycoming and Union Counties. Everett announced to the Sun-Gazette Editorial Board on Monday that he would finish out his term in November. He will have served 14 years, and ends as chairman of the State Government Committee.
"Garth has left us a legacy of strong, conservative leadership and outstanding public service and these are traditions I intend to continue while standing up for the Constitution, the 2nd Amendment, the right to life, fiscal responsibility and limited government," Hamm said.
Hamm serves as Chairman of the Hepburn Township Board of Supervisors. During his service, he has held the line on taxes during his eight years on the board while investing in infrastructure, recreation, the Hepburn Township Volunteer Fire Company, and the Old Lycoming Township Police Department, which services Hepburn Township.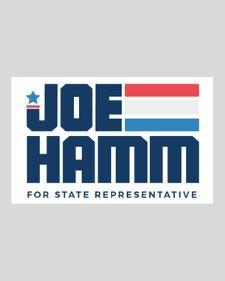 During his tenure, Hamm says township revenues have increased by more than $600,000 without a tax increase.
Hamm also serves as Lycoming County Republican Chairman.
Hamm served overseas in Ramadi, Iraq in support of Operation Iraqi Freedom as a member of the 2nd Brigade Combat Team of the 28th Infantry Division. He spent six years as a member of the Pennsylvania Army National Guard.
"My experience in uniform taught me the meaning of giving a task everything you've got," Hamm said. "It enhanced my grasp of teamwork and careful planning, while always keeping my eyes on the goal at hand. That sense of discipline is something I'll carry with me to the State House."
Currently, Hamm is employed as Borough Manager for Jersey Shore Borough where he has managed projects that included improved playgrounds, riverfront access, and a Borough Transportation plan.
Among Hamm's other community activities, he serves on the Tiadaghton Valley Regional Police Commission, the Jersey Shore Area Chamber of Commerce, the Community Housing and Development Corp., and the Lycoming County Republican Committee. Joe serves as the 2nd Vice President of the Lycoming County Association of Township Officials and is a life member of VFW Post #7863.
A strong conservative, Joe is pro-life and a life member of the NRA. He is a graduate of Lock Haven University, where he studied political science with minors in Leadership Studies, Business, and Psychology.
Hamm is married to Melissa, and the couple and their two daughters attend Community Baptist Church in Montoursville.