The owner of a horse that was shot in pasture in Lycoming County is still hoping for an arrest in the case.
Romeo, a 19-year-old quarter horse, was shot multiple times with a high-powered rifle on the morning of January 3.
The shooting happened on Ted Baker's property along Woodley Hollow Road, between Montoursville and Picture Rocks off Route 864,
On the morning of January 3, while in Minersville on business, Baker received a call from his neighbor.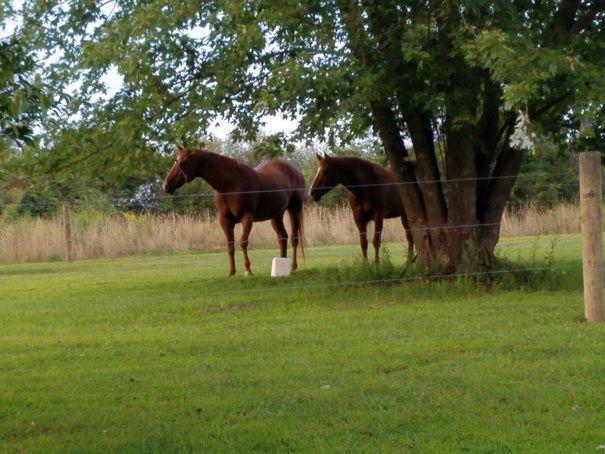 "My neighbor called me and he said he had looked out of the window, and the horse was looking up at him," Baker told northcentralpa.com. "He came back later and could see the horse from the side. He was looking to stomp his rear hoof on the ground, then he went down. He was struggling to get up.
"[The neighbor] told me "I don't think he can get up."
Baker started driving home. When he arrived about two hours later, he could see Romeo laying in the pasture. Thoughts were racing through Baker's head at this point.
"I saw he tried to lift his head a little bit. He wasn't dead," Baker said.
Romeo was a horse that liked to play, Baker said.
"He was always running across the pasture bucking and having a good time," Baker said. "I thought, 'You son of a b--, you probably did it to yourself and broke your leg."
As Baker came closer to Romeo, he could see that the ground didn't look right.
"What I didn't realize was he's laying in his own blood. It's a maroon color. At this point, I still don't know he's shot. I'm thinking maybe something happened to his insides."
The scene was even more gruesome than that, such that when a state trooper arrived he made the judgment that it could have only been done with a high-powered rifle.
The trooper did due diligence that morning, talking to neighbors. Yet Baker knows it will be a hard case to crack. People carrying guns around is not unusual in the area. And Baker's property backs up on a Christmas tree farm, owned by people who live in southeastern Pennsylvania. It was from there that Baker guesses the shooter approached his property.
For the first day after Romeo's death, Baker was too angry to put news of the crime to the public.
"Family, friends, neighbors all were saying you gotta get it out there. I know this. I'm not stupid. At the same time I don't know that I could have put anything on social media that would have been ... let's say politically correct. It gets you nowhere and you look like an idiot."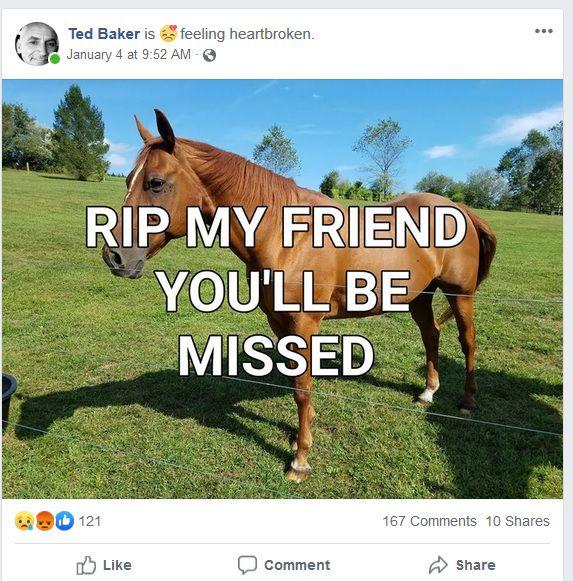 Baker's Facebook post about the shooting of Romeo attracted lots of attention, hundreds of comments and lots of shares. Local TV news caught wind of the incident and broadcast a story. The "horse people" community has shared Romeo's story far and wide, with Baker hearing condolences from people across the country.
"I'm an animal lover and would hate to see it happen to another person's animal," Baker said. "If they never knew about mine ... I thought I'm just going to put it out there and then that way if something happens in a 20 mile radius you have people say, 'Hey you remember that one on Woodley Hollow Road.' That was my objective."
Baker became aware of another shooting incident in the area, in June 2019, when a pony was shot in a pasture near Hughesville.
Another result of the attention was money donated for a reward for information leading to an arrest. Baker said that he prefers, for now, for people to hold onto their money until an arrest is made.
"All you can pray is for police to get to make an arrest and justice is served," Baker said.
Anyone with information about the shooting of Romeo is asked to call the Pennsylvania State Police Montoursville barracks at (570) 368-5700.