A dangerous ice storm is in the making across part of the northeastern United States during a busy travel period for the tail end of the Thanksgiving holiday weekend.
Millions of students, families, and individuals are on the road Sunday.
A shallow layer of cold air and cold ground will create conditions that will allow a building up of ice, mainly in the form of freezing rain in some locations.
The ice is part of a complex, double-barreled system that will bring a foot of snow to parts of the Northeast through Monday.
In some locations the ice storm began as snow and sleet. While either of the two can allow for some traction by foot or vehicle, several hours of freezing rain will lead to a dangerous and, in some cases, damaging glaze of ice.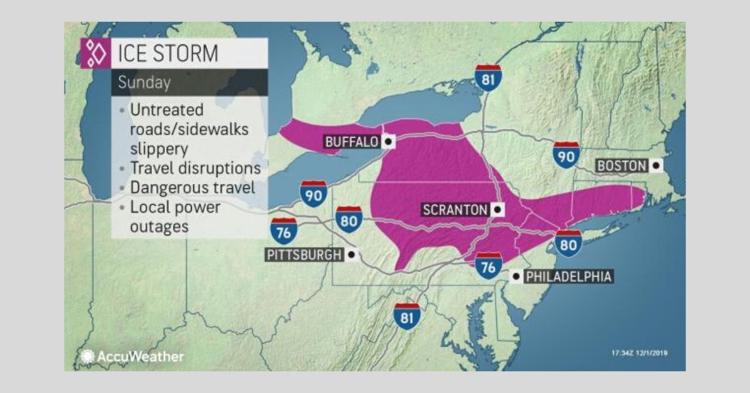 Freezing rain began Saturday night across portions of northeastern West Virginia and western Maryland, western and central Pennsylvania, western New York state, and part of southern Ontario.
At daybreak Sunday, up to 0.10 of an inch of ice had accrued on exposed surfaces in Somerset, Pennsylvania. Meanwhile, in State College and Upper Strasburg, Pennsylvania, ice had begun to coat elevated surfaces.
Icy roads contributed to several accidents in the Corning, New York, area Sunday morning.
Multiple crashes occurred on Interstate 84 in Pike County, Pennsylvania, due to icy conditions Sunday midday.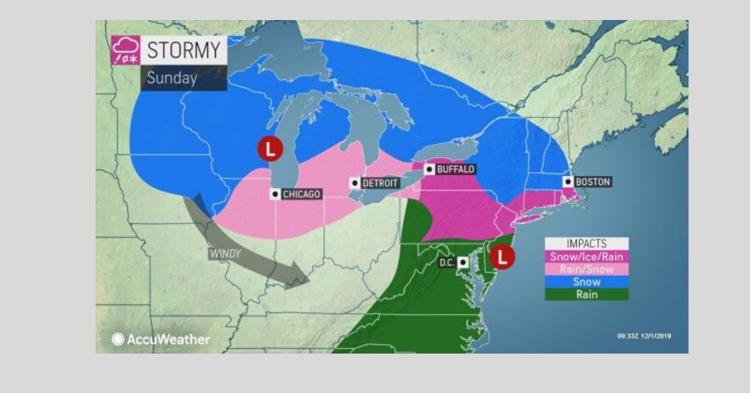 Nearly an inch of sleet fell on Woolrich, Pennsylvania during Sunday morning. Meanwhile, Brookland, Pennsylvania, received 1.5 inches of sleet into Sunday afternoon.
The glaze from freezing rain could range up to 0.25 of an inch and last 8-12 hours.
"The glaze could get thick enough to bring down trees and power lines, which can block roads and knock out power," according to AccuWeather Senior Meteorologist Rob Miller.
The ice buildup may be a problem much of the day in parts of central and northeastern Pennsylvania and central New York state.
Other pockets where up to 0.25 of an inch of freezing rain can fall include east-central Pennsylvania, northern New Jersey, southeastern New York state, central and northern Connecticut, and interior Rhode Island.
The ice storm will shift out of Pennsylvania and central New York state to part of interior southern New England during Sunday night.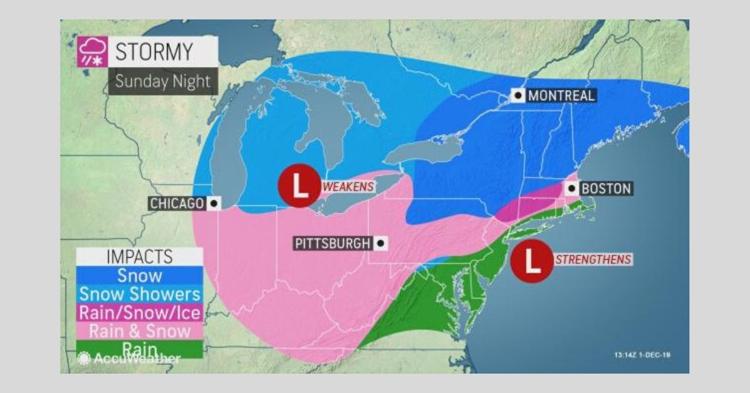 Cities that are forecast to experience a buildup of ice with the risk of sporadic power outages include State College, Altoona, Williamsport, Harrisburg, Reading, Hazleton, Scranton and Allentown, Pennsylvania; Cumberland, Maryland; Buffalo, Jamestown, Wellsville, Elmira, Corning and Spring Valley, New York; Hackettstown and Paterson, New Jersey; Hartford, Connecticut; and Providence, Rhode Island.