Hartley Township, Pa. -- Dillan the bear was not granting interviews when your correspondent visited him at home in Weikert on a gray weekday afternoon earlier this December.
Nor was Dillan posing for photos: the 30-something Asiatic bear moved around in his den only once when NorthcentralPa.com was there observing, allowing us only this picture of his straw-covered behind.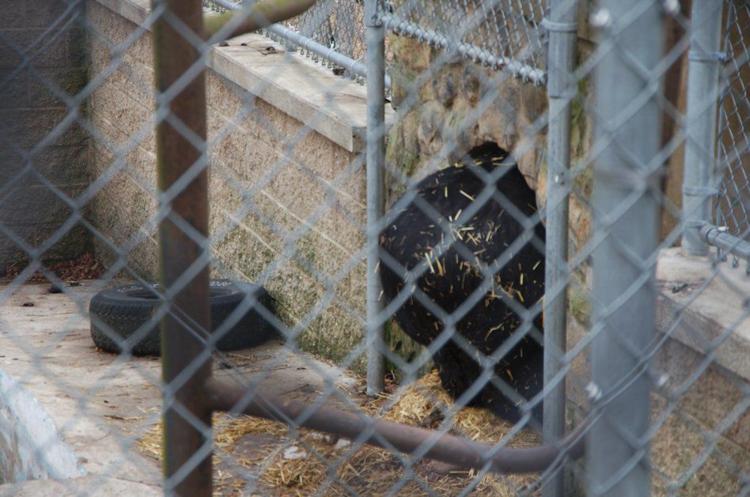 Dillan's health and happiness in his home at the Union County Sportsmen's Club and Wildlife Sanctuary has been a source of controversy recently. Earlier this summer, a concerned neighbor of the Sportsmen's Club contacted People for the Ethical Treatment of Animals (PETA) and told them she thought the bear was suffering. Since then, PETA has been working to have Dillan released to the Wild Animal Sanctuary in Colorado, which has agreed to take him in, said Brittany Peet, director of captive animal law enforcement at the PETA Foundation.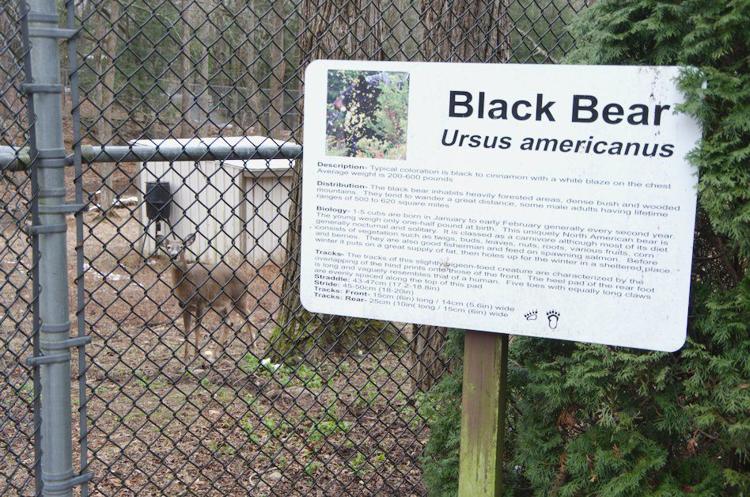 Sign by Dillan's cage. He is actually an Asiatic bear, Selenarctos thibetanus, also sometimes called a "moon bear" for the crescent marking on the chest.
A routine inspection of the sportsmen's club's zoo on October 16 by the U.S. Department of Agriculture found that Dillan had "severe dental issues" with missing teeth and abscesses. Those issues had first been documented in a 2017 report.
Dillan is also "morbidly obese," inspector Andrea Ambrosio reported, exhibiting a "repetitive behavior in which he sits on his haunches and repeatedly rocks himself back and forth by using his forepaws to push against the wall in front of him." That kind of behavior, the report says, "can often be an indicator of pain and or psychological distress."
The club's bobcat was also noted to be obese in the same report. There was no mention of the white-tailed deer the club keeps on property, or the variety of birds -- each species of which had a Christmas stocking hanging up on its enclosure when we visited.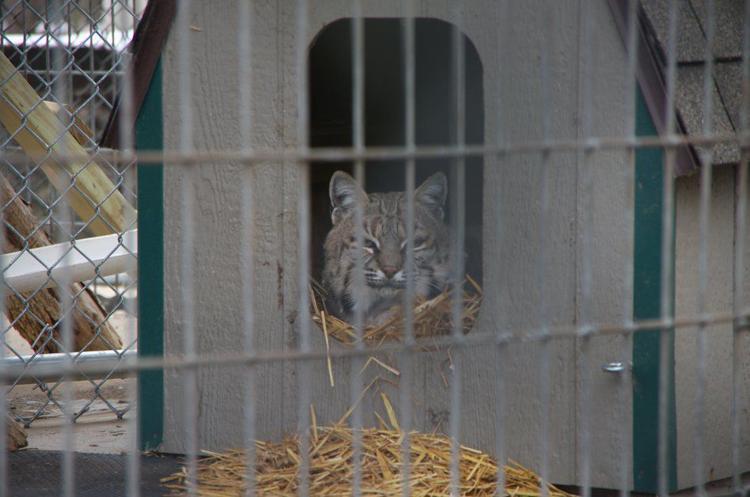 Bobcat at Union County Sportsmen's Club.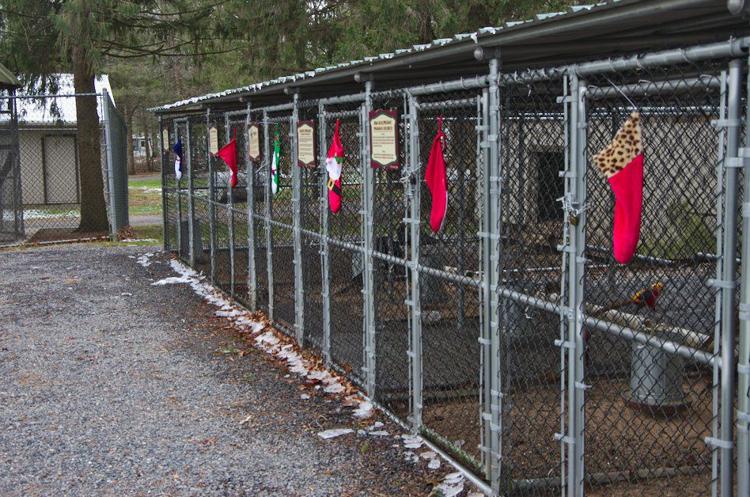 Bird cages at the Union County Sportsmen's Club.
"I think Dillan's case is a great example of how ineffective legal protections for animals are in the United States," Peet said. "This animal is documented by authorities as being obese and engaging in behaviors indicating either pain or psychological distress or both ... and nothing has been done."
"We are continuing to fight and continuing to work until he can be retired to a reputable sanctuary to get the care that he needs," Peet continued.
PETA's efforts most recently included sending 10 bags of coal to the Union County Sportsmen's Club, one for each year Dillan has lived there since the Brumbach family of Sunbury donated him and another bear, Fuzzy, to the club in 2008. PETA has sent its members a call to action asking them to send the club letters asking for Dillan's release, and made a 30-second PSA published on YouTube. 
A petition on change.org titled "World's Fattest Asiatic Bear Needs Your Help" has received over 54,000 digital signatures. And a Facebook page called "SAVE Dillan the Bear -- Needs Urgent Care" is also encouraging its followers to send the club Christmas cards with a "Free Dillan" message.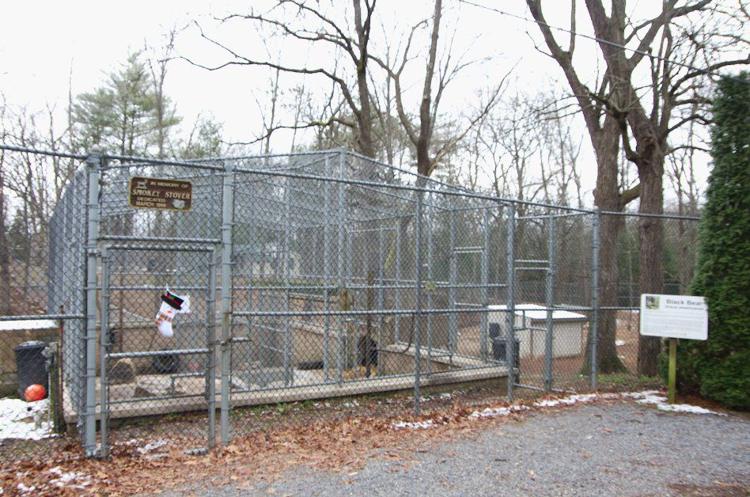 Bear enclosure at Union County Sportsmen's Club.
The Sportsmen's Club leadership has largely avoided talking to media. NorthcentralPa.com left a note with the club's bartender asking to talk with club president Orville Spangler and has made follow-up calls, but has had no response.
The Sportsmen's Club board and PETA representatives were supposed to meet in August, but that did not happen, Peet said.
"At this point they can't even claim they don't understand they're abusing and neglecting this bear," Peet said. "They clearly just don't care."
Spangler did tell the Daily Item in August that "The bear is there for people to come and see ... Everyone likes coming and seeing him," adding that this whole thing likely started with an angry neighbor.
In that same article, Dr. James Temple, attending veterinarian for the club, said that moving Dillan might kill him. Temple said that he agreed Dillan has dental problems, yet sedating a bear requires hitting muscle with a dart and "this bear has a lot of fat."
Jennifer Mattive, a member of the family that owns wildlife sanctuary T&D's Cats of the World, Penns Creek, agrees that any cross-country move would likely be stressful for Dillan.
"Moving him they will probably have to anesthetize him to move him, and even if they don't, moving an old bear that far, there's a lot of stress that goes along with that," Mattive said. "It's not like going to the vet with your dog or cat where you can do bloodwork first."
T&D's Cats of the World, entering its 30th season open to the public in 2020, has seven bears on site., Its largest bear enclosure takes in about an acre of land. Their bears are kept in pairs, if they get along, with their oldest bear a lone inhabitant to keep the friskier youngsters out of his face, Mattive said.
Any move would likely involve building a large crate for Dillan and using a horse trailer or similar vehicle. For an old bear, Mattive suggests that it would be better if the club and PETA work together to make Dillan's current environment more hospitable. She suggested laying down mulch on the concrete to soften the surface and seeing if any aspiring Eagle Scout wants to help liven up the club's bear enclosure with activities like "boomer balls" or perhaps a hammock.
"It would be better to fix up his enclosure or give him things to do," Mattive said. "A 30-year-old bear is like a 100-year-old person. You're not going to put them on a treadmill. Even if they can't expand the enclosure, giving him those things to do will help with some of his issues."