Just two weeks ago, Williamsport Mayor Derek Slaughter was looking forward to an upcoming conference in Dallas, Texas, as a newly invited member of the Mayors Innovation Project, a collaborative exchange of information and resources between mayors from across the U.S. 
Then, very rapidly, the situation changed. Coronavirus, known also as COVID-19, stole the spotlight. Instead of participation within a circle of new mayors and a group of seasoned "mentor" mayors in Texas to discuss issues like our levee recertification, floodwater mitigation projects, streamlining finances, and economic development, Mayor Slaughter participated in a Zoom video conference with those same leaders to share their city's approach to mitigating the pandemic.
"I found out we are extremely proactive compared to some states," said Slaughter. While some city leaders reported issues with city council cooperation and other setbacks, Slaughter said he feels encouraged that Williamsport is working well with federal, state, and local authorities, hospital officials, and law enforcement. The proclamation made on March 13 declaring no gatherings in the city of more than 250 people was a harmonious step, made on the urging of Governor Wolf and the CDC.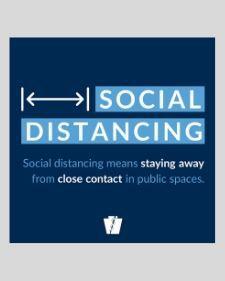 While that proclamation still holds, the current recommendation is specific: to avoid gatherings with more than ten people, to maintain a social distance of 6 feet from others when in public, wash your hands regularly, avoid touching your face, and isolate if you are feeling symptoms. 
As each state mandate has been issued from Harrisburg, Slaughter said he is pleased that city officials, employees, and residents have largely followed the recommendations, which he admits can be confusing because information changes rapidly, sometimes hourly. "The quicker we do this [follow the guidelines], the shorter the process," he said. "Let's follow these guidelines now while we choose to, before we have to." 
Related reading: Updated: Wolf expands 'life-sustaining' business list, postpones enforcement to Monday
The mayor noted the hardship on local businesses and organizations. He says he is in touch daily with unions, with employers, mayors of other Pennsylvania cities, including Lancaster, Scranton, and Newcastle to discuss the policies, struggles, and solutions.
"We're fully behind our businesses," he said. As we move past the immediate concerns of preventing the spread of the virus and mobilizing resources for community members, "we'll cooperate fully to get events rescheduled, to help promote and advertise. We'll be looking at new legislation that will arise from this," he said, to protect workers and stimulate the economy again.   
No doubt the collective leaders within the Mayors Innovation Project will discuss ways to learn from this monumental time in our history. "If there is an upside," said Slaughter, "it's that we'll debrief and learn from this." Hopefully there isn't another pandemic, but in the case of emergency situations, experience and new procedures will come from this. "We're all stumbling a little, that's to be expected," he said. "There is no situation that we compare this to; we can't say 'last time we did this or that and it did or didn't work.'" But going forward, there is a lot to be learned from our COVID-19 response, Slaughter said.
To be eligible for the Mayors Innovation Project, a learning network founded in 2005 based on innovation, networking, and learning, new members have to be in office under two years, serving their first term of three years or more.
Aside from the benefits of collaboration with current and past mayors, industry professionals, and politicians, a notable benefit to membership in the Project is its affordability: it costs nothing to join.
"There is no cost to taxpayers," he said. The organization, funded independently through its member cities, foundations, and generous individual donors, pays everything from membership to conference registration, airfare, hotels, parking, even the cost of an Uber ride.
The upcoming Texas conference was to be Slaughter's first meeting.
Before COVID-19 took priority, number one on Slaughter's list for the Mayor's Innovation Project was getting the levee recertified, a project that recently received a $5.6 million grant. Other issues Slaughter still hopes to discuss include improvements to Williamsport's stormwater mangement, necessary software upgrades including an employee portal, and ways to stimulate economic devlopment.
The problem at hand, however, has the full attention of government, from Federal to city level. Mitigation and public communication are hour-by-hour concerns.
"As the administration and City Council navigate these unchartered waters, we will continue to provide updates regarding public meetings and city business as a whole. City Council is evaluating all possible models to allow essential meetings to continue in a safe environment that also accommodates the requirements and recent guidance from the state regarding the Sunshine and Open Records laws," Slaughter said in a release on Thursday.
"The City of Williamsport will continue to follow the guidelines provided by the county, state, and federal government. The administration and City Council appreciate everyone's understanding while we work through these changes together," he added.
Additional information and resources regarding coronavirus can be found at www.health.pa.gov or by calling 1-877-PA-HEALTH.