Like any good postmodern cultural phenomenon, the craze for Ugly Sweaters around the holidays blends nostalgia and irony. Think the warmth of Andy Williams crooning "White Christmas" in a snowflake sweater and combine that with the bureaucratic silliness of a major retailer issuing an apology and pulling a holiday sweater off the racks because it encourages drug use.
Pam Showers, manager of the Watson Inn, in Watsontown, remembers a time before ugly holiday sweaters were selling in the millions and inspiring schlocky horror movies.
The Watson Inn's annual Ugly Sweater party started "at least 10 years ago," Showers said.
"I think honestly we were the first ones to do it locally," Showers said. "I had heard about it from somewhere not in this area, and thought that'd be fun to do at the bar. For the first sign I hand painted a piece of board and hung it outside."
When the Watson Inn started its Ugly Sweater party, all the sweaters were homemade or thrift store finds, Showers said.
"I remember one had air fresheners in the shape of snowflakes sewn onto the sweater. People put ornaments on them, lights on them," Showers said. "I dressed up one year in a big green sweatshirt with tinsel and Christmas balls. Last year, I came as "Grandma ran over by a reindeer," with reindeer marks on my face."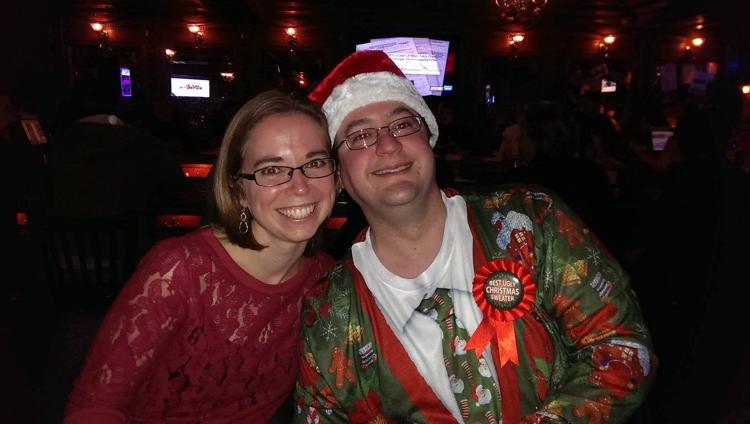 Previous ugly sweater winner from Watson Inn. Photo by Pam Showers.
Prizes vary year by year for winners of the Watson Inn's Ugly Sweater contests, including trophies and the glittery poinsettias you can buy at the supermarket this time of year.
This year, the Watson Inn will hold its Ugly Sweater party on Friday, December 20, with a Christmas song singalong led by Ricky and Harv starting at 8 p.m. The Watson Inn is located at 100 Main Street, Watsontown.
Here's other Ugly Sweater parties across Northcentral Pa. you can rock at this weekend:
New Trail Brewing Co., 240 Arch St. Building 18, Williamsport
Friday, December 20, 3 to 10 p.m.
All wearers of an Ugly Sweater receive a complimentary 10 ounce pour. Moxie & Rebel plays from 7 to 10 p.m.
The Hotel Kast, 723 Arch St., Williamsport
Friday, December 20, 7 p.m.
Giveaways and photo props provided for all your Ugly Sweater Instagram needs.
Selinsgrove Hotel, 225 N. Market St., Selinsgrove
Friday, December 20, 9 p.m. – 12 a.m.
Prizes for ugliest sweater and most creative sweater. $50 first prize, $25 gift card for second prize. Blu-Star Entertainment will DJ.
Spyglass Ridge Winery, 105 Carroll Rd., Sunbury
Friday, December 20, 6-9 p.m.
Fashion show with prizes for 1st, 2nd, 3rd place. Christmas carol karaoke with DJ Andy.
There is a cover for this event. More info at 570-286-9911
Finlan's Tavern, 203 Main St., Towanda
Friday, December 20, 8 p.m.
DJ John Walter 8 p.m. until midnight.
Iron Vines Winery, 322 Raspberry Ave., Sunbury
Saturday, December 21, 5-9 p.m.
Music by Electric Orchard 6-8 p.m. Winning sweater wearer receives a bottle of wine and a glass.
Eclipse Craft Brewing, 249 Market St., Sunbury
Saturday, December 21, 7- 10 p.m.
$2 fee with monies going to the Grand Prize winner along with a $25 gift certificate. Prize pizza for the best couple. 21+
Wellsboro VFW Post 4907, 465 Kelsey St., Wellsboro
Saturday, December 21, 8 p.m.
Ugly sweater potluck. Prizes, raffle, 50/50, and karaoke at 8 p.m.
The Wayside Inn, 29 Railroad St., Towanda
Saturday, December 21, 9 p.m. - 1 a.m.
The Sorters play acoustic music, live. No cover.