Evangelical Community Hospital's ninth annual Cookin' Men event broke records this year, with tickets selling out within one day and funds raised surpassing every other year. The breast cancer awareness event took place at the Rusty Rail Brewing Company in Mifflinburg on October 24 and featured 26 local culinary legends.
In total, the event raised over $51,000 for the Center for Breast Health, and donations are still being accepted through November 1. The Center for Breast Health will be using the funds to provide financial assistance to women in the area who are uninsured or under-insured and need breast cancer screenings.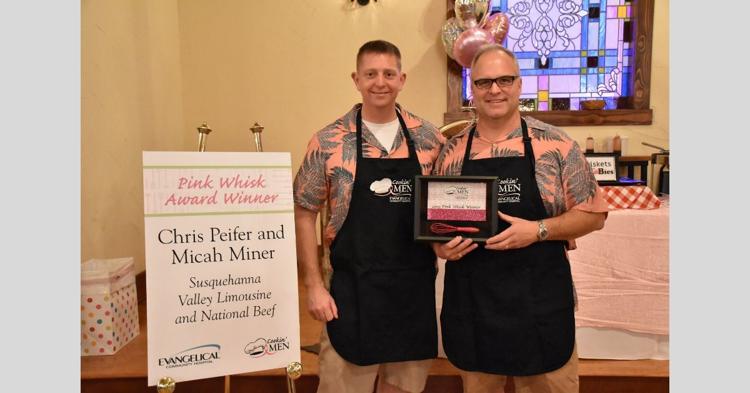 Pushing the fundraising over the top this year was the competitive drive toward being named Top Chef, which awarded the winner the coveted Pink Whisk Award and the premiere cooking station at the event. The contest, which challenged each chef to individually garner the most donations for the Center for Breast Health, ended at noon the day of the event.
Declared Top Chef were the team of Chris Peifer and Micah Miner of Susquehanna Valley Limousine and National Beef, who raised $4,135 by the deadline. Peifer and Miner served the crowd Kansas City Burnt Ends—a brisket point spiced with seasonings, BBQ sauce, and brown sugar.
Other top fundraisers included Eric John of Ritz-Craft Corporation of PA and Rusty Rail Brewing Company; Dale Moyer of Evangelical Community Hospital; Timm Moyer and Jared Frank of MoJo Active, Inc.; John Turner, MD, of Thyra M. Humphreys Center for Breast Health; Shaun Smith of Albright Care Services; and Tom Sokola and Tom Weir from Geisinger, who all exceeded their goal of raising at least $1,000 individually.
"We are so grateful for events like these that help women in need stay on top of their breast screenings," said Andrea Bertram, Operational Director of Women's Health and Cancer Services. "It is through the generous support of others that we can make it possible for women to make their breast health a priority. When we are able to diagnose breast cancer early, we are able to help our patients achieve high cure rates and walk with them through survivorship."
Attendees also voted for their favorite dish by sampling all of the options and casting their vote. Chris Peifer and Micah Miner of Susquehanna Valley Limousine and National Beef and David Rowe of CrossFit Lewisburg tied for favorite dish with their offerings of Kansas City Burnt Ends and Cheddar Peach BBQ Brisket Sliders.
Another award was given to the chef or chef team who were deemed the most festive with table decorations representing pink enthusiasm through their use of flair. Ken Jusko, DO, of Quantum Imaging and Therapeutic Associates, Inc. was given the honor for serving his Chicken with Mango Chutney at a fully transformed station backlit by pink lights, pink pumpkins and flowers, and hundreds of balloons, including a breast cancer ribbon balloon sculpture.