Hiking To Angel Falls - A repost from Valley Girl Views, a content partner of NorthcentralPA.com.
This is one of the closest waterfalls to our farm, and yet we had never been here!  I think the only waterfall closer to us is Jacoby Falls outside of Montoursville.
The Cliff Notes:
Parking Area Coords - N 41° 23' 6.86''W 76° 40' 5.908''
'About 40 minutes north of Watsontown PA - less than 10 minutes from Ticklish Rock, and we also passed Deer Lake on our way here.
Moderate hike - this is not an easy one, but it's not too difficult either.  I was glad to have my hiking pole for this one.  You will get your feet wet - we crossed the creek several times on this hike, and much of the trail was wet and muddy.
Three waterfalls along roughly a two mile hike round trip (depending on route)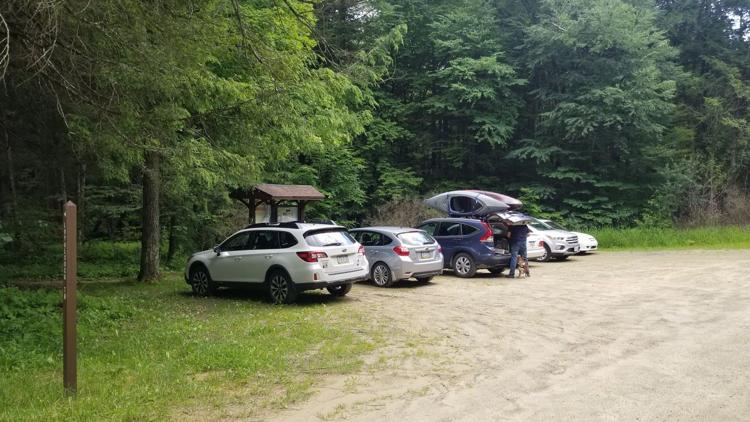 The parking area is well marked, and easily has room for 6 or more cars.
Parking Area Coords - N 41° 23' 6.86''W 76° 40' 5.908''
Even though the parking area was nearly full, we only passed one family on our hike.  They were hiking down from the falls as we were hiking up.  I think most people follow the loop trail, but if we were to do this again, we'd turn around and hike back the way we came.   
We were following geocaching coordinates on this hike, but essentially, we followed the creek.  The first part, about half a mile?  Is a wide, easy to follow trail.  When we came to the first stage, at N 41° 23.283 W 076° 40.472 , we then turned left.  At this point we were getting our feet wet - the path was muddy at several spots.  Before long we came to this sign, and then we could hear the water again.  We crossed the creek here, and kept our feet dryer than we did when on the path earlier.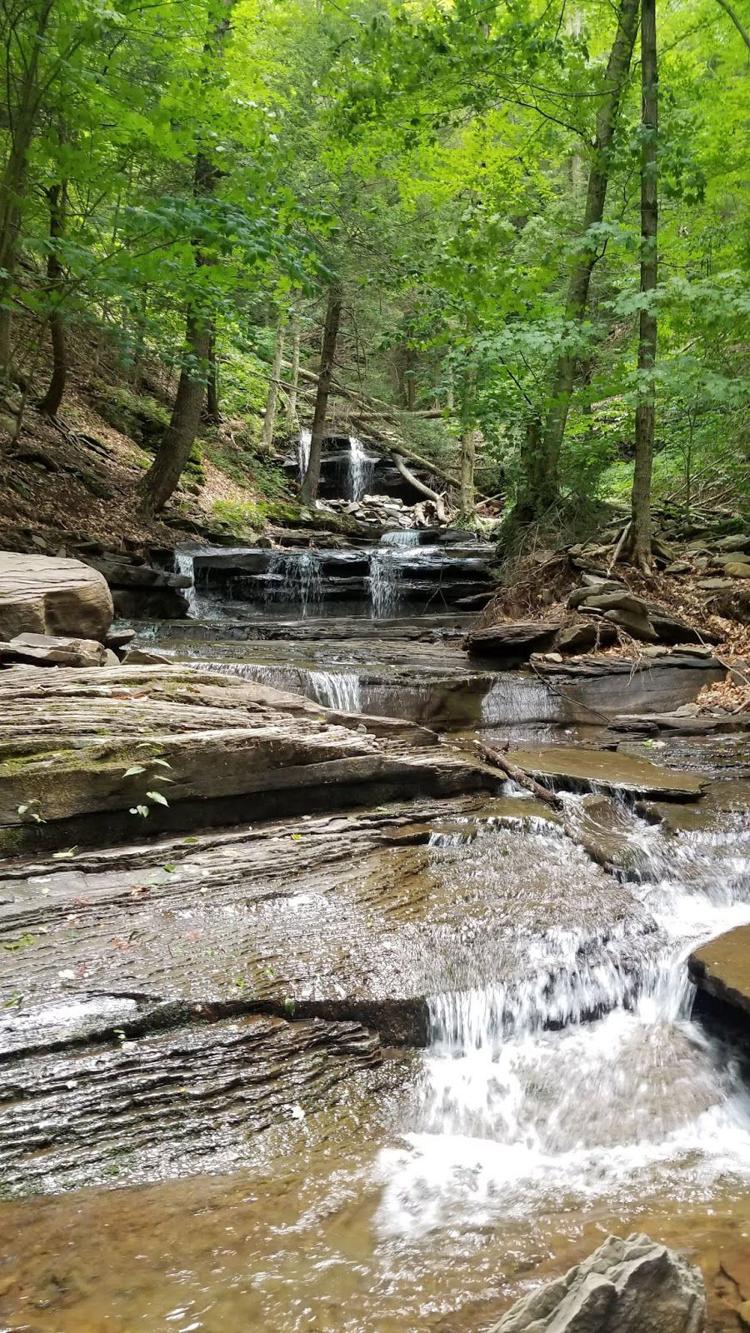 GPS Coords 41.3926566, -76.6770222
This first waterfall is unnamed, as far as I can tell.  But it was my favorite today!  The next two are much larger, but this one has many levels, and you can walk out on large rock ledges for each of those levels, and you can walk behind the falls at the top.  
Gibson Falls 41.393100, -76.677352
I had read that a lot of people miss Gibson Falls, and I'm not surprised - I almost missed it myself!  It's not far at all from the unnamed falls, keep an eye out.  
And then it was only a short distance more to Angel Falls.  This used to be a popular area for repelling, but that is currently prohibited, as the area was showing some damage.  The rocks here are really neat to see!