With the beautiful weekend weather in the forecast, what are your plans? One option is to grab your bike and join the Susquehanna Greenway Partnership on the 2019 River Valley Ride this Saturday, Sept. 28.
This 10.5-mile bike ride introduces riders to the connected paths of the greater Williamsport Area, beginning in Montourville's Indian Park, cruising the scenic path along the Susquehanna River, and ending at the South Williamsport Community Park.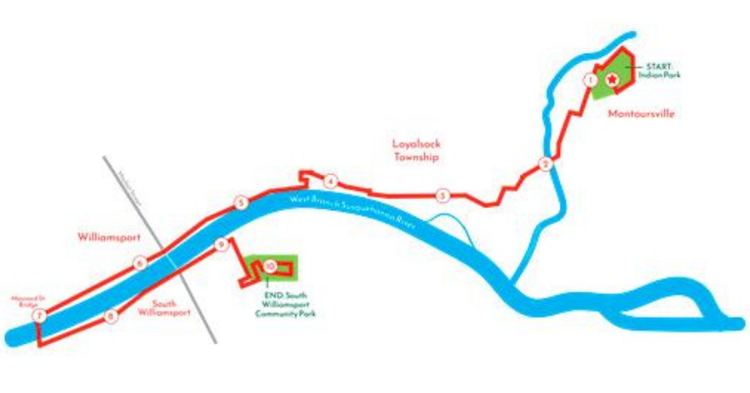 At the end of the ride you'll have opportunities to enjoy a frozen treat and information booths to learn more about the biking opportunities in and around Lycoming County.
The ride registration is $5/person, check-in is 9 a.m. the day of the ride in the South Williamsport Community Park. Shuttles will transport participants to the starting location in Inidan Park. When you register, you'll have the option to purchase a $10 barbeque chicken dinner from the South Williamsport Lions Club, served at the end of the ride. Also, riders will receive a commemmorative event water bottle.
A one-mile youth ride and skills rodeo for those unable to ride the full 10.5 miles will be held in the South Williamsport Community Park at 11 a.m.  
In addition to learning about the trail network, you will have the opportunity to explore the amenities of the trail including the parks, connector trails, parking areas, and future trail extensions. A map of the route will also be provided courtesy of Larson Design Group.
Register today, or even on the day of the event, for the River Valley Ride!
About the Susquehanna Greenway Partnership (SGP)
Greenways are corridors of land recognized for their ability to connect people and places together. The Susquehanna Greenway will link natural, cultural, historic, and recreational resources along the 500-mile corridor of the Susquehanna River in Pennsylvania. 
SGP--as the name suggests--partners with organizations that work within conservation, recreation and community planning, along with local governments to establish and monitor regional greenway efforts, engage the community, and promote local ownership of the greenway plan and its implementation. 
Finally, with events like the River Valley Ride, SGP helps residents become familiar with the recreational resources available in thier own backyards, encouraging people to get out and enjoy the bike trails, waterways, hiking trails, and points of historical interest in their communities.