Area legislators are busy hosting informational sessions aimed at providing seniors and caretakers with an easy and fun way to learn about the services and resources available to them. There's sure to be a Senior Expo happening soon near you.
Sunbury
The office of Rep. Lynda Schlegel-Culver (R-Northumberland/Snyder) will be hosting its 9th Annual Senior Expo on Thursday, July 25, from 10 a.m. to 1 p.m. in the Shikellamy High School Cafeteria, located at 600 Walnut St. in Sunbury. The event is being sponsored by UPMC Susquehanna Sunbury.
More than 65 vendors are expected to have information beneficial to area senior citizens, drawings will be held for door prizes, and UPMC Susquehanna Sunbury will be providing refreshments and free tote bags to the first 300 attendees.
Free health screenings and services will be available including foot care assessments, blood pressure screenings, blood glucose readings, heel scans, balance assessments, consultations with pharmacists and more.
"We are pleased to once again have the opportunity to provide access to these vital services for our area seniors," said Culver. "We are thankful for the agencies, organizations and individuals who volunteer their time and energy to make this event a success."
Bloomsburg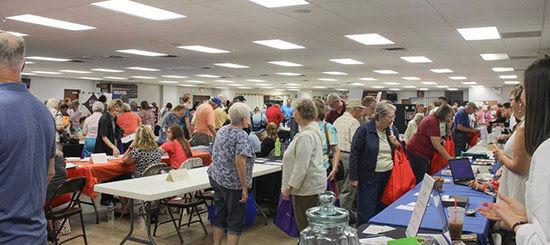 State Rep. David Milliard (109th District) has scheduled his office's Senior Expo for Wednesday, August 14 from 9 a.m. to noon in the Espy Fire Hall, Tenny & 3rd Streets, Bloomsburg. 
Dozens of representatives from state agencies, local businesses, and non-profit organizations will be on hand to provide information and answer questions on topics important to seniors. The event welcomes those age 55 or over, or loved ones caring for a senior. Doors open at 8:45 a.m. There's no need to RSVP.
Related Reading: 
Free senior fair in Williamsport for seniors and caretakers
Area senior citizens expos offer information to seniors and caregivers (Bradford, Kane, & Roulette, Pa.)