Winfield, Pa. – Do snowboarding and summer go together? Typically, no, but at Gilson's Summer Snow Day it does. The snowboard manufacturer based in Winfield is holding its 4th annual Summer Snow Day from noon to 8 p.m., Saturday, July 27, 2019, on its 17-acre grounds off the New Berlin Highway. 
The free event features a snow-filled ramp nicknamed "The Iron Mountain" on which participants can snowboard. The snow isn't fake; Gilson makes it out of shavings from local Pennsylvania ice rinks to use on the rail jam, said Andrew Mikowski, Chief Revenue Officer for Gilson.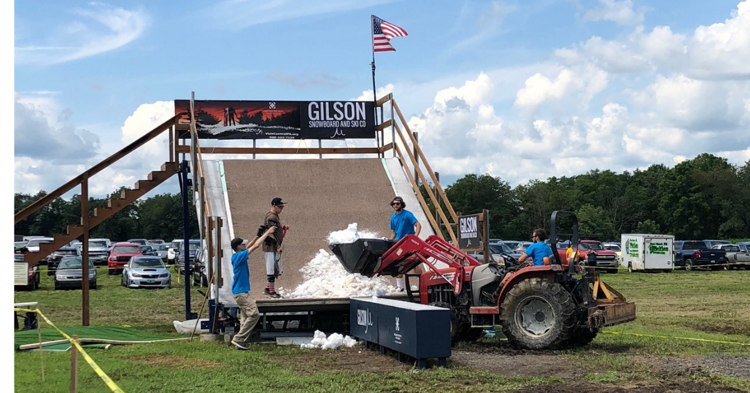 This is Gilson's fourth year of hosting Summer Snow Day since the business began in 2013. "The event has grown like crazy and last year we had over 2,000 people there," Mikowski said. "We have great business partners in the community that help support the event and make it so special. We figure by everyone giving a little, we make this a truly unique event and a highlight of the summer here in the Susquehanna River Valley." 
Related reading: Bucknell engineering team to aid Gilson Snow in water sports development
Summer Snow Day is a family friendly event. For the kids, Knoebel's Grove sets up a Kids Zone with games for young children. The Knobel's mascot, Kozmo, will be there to meet and greet with the children. Dogs are also welcome. 
New this year is the Summer Snow Day Beast Challenge. The challenge is a twist on the strongman competition, featuring five events, including a keg toss, spike drive, boulder throw, caber toss, and sledge throw. Winners in both men's and women's divisions will take home $200 cash or a $100 Gilson's gift card. Pre-registration online is required at www.gilsonsnow.com. 
Live music will be playing all day. Bands lined up to play include Runaway Stroller, Christian Porter, The Roof, Earthbound Misfits, and Throwback 202. 
Admission is free and several regional breweries and distilleries, including New Trail Brewing Company of Williamsport and Old Forge Brewing Company of Danville, will be on hand with free beverages. Food and craft vendors also will be present. Even with such amenities, Gilson's wants to keep the event free as a thank you to the community. 
"Summer Snow Day started by wanting to throw a big and fun party for the community that has been so great to us. We wanted to make sure that we kept it a free event, even with all the beer and spirits free," Mikowski said.
Seating will be provided, though guests are welcome to bring their own chairs. Onsite parking for 800 cars is available at a charge of $5. Parking in nearby New Berlin is free. A shuttle will be available to take people to the event. For those making a weekend of it, there are nearby camping grounds. A list of campgrounds in the area is available at www.visitcentralpa.org.
Gilson's shop is located at 6985 New Berlin Hwy, Winfield, PA. Additional event information is available at www.gilsonsnow.com or on the Facebook event page.