Returning "home" is what's meant to be for Leo's Pizzeria owner Mark Mangiardi, with the official opening of his new downtown Williamsport shop coming this Monday, August 19, just in time for visiting Little League families.
Family and friends are at the heart of what drives Mangiardi and is what he is passionate about… other than making pizza!
Mangiardi was delivering 80 pizzas and several dozen wings to a post-funeral gathering for a close childhood friend in South Williamsport when he spotted a "For Rent" sign in the window of a small shop at 458 Williams Street. He thought he heard a man standing in front of the shop speaking Italian, so decided to stop and speak to him… in Italian, of course!
It turned out, however, the man was speaking Greek and was indeed the owner of the property, as luck would have it. "I walked in and immediately was reminded of the look and feel of a New York pizza shop I know," Mangiardi explained.
"That's where my favorite pizza shop is – Lucali's in Brooklyn," the young entrepreneur further explained. "They make the best pizza and they serve them in squares. In New York City, square slices are like heaven!
"My dad lived in New York for a long time," said Mark. "It is the birthplace of pizza in America, honestly, and it's special and different than pizza around here," he explained, with all of his Italian heritage pride on full display.
"How often do you hear, 'here's a Pennsylvania slice'?" he joked. "Pennsylvania-style pizza is not really a thing." Mangiardi said that making Sicilian-style crust pizza is his favorite thing to make.
"Normal 'Americanized' Sicilian pizza is thick and doughy," he explained. "Mine is thicker, but still is… well, you just got to try it!"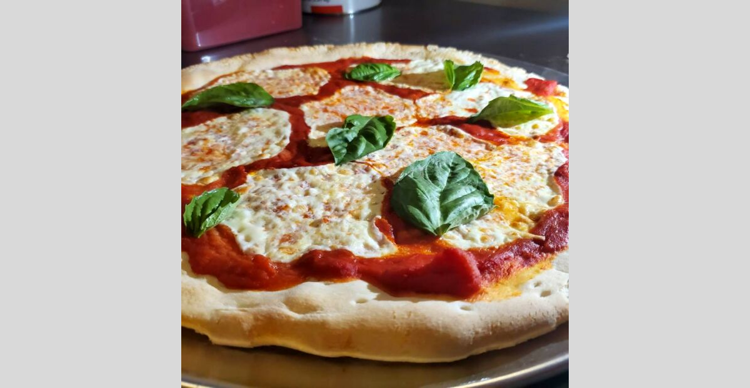 "Mangiardi Special" is what he used to make for himself for lunch while working at the Stonehouse in downtown Williamsport. As their first pizza maker, Mangiardi apprenticed under the tutelage of Chris Hess, the Stonehouse Kitchen Manager. "Chris taught me everything I know about making pizza from start to finish. He made me into the 'pizza monster' that I am today!"
Over the years, Mangiardi has worked at many local establishments – Joe's Pizza, Santino's, OIP in South Williamsport, and the Stonehouse. "None of them let me make pizza because I did not have any experience until I got my shot at the Stonehouse," lamented Mangiardi.
Now, he's basically a one-man show, literally running from station to station in his Milton shop, getting orders ready for patrons in the shop and for the next deliveries while his driver is out on deliveries in the outlying area of Milton. The Milton pizzeria was at the site of a former bakery on the main street of downtown Milton. It was just after the bakery moved out that Mangiardi was on the same site but was in the back of the building, working on a fire escape as part of his former renovation business.
"I took one look at the shop in Mitlon and knew it was the place to open up my pizza shop that I've always wanted," he said. On April 16, 2019, "we opened Leo's Pizza. Leo's is named after my son, Leonidas."
"My father, Paul Mangiardi was not in the pizza or restaurant business, but my grandmother, my dad's mother, was known for making and selling her homemade pizzas, sauces, and everything," Mangiardi reminisced.
Historically, "Grandma Pizza," as it is sometimes called, is a thin, square pizza, typically with cheese and tomatoes. It is reminiscent of pizzas cooked at home by Italian housewives without a pizza oven, and was popularized on Long Island, N.Y.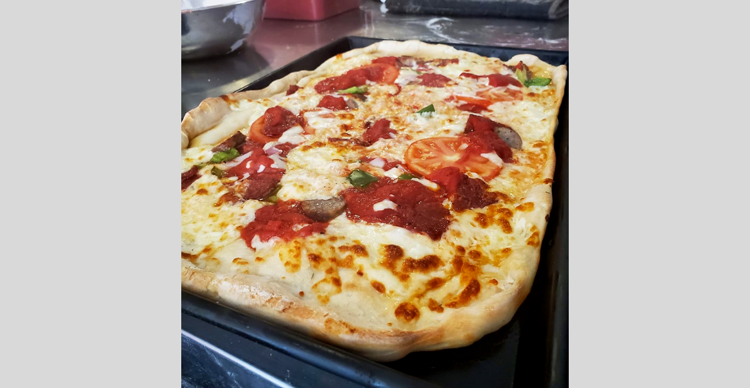 The original pizzerias in New York used coal-fired ovens and baked their traditionally large, hand-tossed pizzas with crisp edges and soft pliable middles, consisting in its basic form of a light layer of tomato sauce sprinkled with dry, grated, full-fat mozzarella cheese. They are often sold in wide "to go" square slices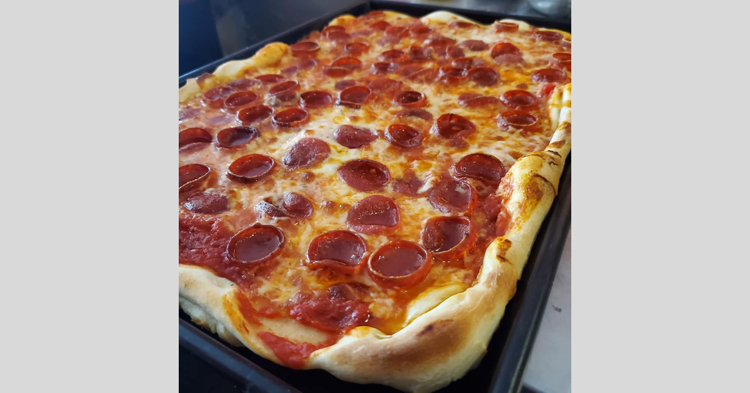 New York-style pizza gets its distinguishing crust from the high-gluten bread flour with which it is made. This style pizza gave rise to the New York-style pizza that was first made by Italian immigrants to the United States in the early 20th century. The pizza must be baked for 60–90 seconds in a 485 °C (905 °F) wood fire oven. This style evolved in the U.S. from the pizza that originated in New York City in the early 1900s, itself derived from the Neapolitan style pizza made in Italy. 
"I use a high-temp flour to get the taste and look of a wood-fired pizza," Mangiardi explained. "I had a wood-fire pizza oven, but our neighbor in Milton complained about the smoke, so we switched to a conventional pizza oven. But, we crank our oven to 200 degrees higher, so it tastes and looks more like wood-fired pizza."
"The new shop is going to look crazy," Mangiardi exclaimed. "I'm working with local interior designer Amanda Nicole Turner on it now." Mangiardi started to paint in late July, with a shop-length wall of black chalkboard paint tackled by him to get it started.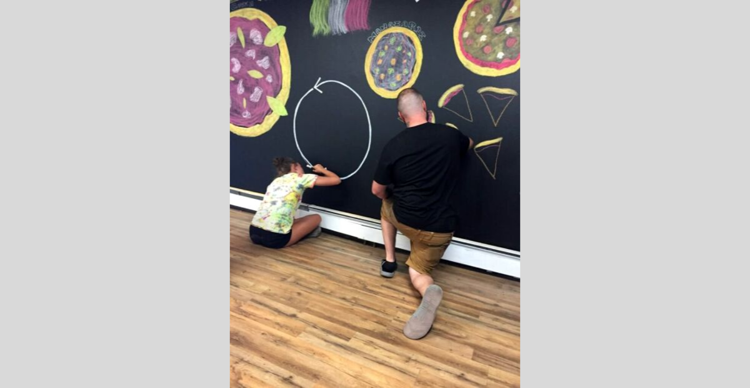 "She has fantastic ideas for the place." Amanda Nicole Turner is part of another family-business that is located on West Third Street in downtown Williamsport, the Kitchen Design Shop. "I told her I not only wanted a place they'd remember, but a place where one wants to come back to and not just to get delivery service," he added.
As far as employees go while open in Milton, Mangiardi said, "Everyone - every single person - is from home in Williamsport and that's the way I like it and will be in the new shop."
The new shop will be open seven days a week. Hours will be 11 a.m. – 10 p.m. Mondays through Thursdays and 11 a.m. – 2 a.m. Fridays and Saturdays, staying open 12-8 p.m. on Sundays.
"In the new Williamsport shop, we're gonna do a lot of new stuff," Mangiardi reported. "As we already do different dishes and pizzas than anywhere in Williamsport."
Take for instance the Pizza Challenge in Philly where they put and wrap part of a Philly cheese steak into a slice. "What I do is take one of our whole black-diamond Philly cheese steaks and wrap it with a whole pizza," Mangiardi said.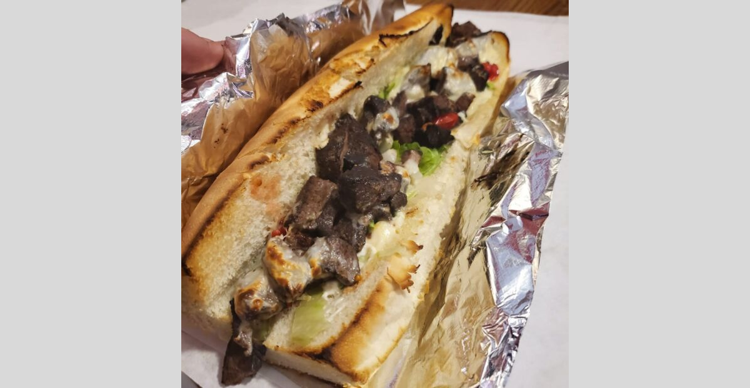 His current menu has everything from traditional cheese pizzas to 10 different specialty pizzas, with names like The Queen (Leo's version of the world famous Margarita pizza), The Underneath, and The Flying Hawaiian. Plus, Mangiardi serves other traditional Italian favorites like pizza frittas, gnocchi (except he fires his and drizzles on Franks' hot sauce), stromboli, and calzone, in addition to wings, fries, onion rings, and mozzarella sticks. For dessert, Mark makes a Nutella Pie, which floats on and off the menu but is a real crowd pleaser when ordered!
"We're gonna do 'LOCAL' for our ingredients, such as local vegetables, cheeses, and meats, having a supplier now that caters to Italian restaurants," Mangiardi said.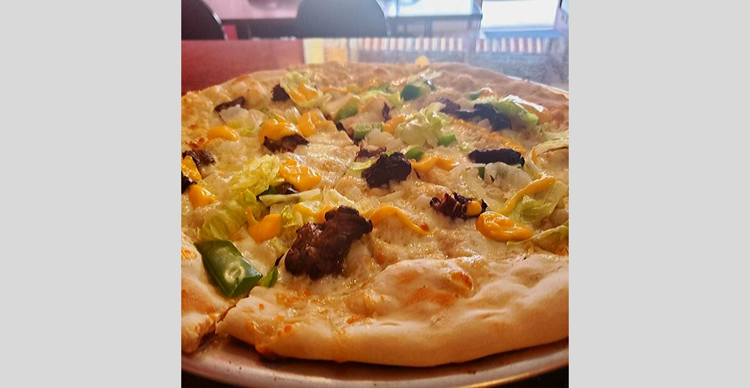 Salads will include House, Chef, and Italian, while sub sandwiches are either five different traditional cold choices or three different hot specialty selections, which included a meatball sub with their own homemade meatballs.
Leo's will also have a loyalty program: 1) Every 10th visit gets you a free specialty pizza; 2) Every Thursday will be 20% off for all law enforcement, correctional officers, and veterans; and 3) Every Friday will be 20% off to all mail carriers, hospital staff, and fire department services.
"Outdoor sidewalk seating will be available to start," Mark explained. "And, we have plans for a patio dining area for added outdoor seating that will come later."
In the midst of having these dreams coming true for Mangiardi, he reached out to one of his inspirational pizza guys: Frank Pinello, the owner of BEST Pizza in Brooklyn and host of The Pizza Show, getting the following first reply: "1st reply."
The Pizza Show was a TV series (2106-2018) on the MUNCHIES channel and broadcast by Viceland that explored the wonderful world of pizza. From places around the globe, host Frank Pinello met with the amazing characters while eating great pizza, learning their stories and eating their version of pizza.
"I messaged him in early December of 2018 before we opened our Milton shop," Mangiardi explained:
"Hey Frank, you inspired me as I've worked in pizza shops many years of my young life. And, finally I got the keys and purchased my own. Used to be a bakery, so getting everything in order with renovations and opening up in February in Pennsylvania. So pumped! Thanks for the inspiration…."
Pinello personally replied five days later, "Thank you, best of luck man. Send me some pics when you're sorted… we'll shout you out!"
One of the things that Mangiardi likes about fellow pizzeria owner Pinello is his passion for reporting the history of pizza around the globe and in remembering the importance of his neighborhood pizzeria growing up.
A soft opening is set for Sunday evening on August 18, with invited family, friends and staff.