Out of ten corps competing in the Open Class World Championship finals this past weekend at the Williamsport Area High School, the White Sabers Drum and Bugle Corps took fourth place with a score of 91.950. 
Made up of players primarily from Western New York and Pennsylvania, with some members from as far away as Ohio and Virginia, the White Sabers include 35 to 40 players and alumni from local area schools, including Williamsport, Loyalsock, and Lake Lehman. 
"It's our highest place ever in Open Class," said Ben Chaffee, corps director and brass arranger for the White Sabers. "We won Class A in 2013 and 2014 with the highest scores recorded in that class," Chaffee said.
Class A, he said, is defined as 65 members or less while Open Class corps can be much bigger, with a limit up near 128 members.
Carolina Gold took first in Class A with a score of 84.225, and the Buccaneers took first in Open Class with a score of 98.225. See the final scores for all Class A and Open Class competitors here.
There are many reasons for the rise in placement ranks for the White Sabers Open Class corps, starting with "a strong visual staff," said Chaffee. Members of the team are talented designers, but also dediated educators and motivators, designing a show with every little detail in mind, and then teaching the corps how to execute it.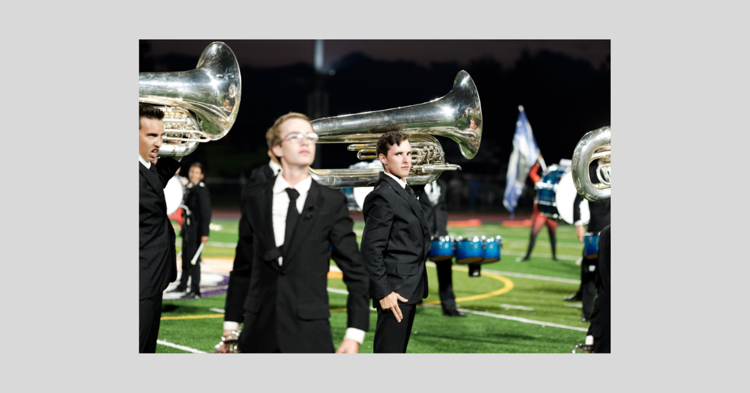 Judges of any DCA competition score on levels of communication and engagement. They consider what the presentation is attempting to do and say, whether or not the performance achieve those things, and how well it engaged the audience.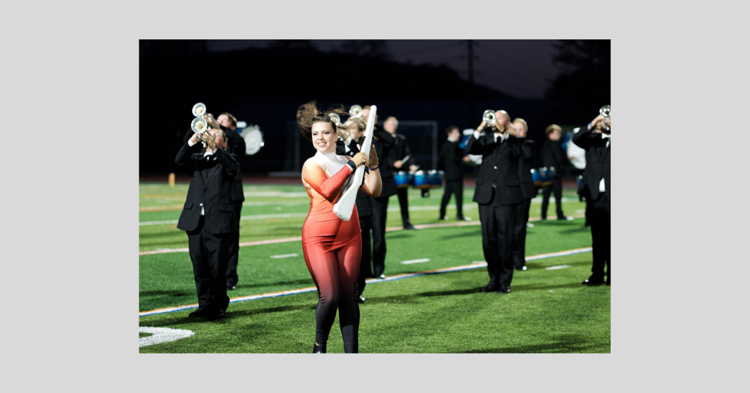 This year, the White Sabers chose "Bond" as their theme, as in 007. Ideas for the show started being tossed around in October of 2018 during weekly staff phone calls. 
One of the challenges for any drum corps is geography. Chaffee lives in DePew, N.Y., near Buffalo. Members of the team are scattered. "Some are in Buffalo, Rochester, Syracuse, Corning, Williamsport," said Chaffee. During the winter months, the corps practices primarily in Dansville, N.Y. In April and May, they "bounce around New York," playing in parades and practicing in different locations.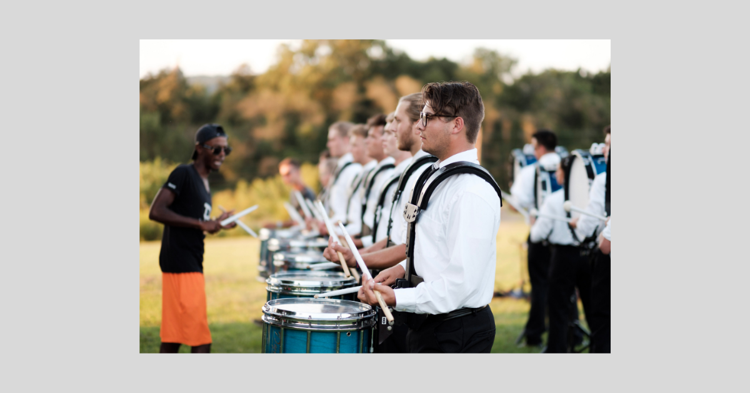 Summer is show time, and Chaffee estimates they play around eight shows a season, covering a wide geographic region, and often using Williamsport as a home base. The United Methodist Church at 1157 Market St. opens their doors when members of the corps need someplace to stay, and NuWeld on Reach Rd. offers their field out front as a practice field.
Chaffee, who works full-time as a strings instructor and is the father of two kids, ages 16 and six, says drum corps is a passion, or depending how you look at it, "a really expensive hobby. Some people play golf, or go fishing," he joked. "We do this crazy thing called drum corps."
He and the other staff members spend many weekends on the road, many nights planning their show, coordinating players and parents of the players (the youngest, he says, is 14, the oldest 59). And it's all, for the most part, a gigantic volunteer effort.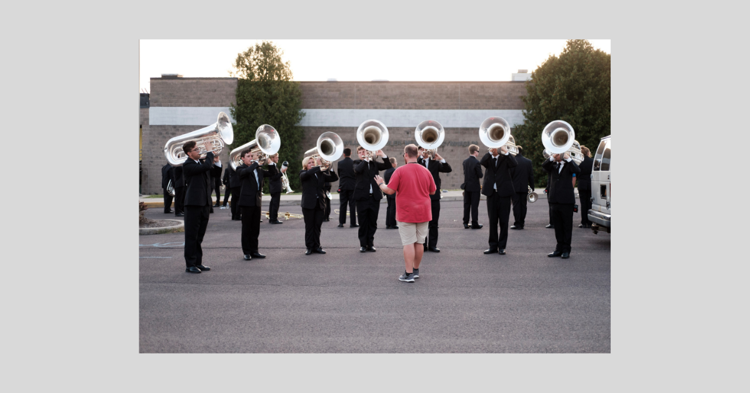 The White Saber staff is large, with a caption head leading and instructing each instrument or performance group. Head staff members of the White Sabers include: Pete Amico, corps president; Ben Chaffee, corps director: Bill Snook, assistant corps director; Laura Garside, business manager; Joe Stork, ensemble coordinator; Matt Jaeger, brass caption head; Adam Pellittieri and Joe Wormworth, visual caption heads; Marc Garside, show coordinator and percussion caption head; and Shannon Spalding, Color Guard caption head.
Playing for the home crowd
The DCA World Championship weekend kicked off Friday night in Williamsport, and while many of the corps played downtown, the White Sabres made a surprise stop in Danville, Pa., for the football game's halftime show. 
"We received a standing ovation," said Chaffee. And that applause was a forerunner to the events of the weekend. The schedule was compressed and altered by bad weather, forcing all corps to perform in the preliminaries and finals on the same day, but that frenzied schedule didn't affect the White Sabers. 
"In my 21 years of experience, I don't remember a change-up like that," Chaffee said. "But overall, I liked how it flowed. We made it work in the most positive way."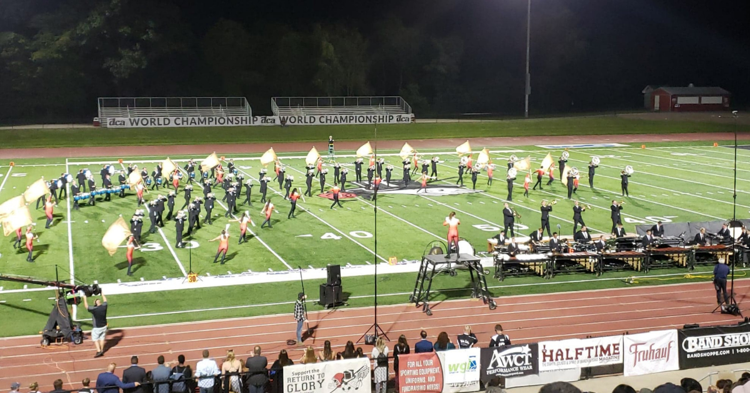 They'll celebrate their fourth-place victory, but come October, the White Sabers will file the Bond show in the memory books and turn their tubas (and other instruments) toward a new season.