Each year the Pennsylvania Farm Show Complex in Harrisburg hosts about 6,000 animals, 10,000 competitive exhibits, and 300 commercial exhibits during the Pennsylvania Farm Show, the nation's largest indoor agricultural exposition.
Despite the largess of the event, it only shows visitors a tiny window into Pennsylvania's massive agriculture industry which employs nearly half a million people and contributes about $185 billion to the state's economy each year.
For the start of a new decade, the 2020 show's theme is an appropriate and forward-looking one: "Imagine the Opportunities." Many exhibits will focus on the future of agriculture, including cutting-edge hydroponic technology and youth outreach by the Pennsylvania Dairymen's Association, including some huge additions to the Calving Corner.
The 2020 Farm Show will run from January 4 to January 11, with the food court opening a day early on January 3.
Truly, the Pennsylvania Farm Show has something to please and entertain everyone: farmers, foodies, animal lovers, tech geeks, beekeepers, kids, adults, history buffs, environmentalists, gardeners, equestrians, artists – the show offers anything and everything from unbelievably detailed butter sculptures and cutting-edge farming technology, to lessons on how to make a scarf from hair brushed from your pet bunny. You can view the full schedule of events here – you'll be sure to find something that interests you!
The Pennsylvania Dairymen's Association and the Mushroom Farmers of Pennsylvania are each debuting new treats: the dairymen's crispy, gooey, dippable Grilled Cheese Stix, and the meatless but oh-so-meaty Philly Port Sandwich.
"2020 starts a new decade and the Dairymen are proud to introduce an exciting treat — grilled cheese stix, along with our popular PA Dairymen's milkshakes at the 2020 Farm Show," said PA Dairymen's Executive Director Dave Smith. The delicious snack is made from wonderfully melted mozzarella on toasted Martin's potato bread with an optional side of marinara. Should you happen to try them, the dairy farmers would love to see you tweet your thoughts with the tag #GrilledCheeseStix!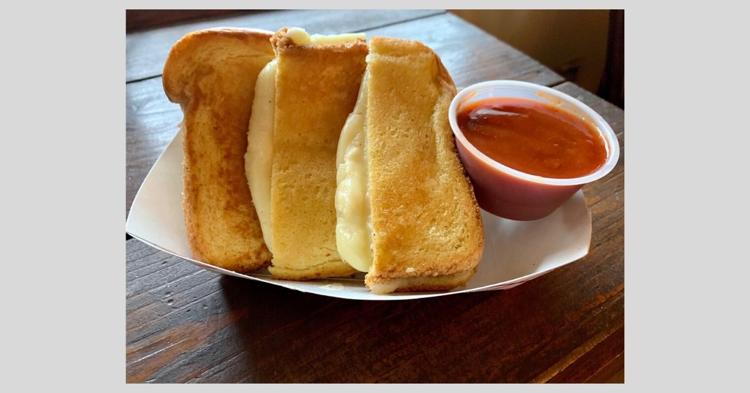 Along with the new sandwich, of course, the Dairymen will be offering their 'legen-dairy' milkshakes in chocolate, vanilla, and choco-vanilla mix flavors. Veterans with a valid ID will be able to get a free shake on Thursday, January 9. Other snacks available include crispy fried mozzarella cubes, ice cream, and of course white or chocolate milk.
The Mushroom Farmers of Pennsylvania will be offering their Philly Port Sandwich, a steakless cheese steak featuring Pennsylvania Portabellas, chopped and seasoned to perfection on a Liscio's hoagie roll with cheese.
"We can't wait to share with Farm Show attendees what is sure to become a new mushroom-fan favorite – The Philly Port Sandwich featuring our world-class Pennsylvania portabella mushrooms on a Liscio's hoagie roll," said Gale Ferranto, member of the Mushroom Farmers of PA and president of Buona Foods. "Coupled with our new interactive displays and traditional crowd-pleasing mushroom treats, the 2020 Farm Show promises to be the best yet. Be sure to visit and sample our mushroom delicacies at the Mushroom Food Booth!"
Other classic mushroom treats that will be available at the show include the perennial best-seller, original breaded mushrooms, an impossibly juicy burger made by blending beef and chopped mushrooms, RoRo's mushroom salad, and creamy, comforting mushroom soup.
Check back with NorthcentralPA.com for more previews of Farm Show features, including more details about the new and improved Calving Corner!