Wellsboro's 36th annual Dickens of a Christmas Celebration was held earlier this December, with a weekend Victorian marketplace full of vendors, crafts, entertainment, and food. It's a long-cherished tradition for the thousands of people who come from near and far. 
And though the atmosphere in the quaint Tioga County borough is festive and historic, nothing makes you feel more like you've revisited the 1800s than the Best Dressed Dickens Showcase, a contest that encourages participants to dress in Victorian-era attire. 
A judge for this year's "best dressed" competition happened to be one of last year's Showcase winners.
Christine A. Moore, owner of Christine A. Moore Millinery of New York, was named Featured Milliner of Kentucky Derby 144 & 145— the first time Churchill Downs has given this title to anyone in their entire 145 year existence. Moore is also the official milliner of the Breeders' Cup, America's Best Racing, and many other high honors that have led many to call her the best milliner in the United States and thirteenth in the world.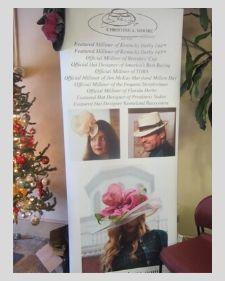 Every year, Moore designs a vintage line of hats, specifically for Wellsboro's Dickens celebration, and one of these unique hats is awarded to the showcase winner.
Related reading: Best dressed ready for 'Dickens of a Christmas' in Wellsboro this Saturday 
This year's winner was Elaine Benjamin of Vestal, New York. Upon being named the winner, she was introduced to Moore in the lobby of the Deane Center, where the milliner's hats were on display. She described the inspiration for her dress, the tedious hours that went into making it, and her overall experience getting ready for the event.
Benjamin and her friend, Barbara Thompson of Treadwell, New York, decided to participate in the contest together, but admitted that neither of them had sewn much in several years. "We were concerned about the extent and scope of making Victorian-era clothing with all the material, boning in the bodice, pleats in full skirts, etcetera," she said, but as the final results came together the morning of the showcase, neither of them had anything to worry about.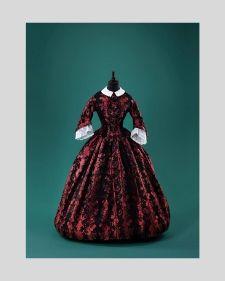 Benjamin found a dress online to serve as her inspiration for her design. She reached out to the designer, Alexandre Vassiliev, in hopes of gaining more insight into the beautiful burgundy floral patterned dress she found on Pinterest. 
Vassiliev and his associate, Christophe Dubois Rubio, were happy to provide as many details about the dress as they could. It hailed from the 1840s-1860s and was inspired by Parisian fashions, especially the prominent Haute Couture House of Charles Frederick Worth. 
It's a burgundy silk brocade dress decorated with black flower garland. Benjamin explained that the dress is called a 'transformer dress" because it's in two pieces: bodice and skirt. 
Often these dresses had a couple of bodices for different times of the day, allowing ladies to change only the outer part of the dress for different occasions. The collar and undersleeves, which were often made of bastille or cotton, were removable so they could be easily washed. All the bodices of the middle 19th century opened in the front, and buttons were often covered with the same fabric as the dress. 
From the details provided, Benjamin figured out how to make the most authentic, Victorian-era dress using a pattern by Simplicity (No. 4510) from a series by fashion historian, Martha McCain. She altered the pattern to suit her vision, and insisted that everything be handmade/sewn as it would have been in the 1800s to provide a more authentic feel.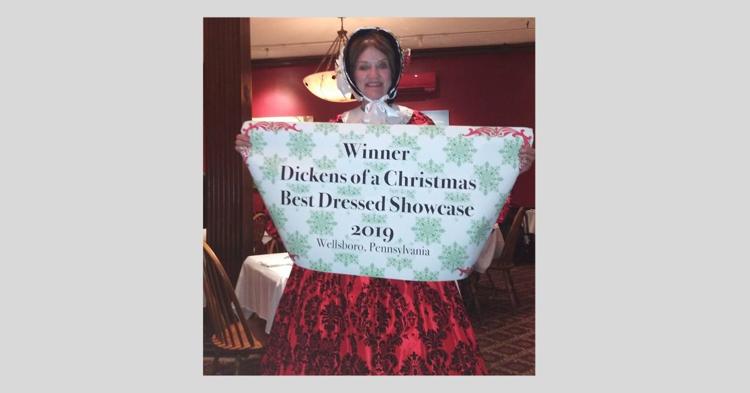 "The sleeves were a bit of a stretch for me as I am not an expert seamstress and hadn't even sewn in many years," she said. "But, I was determined to get the right look so I took the three pattern pieces that made up each sleeve and fashioned them into one pattern piece by taping them together. Then I crossed my fingers in hopes that it would look right and would still fit correctly into the armhole of the bodice."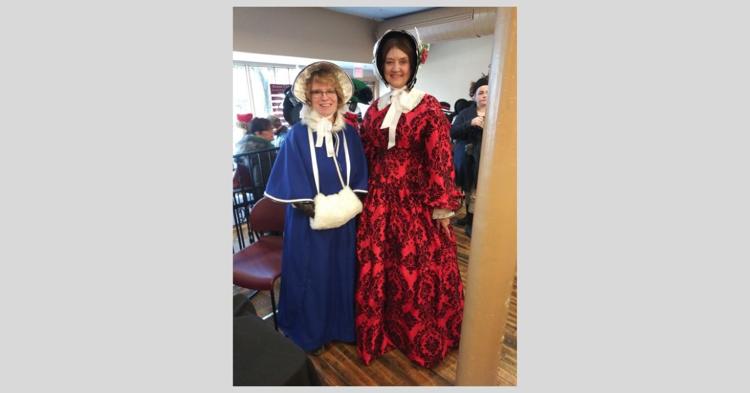 Benjamin and Thompson researched Victorian clothing and sewing techniques as they prepared for this challenge. "As an example," she said, "my full skirt required fitting over 170 inches of fabric into a 30-inch waistband, which seemed like an impossible task! But, I learned there was a special technique for pleating material so that only one edge of each pleat was sewn to the waistband, thereby leaving the bulk of the material to swing freely on the inside of the skirt. Voila! It worked! Who would have guessed?" 
Benjamin said the project was quite a learning experience, "one which made us appreciate all the more the relative simplicity and ease of today's modern clothing!"
All are invited to participate in the Best-Dressed Showcase each year, and the pair encourages others to join in the fun in 2020. 
Rumor has it, this year's winner may be asked to judge next year's showcase. When asked for advice she would give future participants, Benjamin responded, "Put your shoes on first!"