For American farmers, the recent legalization of hemp growing after the crop had disappeared from fields for generations has been portrayed as a panacea.
Low milk prices got you down? Sell the herd and grow hemp. Tired of growing soybeans? Why not give hemp a try?
While there's been a lot of hype about hemp, like any crop, there are risks and rewards to consider for central Pennsylvania farmers getting into the hemp-growing game.
Joshua Leidecker was the first farmer to plant hemp in Pennsylvania on a Limestoneville property when its planting for industrial uses – fiber, oil, and feed, mostly – was approved by the state in 2017. At that time, farmers couldn't get financial backing from banks to plant hemp, since it was still considered illegal by the federal government.
By virtue of his early experience growing hemp, Leidecker, the founder of Susquehanna Mills Co., has found himself called on by eager farmers. Many are hoping to take advantage of a market that only a year ago was paying high prices for cannabidiol (CBD), an active ingredient in the cannabis plant that has therapeutic effects without the psychoactive properties of the tetrahydrocannabinol (THC) found in marijuana.
"I had every Amish person in the world calling me wanting to know if they could grow CBD," Leidecker told a group of farmers gathered at the Susquehanna Mills facility the first week of March. "There's a lot of people with big wide eyes who want to pay off the farm in a year."
The market for CBD, as well as fiber and seed, is still in the process of development, Leidecker told the group.
The price for biomass grown to extract CBD fell 75 percent from the time of planting last year until today. Farmers were able to grow the hemp, but there weren't enough processing plants to extract the CBD from the biomass.
CBD processors have their own array of government permits to acquire, and there are a lot of inexperienced people who still have learning to do about their new trade. Extracting CBD can involve multiple processes to make multiple products. From a plant that might contain 12 percent CBD content in its raw form, a processor who's making a full spectrum distillate is vaporizing the material and re-collecting it to make a product that's about 80 percent CBD.
"It's just like making moonshine," Leidecker said, "with different temperatures and pressures."
That processed product is what someone making a tincture buys, suspending the CBD in oil. (It's worth noting that just because an item contains hemp, that does not mean it contains CBD).
"You're taking something that's trading for $10 a pound to something that's $2,500 per kilo," Leidecker said.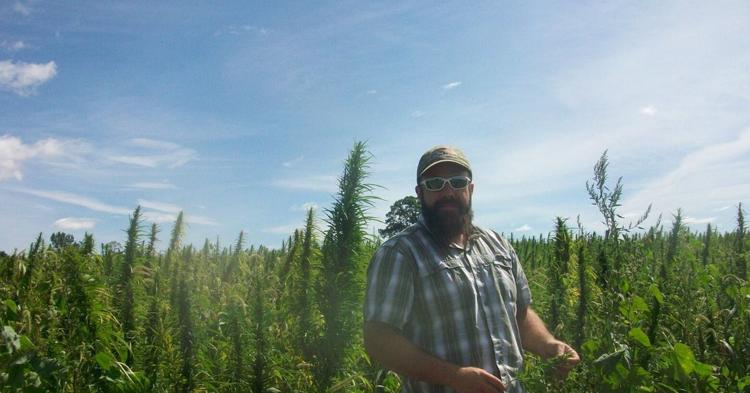 On the fiber and feed sides, technical and regulatory issues are still being worked out as well. A company named Groff, in York, contracted with Leidecker to deliver dry baled hemp for fiber. Groff had invested in a hemp "cordificaton" machine, separating the cellulosic 'hurd' inside the stalk from the bark. One use of the hurd is as bedding in chicken egg-laying houses as an antifungal, antiviral material.
After Groff's machine broke, though, the company reduced its guarantees to farmers, leaving the risk with the farmer if they want to plant hemp.
Other considerations include the capacity of the farm to dry the plant, which has a high water content. Plants grown for fiber can lay in the fields for a while before baling. That grown for CBD, though, can't afford mold.
The actual cultivation of the hemp plant is nothing exotic to those accustomed to growing any other crop. The least risky way to start, so far as growing time goes, is with fiber hemp, which requires a 75-day window.
Hemp doesn't like "wet feet," Leidecker advised the farmers, relating that hemp he planted in a bottomland plot along the Loyalsock that never dries out did not do well. Harvesting for fiber or seed can be done with the usual harvesting equipment.
Leidecker advises clear-eyed caution for farmers interested in experimenting with this newly legal crop.
"If you want to grow hemp, grow hemp," Leidecker said, "but play at a level you can afford to lose. It's a long game, it's not a short game, and it hasn't fully developed yet. There's a lot of people growing the crop without any promise of marketability."