Montoursville – It's not uncommon for flights at the Williamsport Regional Airport to dip down to one a day during part of the winter season; however, the pattern indicates a larger trend of poor ticket sales and highlights the struggle to bring a new airline to the region, officials say.
"From what I understand, American (Airlines) thinks this market is underperforming," said airport Executive Director Richard Howell, who came to the airport in October 2019. "Is it going to be easy? No. Is it going to be an uphill climb? Yes." 
American Airlines is the sole commercial airline serving Williamsport. 
Immediately upon taking his new position at the airport, Howell asked for a "leakage" study to be performed. Preliminary results show that roughly 600 travelers fly each day throughout the northcentral Pennsylvania region, however, fewer than 10% use the Williamsport Regional Airport. 
A need for reliable service 
While costs of flights do play a role in customers deciding to use other airports, Howell said, the most common reason comes down to reliability. He added that locals would be more willing to spend more for the convenience of a closer terminal, if they were certain the flight would leave on time or not be cancelled.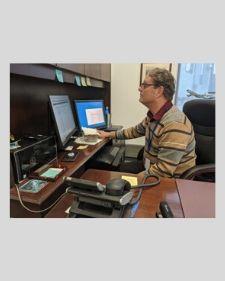 The primary cause of unreliable flights comes back to American Airlines, Howell said. While there may be a few other factors, ranging from weather and flight crew availability, the airline's completion rate percentage from Williamsport to Philadelphia – its only hub – is around 60%. This is a dip from 88% in 2017, Howell said. 
"We need something to change. Bringing in another airline is a big change. Getting American Airlines to open up another hub. That's a big change," Howell said. 
Airline search 
Allegiant Airlines announced in June that it would be adding a new service for University Park Airport at Penn State. The news came as a hard blow to the Williamsport airport, which had been in talks to try and bring Allegiant here instead. 
While Howell was not working with the airport at the time, he said bringing Allegiant here would have made sense. 
"From what I understand, they were trying really hard to get them (Allegiant)," Howell said. "This is a good location for Allegiant … looking at what they do and what they see and markets they like to be in, it's very surprising that they didn't get Allegiant." 
But Howell doesn't discount the low-cost, Las Vegas-based airline entirely. The close proximity to Penn State University means it may be a harder sell, but still a possibility. 
"Allegiant may be someone we go talk to again, because our top five destinations are places they're going," Howell said. 
Leisure over business
Preliminary results of the leakage study show that the airport's top five destinations have to do with leisure, not business. Further down the list are a number of business locations,  including Houston. If the airline could offer a different hub, perhaps to Chicago or Charlotte, then business travel may pick up, because it would mean travelers wouldn't have to layover in Philadelphia. 
A full copy of the leakage study will be available next week after Howell presents it to the Williamsport Municipal Airport Authority.
The yearly decrease in flights during part of the winter season is indicative of a lack of ticket sales from the airport and, Howell said, shows that the airline views it as a seasonal market rather than a business-class market. 
"The carrier (airline) isn't doing us any favors," said Howell. "If we have a reliable and decent schedule, people will use it." 
Stimulate the market 
Bringing another airline to the airport, or increasing flights through American Airlines, requires showing the airlines that money can still be made in the Williamsport region. Howell said that while the study shows a low percentage of tickets, it does still show a high volume of travelers – travelers that an airline may want to tap into. 
But Howell said the situation is not as dire as many may think. There are a number of opportunities to grow the local market through community involvement and proper marketing strategies. 
"There are a lot of communities that are in a lot worse shape than we are," Howell said. "That we've had large amounts of service in the past is a big plus." 
Some cause for encouragement comes with...
Read the whole story on On the PULSE