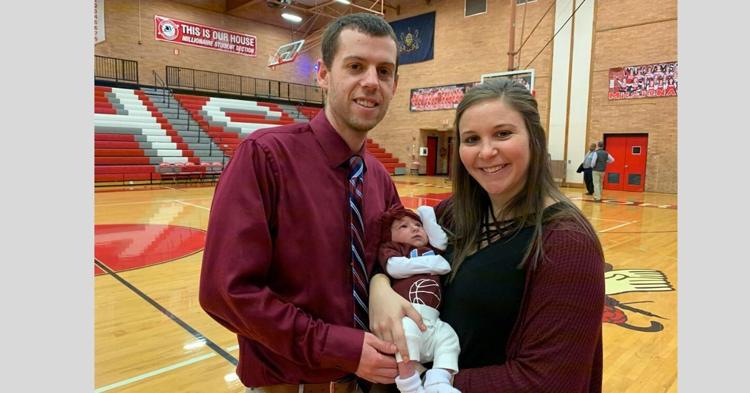 Several years ago, Montoursville's girls basketball coach Travis Heap was looking for two assistant coaches. He settled on Curtis Jacobson and Kerri Datres. The problem was Curtis and Kerri were dating. What if the young couple got in a fight off the court and it lingered into the gym? Worse yet, what if they broke up during the season?
Well, they did neither, and the season went along swimmingly.
Fast forward to today. Curtis is in his fourth season as head girls coach at Loyalsock, and Kerri, his wife, is his top assistant. Now the question turned from "what if they break up" to "what if she goes into labor?"
That's right. Late last spring the couple found out they were expecting their first child and the due date of January 9 would land smack dab in the middle of the season.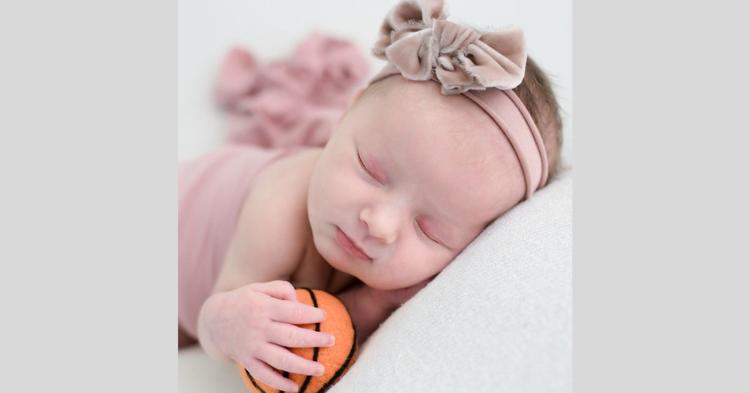 As the season got underway, Kerri was having a "good pregnancy" and was able to coach just as she had always done. The Lancer girls raced out to an undefeated start but knowing the baby was coming at some point, the coaching couple had to make a plan.
Usually, if a female assistant went into labor, the team would be short one coach. However, when her husband is the head coach, the team would lose their top two coaches, leaving only volunteer assistant Kirk Bower.
"You never want to have a game, or even a practice, with only one coach." Curtis explained. "There's too much going on to do it well with just one person. We needed somebody to be "on call" so we reached out to Jeff."
"Jeff" is Loyalsock boys assistant coach Jeff Everett. A self-proclaimed basketball junkie, Everett had sometimes helped at the Jacobson's practices in the past. He's also coached several of the girls on his spring AAU teams.
"We were lucky because Jeff is not a stranger to our girls," Curtis said. "And he knows how to run all of our stuff. So we knew, whenever the time came, we were in good hands with Kirk and Jeff."
As the due date approached, Jeff started attending every girls practice and game when there was no conflict with his boys coaching schedule. Although, at this point, he was doing this just to prepare. He wasn't actually filling in for Kerri yet, because Kerri was still around. She was still coming to all the practices and the games. The only difference was she was now riding to away games in a car instead of on the bus. But that was it. Everything else was status quo.
They almost did miss one practice. Two days short of her due date, they spent much of the day in the hospital thinking the baby was coming, before eventually being told it was a "false alarm," so they left and made it to practice.
Then real labor arrived, and little Skylar Jacobson was born at 1:13 p.m. on Wednesday, January 9. The delivery went smoothly. A few hours had passed. Mother and baby were healthy and resting comfortably. Then came the coach's quandary.
The team was still undefeated and had a game that night against Southern Columbia. Southern had a good team. They were 9-3. Any coach would want to be there, but his wife just had their first child. There was no way he could go. Unless…..
Earlier, when we mentioned Kerri's maiden name is Datres. Yes, that Datres family. Her brother, Kyle, plays in the Colorado Rockies organization. Her other brother, Kory, was a four-time state baseball champion (at varying age levels) and played in the Big League World Series twice. Her sister, Kelli, was a three-time state champion gymnast. Her mom, Cindy, was Williamsport High School's first female, three-sport athlete and was an undefeated tennis player at Lock Haven University. And her dad, Lynn, has played and coached baseball and basketball……forever.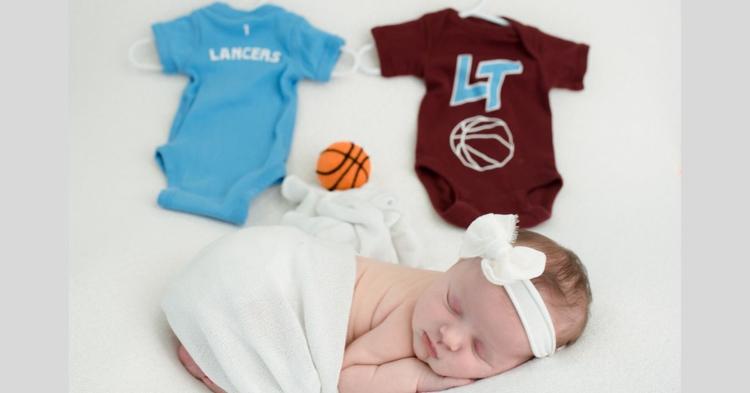 Kerri, herself, was the starting point guard in high school and the starting shortstop on Loyalsock's undefeated state championship softball team of 2008.
New mother Kerri was still assistant coach Kerri. She knew her team had a big game and their head coach was standing amongst a crowd in the hospital. "I had a room full of family with me," she said. "He'd been there all night and through the delivery, but now he needed to be at the game, so finally I looked at him and said 'what are you still doing here?'"
The problem was he hadn't slept. The game wasn't at home. It was in Catawissa. Curtis knew he couldn't make the drive, so in stepped Curtis' parents. They would drive him to the game in their car. He climbed into the backseat and was asleep before they left the parking lot.
An hour later, he walked into Southern's gym with 15 seconds remaining in the JV game, then coached the varsity to a 56-52 win.
A few weeks have now passed. Skylar is doing well, Kerri is back on the bench, and while Loyalsock lost its undefeated season when they fell to Bloomsburg, the Lady Lancers '19-'20 campaign has been exceedingly successful.
"If you'd have told us back in November, that on January 27, we'd be 16-1 and have a healthy baby girl, I think we would have taken that," Curtis said.
And how could any couple be in better position for babysitting help? They have 21 high school girls at practice every day.
"They all think she's adorable, but that might change when the poopy diapers showed up," Kerri laughed. "Then some of the girls would handle it just fine, but I think others might really struggle."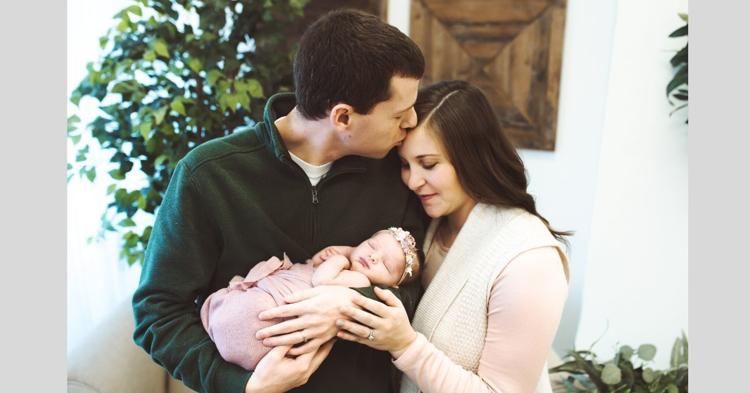 The season certainly hasn't been a struggle. It's been different. It's been memorable. But the wins keep coming for this couple, both on and off the court.
Did we mention their team has only one senior in the starting lineup? If we didn't, we meant to. That's it, just one. So next year, the winning will almost assuredly continue. The only real question is will there be another baby?
Curtis and his brother, Chad, were born only 17 months apart. If Curtis and Kerri could cut that down to 14 months, baby #2 would arrive during next season's playoff run.
Hey, why not? If any couple could handle it, it's this one.