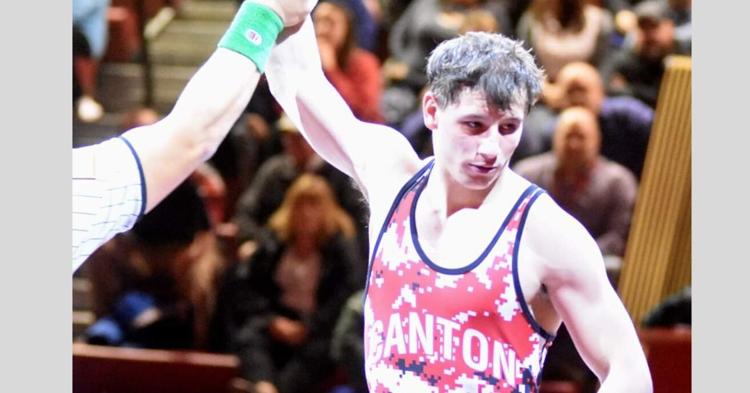 Today, Canton's Timmy Ward makes his triumphant return to the state wrestling tournament. In 2018, as a 152 pound sophomore, Timmy made his first trip to states. It was a proud family moment for a proud wrestling family. Tim Ward, Timmy's father, had previously coached Canton's wrestling team, and he, himself, placed 6th at states back in 1987 at 126 pounds.
"Some kids, when the season starts, you just know they'll end up at states," explained Tim. "Timmy wasn't like that. It wasn't a given (for him to qualify for states). He wasn't flashy or spectacular. He was a worker and solid wrestler who won the matches he was supposed to win."
The following fall, football season had come to a close and wrestling was getting underway. Timmy, now a strapping 185 pounds, was preparing for another season on the mat and what seemed to be an inevitable trip back to states. Between the sports, however, Timmy had to get a lump removed from under his arm. It was not thought to be a big deal. The doctors weren't especially worried. They sent it out to get biopsied merely as a precaution.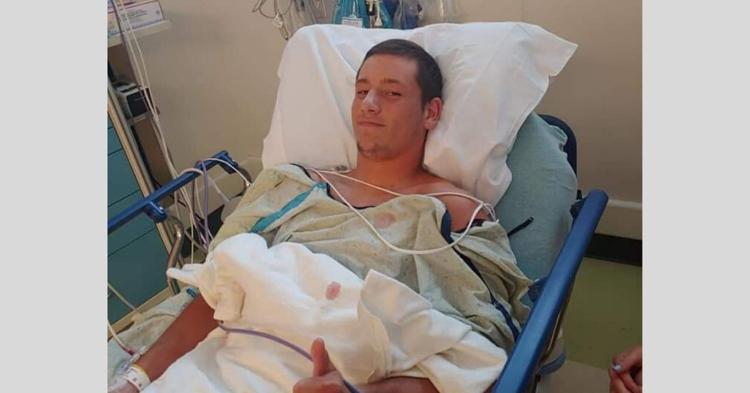 "The day the results were coming back, Timmy and I went hunting that morning," recalls Tim. "When Timmy and his mom went to the appointment, everyone expected the doctors to say everything was fine."
What they were told was something entirely different. Timmy had hodgkin's lymphoma.
"Everything happened so quickly," explained Michelle Ward, Timmy's mother. "He was diagnosed on November 26th, we were in Hershey Medical Center on the 28th, and Timmy had his medi-port placed and started receiving treatment in the first week of December."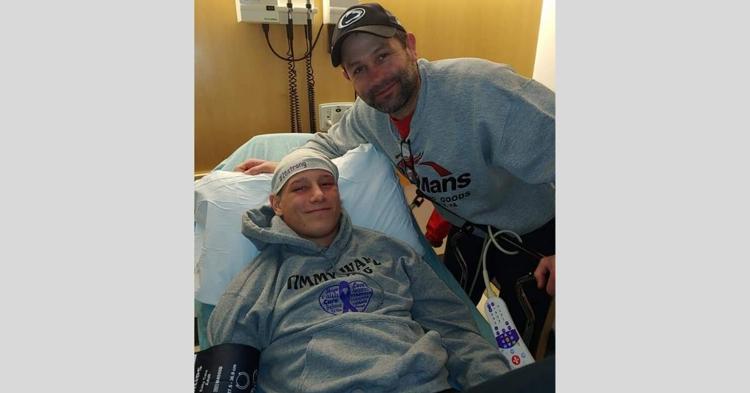 Then, everything stopped.
No more wrestling. No more school.
Timmy's parents withdrew him from high school. "Junior year is an important year academically, with advanced classes and SAT and ACT tests. We knew the physical toll the chemo was going to take on Timmy. We were also worried about the mental toll. We decided we needed to focus on getting him healthy. Then after that, he could just repeat his junior year," said Michelle.
They immediately realized pulling him out of school was the right move. "He lost 30 pounds," Michelle said. "The chemo made him so weak. He couldn't really do much of anything. One of the few things he could do to get off the couch was walk in the woods at his grandparent's farm, but whenever he did, he had to take his phone with the GPS, in case he got into the woods but was too weak to walk back. We had to be able to find him."
"I was scared," admitted Timmy. "When I was diagnosed, I felt fine. Now, the chemo was making me feel awful. But there was nothing I could do but ride it out and hope it worked."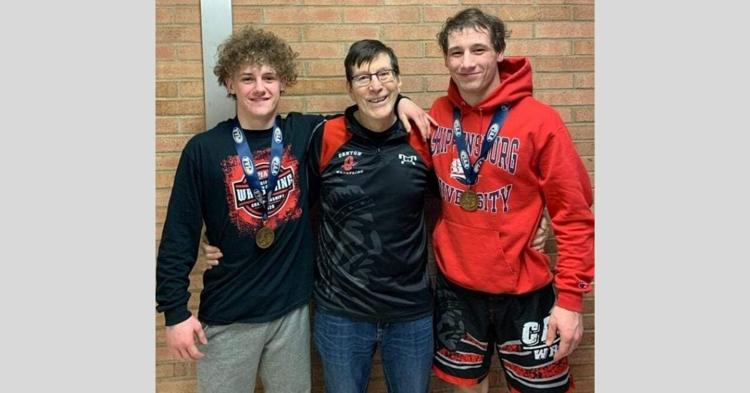 Enter Bill Holland. In a twist that only people from a small town could understand, Holland began spending time with Timmy during the day. Holland was a retired history teacher and a volunteer wrestling coach at Canton. Back in the day, Holland had been Tim's wrestling coach. Now, he was also battling his own form of cancer. So when they were too tired, or too sick, or it was too cold to walk around outside, the two cancer buddies would sit around and watch movies, often times until someone came home and found them both crashed out in the living room. It was like having an extra grandfather around.
The chemo worked. On May 1, Timmy was declared cancer free. Now, he was determined to get back to being an athlete. But it would be a long road.
"This had been a kid who was a strong and fit. Now, he couldn't do five push-ups," said Michelle.
"As a dad, all I wanted him to be was cancer free. I didn't care if ever played anything again," said Tim. "But Timmy's an athlete and a competitor and he wanted to get back into the action, but his body was so weak after the chemo. There were times I wondered if he could ever come all the way back."
Football season was a no. The doctors forbid it since it was too close to the chemo treatments. Wrestling was a maybe. It all depended how Timmy felt when the time came.
That summer, he played some American Legion baseball, just to run around and be active. Then he went to a non-contact, football skills camp, which didn't go well.
"I was slow. It was bad," Timmy laughed. "That's when I realized how far I still had to go, and that they were probably right telling me I couldn't play football. There was no way I could have been ready."
But throughout the rest of the summer and the fall, he kept putting weight on and he kept getting stronger. He even entered a wrestling tournament in the fall and did well enough.
By the time the wrestling season came around, Tim was convinced the old Timmy had returned. "The attitude, the confidence, the competitiveness were all back. He was just like the kid who went to states two years ago."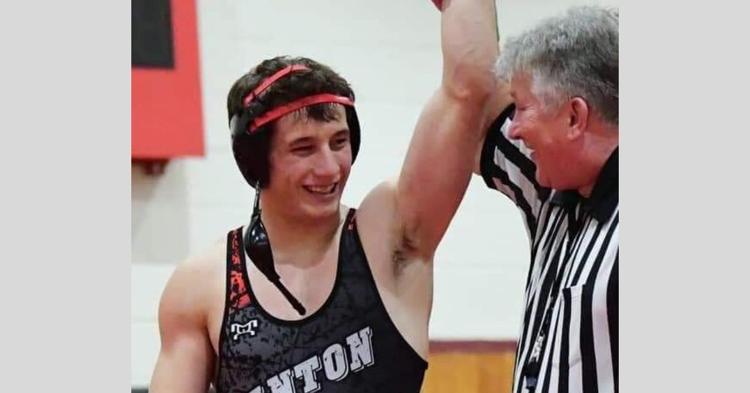 But how good could he be? He was barely six months removed from chemo. He had to be rusty. He'd missed the entire previous season. Yeah, his weight was back up to 170, but still, could he win?
"I know wrestling and I know my son," said Tim. "I know it sounds crazy, but when the season started, I really felt like he was ready," When asked if he had any doubts that his son would have a good year, Tim simply said "no."
So far this season, Timmy is 36-6.
Now, as the state tourney approached, Tim and Timmy broke down the brackets just like every other wrestling father/son would do. "He drew last year's state runner-up in the first round," explained Tim, "so that was a bad break, but we were happy to see (Cael) Crebs (Montoursville) and (Tyler) Stoltzfus (St. Joseph's Catholic) on the other half of the bracket. But hey, it's states. Every kid here can wrestle."
Timmy's mental state is no longer that of a recovery patient. He's back to being 100 percent athlete.
"I'm sure people think that having gone through what I went through, I'm happy just to have gotten here," Timmy explains, "but it's important to me to wrestle well while I'm here. I'd love to get a medal. Everyone would love to get a medal. But I just want to wrestle well."
As his mom watches from the stands, she knows it will be very different than two years ago.
"I'm just so thankful and so grateful," Michelle says. "And I'm really proud."
The family sentiments are probably best summarized by Timmy's sister, Kayla. "We always knew he was special. This will make everybody else realize it too."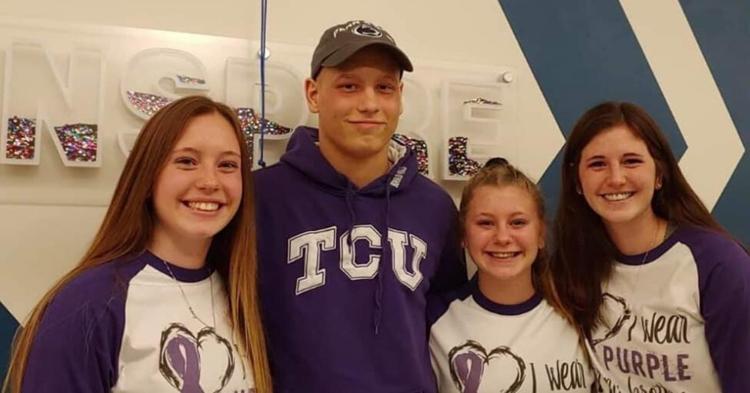 Undoubtedly, wrestling fans from Northcentral Pennsylvania and all over the state who know Timmy's story will be following the AA 170 pound bracket. People who don't even know where Canton is will be scanning news reports to see how far Timmy can go, since they already know how far he's come.
After this weekend, his journey will continue. Rumor has it, he'll be on the football field next fall. "Oh yeah, I'm playing," Timmy said.
Why would anyone doubt him?