Montoursville, Pa. — Approximately 20 citizens attended Tuesday's school board meeting to hear discussion of a possible ban on Critical Race Theory (CRT) in Montoursville Area School District.
The resolution, introduced by board member Ron Snell, aims to "oppose public school and publicly funded charter school curriculum, instruction, or materials promoting Critical Race Theory."  It calls for a ban on advocating "similar divisive concepts relating to sex, race, ethnicity, color, or national origin."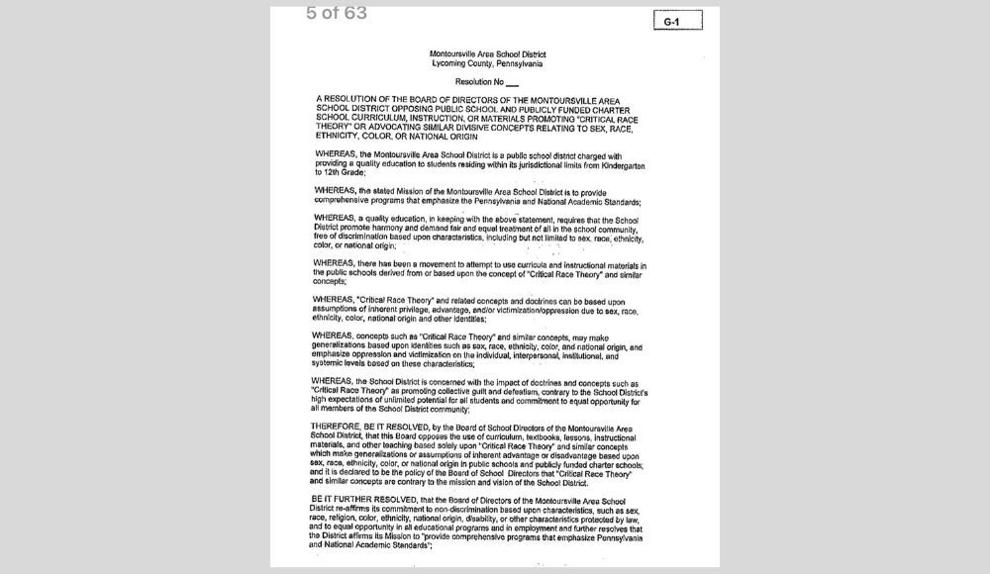 The resolution failed to receive a second on the motion in order to bring to a full vote. A similar attempt to ban CRT, also introduced by Ron Snell to the Montoursville School Board back in 2021, also failed. 
Absent from Tuesday night's meeting were board members Dottie Mathers and David Young.
Related reading: Resolution opposing Critical Race Theory dies with Montoursville School Board non-vote (August 2021)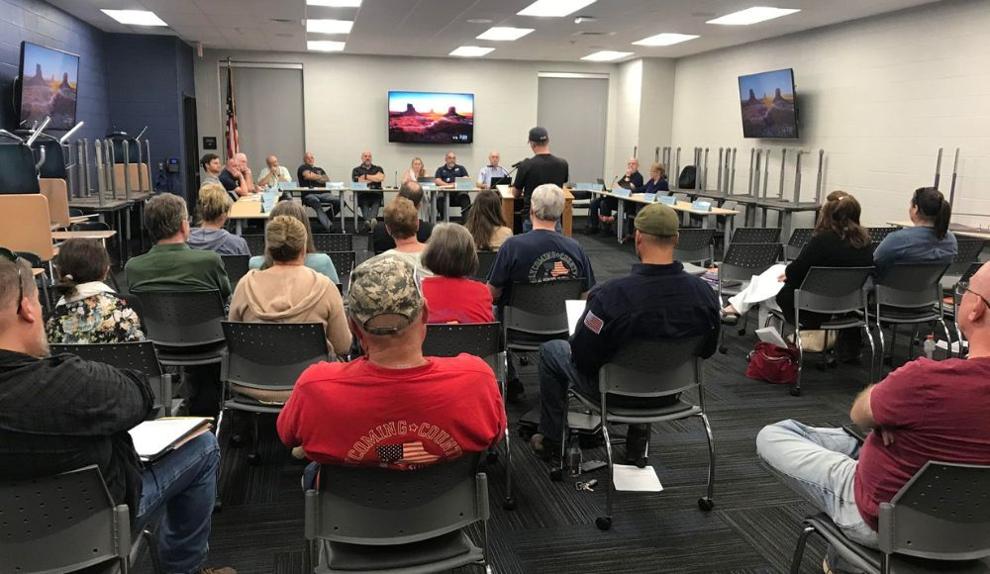 Nine residents spoke for or against. No current student attended or spoke.
Missing from the conversation was a clear definition of the concept of CRT.  According to Merriam-Webster, Critical Race Theory is defined as "a group of concepts used for examining the relationship between race and the laws and legal institutions of a country and especially the United States."
An expert in the field of diversity and inclusion from Bucknell told NorthcentralPa.com in August of 2021, the first time this resolution was presented to the school board, that the concept as applied in undergraduate learning is more of a re-structuring of how stories of race are told in America to make the narrative more inclusive of many points of view.
Various interpretations of CRT brought into discussion
Montoursville resident Rick Houser urged board members to "do their part" to combat "satanic philosophies."
"Transgender mania, social divisions, and perversions," along with "socialist constructs masquerading as education" are leading to "destruction of the nuclear family," Houser said.
Montoursville English teacher Cindy Wentzler asked the board to include teachers and a broader scope of parents in these decisions.
Wentzler said different groups of parents have different ideas. Teachers, she added, are "happy to discuss our curriculum and how we teach it. Perhaps that might clear some things up," said Wentzler. The resolution's vague language, she said, makes it difficult for educators to work within the confines of the current curriculum which parents "sign off."
School board candidate Brenda Oberheim urged the board not to "succumb to the scare tactics of Mrs. Wentzler."
Policies and systems have lead to inequality and "manufactured outrage" over CRT, Montoursville resident Seré Altebrando told the board. "CRT indoctrination in schools doesn't exist," Altebrando asserted.
Local attorney Greg Stapp disagreed, calling Altebrando's statement "a lie."
Parent Brad Eisenhower claimed his child is a "victim" of CRT. He suggested it is taught without being realized. "Perverted woke beliefs," he said, are contributing to a "downward spiral" in education. However, Eisenhower went on to say, "I believe a majority of teachers are not trying to indoctrinate children with socialist ideas."
Ron Snell said the resolution "would be helpful to the administration should they have to discipline a teacher because of them teaching something that's not in the curriculum." A teacher can "go rogue" instructing students, he said.
Teaching history, said Snell, is what teachers do. "But you don't teach students that you're better than another class of students," he said. The resolution, he added, protects against that.
A resolution cannot properly be enforced
Board President Dave Shimmel said policies against discrimination are in place. "Now is not the time for a CRT ban. Future school boards should remain vigilant, he said."
The resolution makes sense "as a concept" but not as a "written document," Shimmel said. "This is only a resolution. To me, this says what this board does or does not believe." 
Adding to Shimmel's point that a ban is not easily enforceable, board member Dale Ulmer said the media plays a part causing panic. "If we don't take the opportunity to prepare our kids for what they see outside the community then we're doing a disservice," he noted.
Board member Danny Albert said he does not believe in CRT. People have lost the ability to coexist, he said.
Albert also insinuated CRT is being made to seem bigger than what it needs to be. He questioned the timing of discussion on Critical Race Theory.
"Whether you like it or not, your kids are going to be exposed to things you don't want them to," he said. "We've been getting indoctrinated for over forty years. Where was everybody at then?"
The resolution, in practice, will do "nothing for you," Albert said. "There are people who hold the system accountable. Maybe not on your level, but it's being done," he added.
Albert said the board has the whole community to think of. "Not a few people over here or there."
Board member Todd Badger suggested the district consider updating existing policies.
Different interpretations mean "very precise" language is needed to define what CRT is, in fact, according to board member Joe LeCrone. 
"I can't vote for this because it does not define CRT to a level everyone understands," said LeCrone.
In other business:
The board approved the proposed final budget in the amount of $33,510,052 for the 2023-2023 fiscal year. The budget includes salary and work schedules as proposed.
A budget transfer from the district's General Fund to Capital Reserve Fund was approved in the amount of $1.7 million.
The next regularly scheduled school board meeting is 7 p.m. on June 13 at Montoursville High School, Mulberry St.