Robert Pignatello, Lock Haven University President, participated in a series of "Take Your President to Work" days this September to get to know LHU staff and their roles more closely. Pignatello shadowed various staff members for a few hours of their day, baffling students as he pulled weeds and trimmed shrubbery around campus. The president found the event both useful and fun, and plans to do another.
The staff shadowed by Pignatello included Doug Spatafore, senior director of athletic marketing and communications; Paula Moore from the maintenance department; John Gradel, assistant director of international student services and international admissions; and Brad Dally, director of the LHU Student Recreation Center.
"This was a look behind the curtain," Pignatello said about his experiences with the staff members. "It allowed me to get closer to some of our employees and better understand the work they do every day by actually doing it with them. It was very successful and we plan on doing it again next semester."
During Pignatello's time with Spatafore, they set up the press box for the opening football game of the season. "I enjoyed the conversation with the president and most important to me was him taking the time to talk and interact with my three graduate assistants," Spatafore said. "I know it meant a lot to them, too."
Moore said she enjoyed having the extra help and had the president get his hands dirty – pulling weeds and trimming back plants around campus. "I think it's a good idea that he gets to see what each department does," Moore said about the experience, adding that not everyone understands the amount and variations of work she and the rest of her crew takes care of on a daily basis.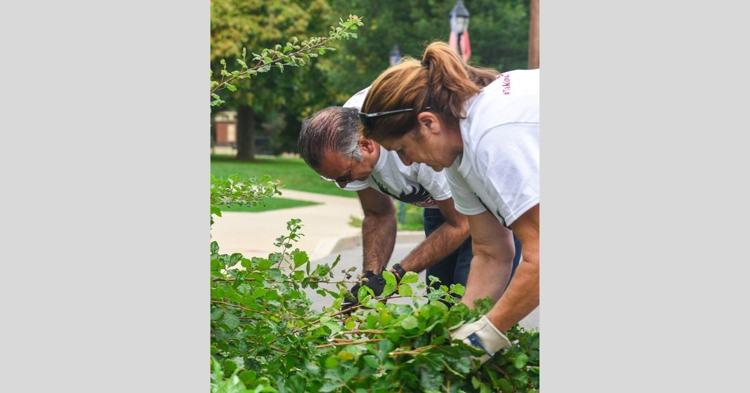 Pignatello said one of the things that was most fun for him during the experience was when others, especially the students, noticed him outside his office working with the staff. "My office had a few calls – people were wondering, 'why was the president out there trimming bushes?'" he said. "I think we caught some people off guard and very surprised and it was a lot of fun."
The president headed indoors for his time with Gradel. They met with the president of the Asian Student Association and the Global Viewers Club to discuss past and future programs, discussed plans for International Education Week and presented on study abroad in Dr. Richard Goulet's world history II class.
Gradel was excited for the president to join him and learn more about his work with international and study abroad students. "The president brought a unique aspect to our student leader meetings along with the study abroad presentation," he said. "During the study abroad presentation he was able to share his own experience of how he first visited Lock Haven, picking up his cousin from an exchange program between LHU and a partner school in Italy. The students immediately connected and were enthusiastic to learn more about studying abroad."
Pignatello headed to the Student Recreation Center for his final shadow of the semester with Dally. There, he learned everything the center offers students at LHU, helped with a thorough cleaning of the fitness equipment, and set up gym court two for intramural volleyball.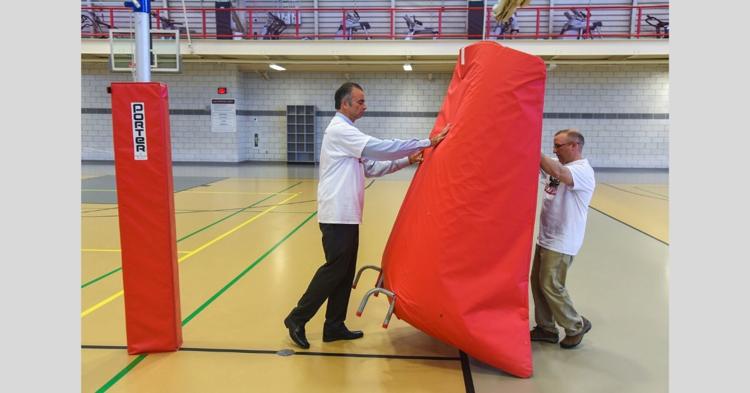 Dally said he enjoyed getting to know the president a little better and also watching him interact with his student staff members. "As the president, I think it is awesome that he is taking the time to learn about and work with the different offices and departments on campus," Dally said. "To me, it shows his true passion for the success of the students, faculty, staff and alumni of LHU, and by gaining a better understanding of how we operate and serve students, we can all soar higher as a university community."
"Employee engagement, making our employees feel valued, making them feel respected, is really important. So I can't think of anything better than for the president, and for all of us, to have a better understanding of what our employees do every day. And to show them that we really care and respect the work that they do," said Pignatello.