Lock Haven — Lock Haven University international student Anna King, a senior majoring in sport administration, is completing an internship with the professional soccer team, the New York Red Bulls this summer. The Red Bulls are members of the Eastern Conference of Major League Soccer and are based in Harrison, New Jersey.
King, a native of Scotland, transferred to LHU, where she not only studies for her career in sport administration, but also plays for LHU's women's field hockey team. Her passion for field hockey led her to LHU, where she has combined her sports knowledge with her studies. King chose to hone her skills and gain practical experience in her major though her internship, rather than travel home to Scotland to be with her family.
"The Lock Haven University sport administration program is excited to attract international students like Anna King to the undergraduate program and to provide opportunities for the students to gain practical professional experience working at top-flight professional and collegiate events, such as the NFL Super Bowl, NFL draft, NBA draft, the Division I College Football play-offs, and various NCAA Division I and II sporting events," said professor Peter Campbell.
King's duties include helping to manage operations for the stadium by coordinating and setting up for events, preparing for bands and teams as well as coordinating all of the details that result in smooth operations at events and games such as coordinating schedules and supervising field staff.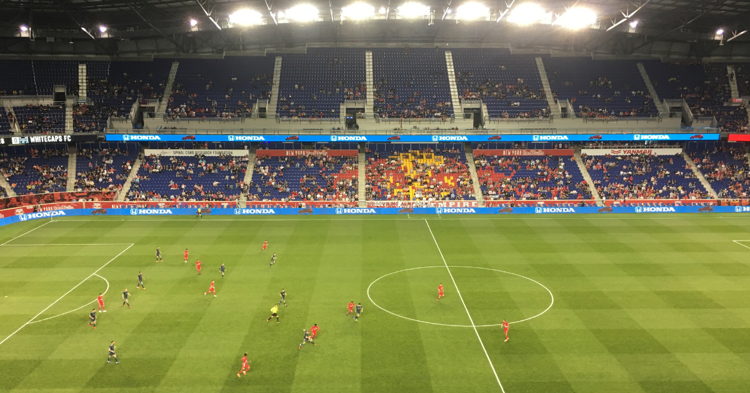 "Anna, while working in her field experience with the New York Red Bulls, is utilizing the theory of the classroom into implementing, developing and maturing the skills to succeed in the professional world of sport administration, while cultivating key industry relationships and developing a professional network along the way," Campbell said.
King said she especially enjoys the different types of events that have occurred at the arena over her time as an intern, including international soccer games, a USA woman's soccer game, a lacrosse tournament and the many Red Bull events.
"With the addition of my education, this internship will help me in my future career, due to the many different contacts I have met throughout my internship, but also getting the experience working with so many different soccer teams that have come to the arena, which has built my experience and knowledge," King said.
King's career goal is to work in the marketing department for a Major League Soccer team.