Harrisburg, Pa. – Members of the Loyalsock Township Lancer Marching Band were honored this past week with a visit to the State Capitol. Student members of the band's leadership team and Director of Bands, Ryan Bulgarelli, made the trip to Harrisburg to receive the honor.
The Lancers were presented with Senate and House Citations on their 2019 first-place finish at the Cavalcade of Bands Championships at Hershey Park Stadium last November. The Lancers won the Cavalcade of Bands with a score of 92.7.  The victory was the second in three years for the band who won in 2017. 
Related reading: Loyalsock Township Lancer Marching Band closes season with Cavalcade championship
"To win one championship is a phenomenal accomplishment, but to win two in a three-year-period is something that can only be accomplished by hard work, determination, and a desire to accept nothing but perfection," Sen. Yaw (R-23) said. "These moments and memories will stick with the students for the rest of their lives."
Indeed, that experience was a memorable cap to a phenomenal marching band season for student representatives. 
"It was great to be able to meet with the people who represent us in the state government" said John Nickolaus, drum major for the Lancer Marching Band. "Meeting them and seeing how down-to-earth they are and having their support means the world to us as students."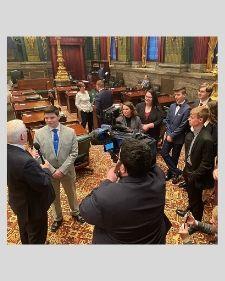 Ryder Haines, member of the drumline who performs on snare, agreed, saying, "It was a tremendous honor to be recognized by the State Senate and House. It's really cool that they took the time to recognize our marching band from our small school."
"Our students work just like any other organization at the school, incredibly hard," said Ryan Bulgarelli, Director of Bands, Loyalsock Township High School. "They start with pre-season training in March, summer rehearsals throughout the summer vacation months as well, and then weekly rehearsals throughout the school year, competing almost every Saturday and going out and marching. It just really is a privilege and an honor to be here today to celebrate all of the work that they have put in."
The Lancer Marching Band's 2019 field show was entitled "Heart of the Machine," a story of the Tin Man's journey to find his heart. The show won first place awards in music, overall visual effect, and best visual performance.
"The fourth movement of our show was based on the song 'Tin Man,' said Nickolaus. It was his favorite piece in the show. "It started slow and beautiful and then really picked up pace and had a great closing to it."
Marching band teaches the students more than music and teamwork. "The leadership qualities that I've gained through marching band will be with me for the rest of my life," said Nickolaus. "Being drum major has taught me how to work through difficult situations, gain the respect of my peers, and inspire those around me to never settle for less than their best."
Haines intends to major in music education in college. "Marching band has provided me with skills that I will directly take into my future career as a music educator. Through marching band, I've not only become a better musician, but I've learned how to be a better leader, teacher, and person."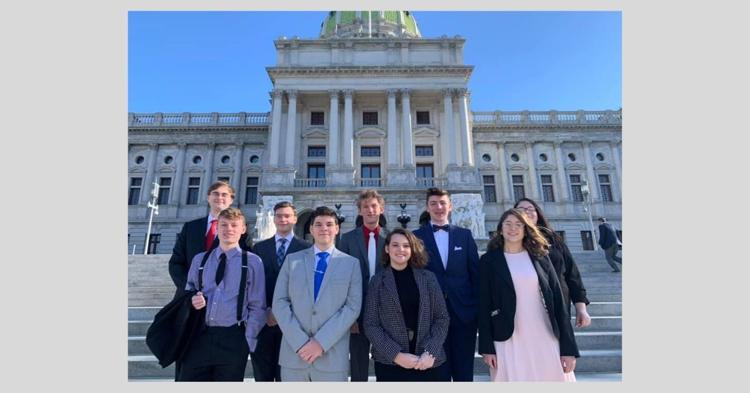 State Rep. Jeff Wheeland said, "Our community is incredibly proud of their achievements! Congratulations again to this talented group. We're looking forward to another great season this year."
In addition to the 2017 and 2019 victories, the band is a 20-time Tournament of Bands Region IV Champion. They performed at the 2015 National Outback Bowl Parade and Festival in Tampa, Florida, and they are the only band in North America to open for the world-renowned performing group "Drumline LIVE."
Founded in 1958, Cavalcade of Bands is an organization composed of over one hundred member schools who come together each year to compete on the interscholastic level.