Williamsport – Hosted by Highway Equipment & Supply Co., the Volvo Construction Equipment (CE)/Discovery Gold Rush Excavator tour will stop at Pennsylvania College of Technology on September 5, 2019, from 10 a.m. to 3 p.m.
The Gold Rush Excavator celebrates the 10th anniversary of the Discovery show, Gold Rush, and is currently on tour in the United States and Canada, featuring the new Volvo CE EC200E 20-ton model with an Akzo Nobel paint job valued at $5,000-$7,000, one-of-a-kind, custom premium leather KAB seating with Tony Beets, Parker Schnabel, and Rick Ness embroidered signatures, and gold custom track pads.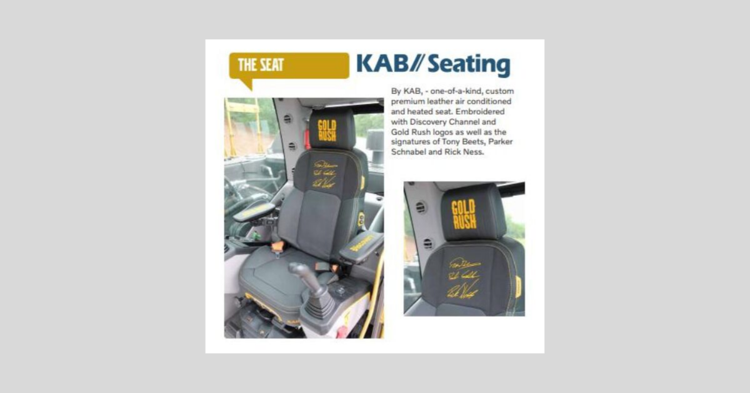 The Gold Rush Excavator will be located on Penn College's main campus at One College Avenue, Williamsport, Pennsylvania. Follow directional signage from Penn College's main entrance on Maynard Street.
Take advantage of this unique selfie opportunity, and then post your photos with #GoldRushExcavator and #HwyEquip.
"Highway Equipment & Supply Co. has a close relationship with Penn College due to its exceptional heavy construction equipment technician and operator programs," said Jennifer Nauss, Highway's HR, Marketing, & Communications Manager. Highway Equipment & Supply, a family-owned heavy construction equipment dealership that sells more than 15 heavy equipment brands. They offer equipment sales, parts, service, and rentals a their locations in Harrisburg, Drums, Brownstown, and Lock Haven, Pa. 
"As a Volvo CE dealership, Highway had the opportunity to secure stops on the Gold Rush Excavator tour. We wanted to share that opportunity by bringing the Gold Rush Excavator to Penn College where we know Gold Rush has a lot of fans," Nauss said