Dogs are more than "man's best friend." In police work, they're vaulable, loyal members of a team, able to complete tasks that humans can't. They sniff out illegal and explosive materials, track suspects, search buildings, and provide a connection to the public that only dogs can do. 
According to the Williamsport Bureau of Police, officers of every jurisdiction in the region can benefit from a K-9 team. Dogs create a safer community for citizens and law enforcement alike, help preserve peace, and deter crime. In the past, K-9 units have helped to intercept large amounts of illegal narcotics; they've assisted with locating and seizing large sums of drug money; they've helped officers discover various illegal firearms used in violent crimes; and they've assisted in tracking down wanted fugitives and individuals attempting to flee from crimes in progress.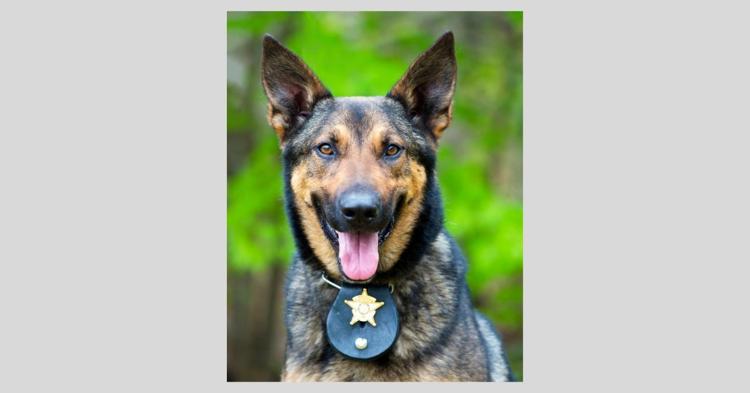 The Williamsport Bureau of Police, city council members, and administration have made great strides toward returning a K-9 unit to the Williamsport police force. November kicks off a new fundraising effort to raise funds to get the program officially up and running. 
Related reading: Substantial donation brings the return of the K-9 Unit to Williamsport Bureau of Police 
The return of K-9 to Williamsport
WPB has a long and proud history of working with canines and deploying K-9 units during patrol operations in the city. "In the recent past," said the department in a release, "some support for the program was lost and it was discontinued. Early in 2019, with the assistance of Councilwoman Bonnie Katz and Mr. Peter DiBartolomeo, the idea of a new K-9 program was revived."
On September 12, 2019, the Williamsport City Council approved Resolution #8924, "A Resolution to Authorize the Establishment of Fundraising for a new Williamsport Bureau of Police Canine (K9) Unit," authorizing DiBartolomeo and Lt. Bailey to fundraise as unpaid volunteers.
Shallow Creek K-9 in Sharpsville, Pa., was chosen as the initial K-9 academy training facility, and Mr. Timothy Karchnak of Muddy River K-9 was selected as the head program trainer. In addition to Karchnak, retired Lt. David Bailey, a 20+ year veteran of the WBP K-9 unit and former Unit Commander, and former WBP K-9 officers Lt. Brian Womer and P.O. Josh Bell have agreed to assist with the project.
Officers selected for K-9 units
Along with the planning and fundraising efforts, the Bureau has selected and would like to congratulate three officers for the K-9 units. Those officers include:
Police Officer Tyson Minier
Sergeant Brian McGee
Police Officer Zachary Geary
Police Officer Tyson Minier was the first officer selected to receive training and will attend K-9 officer academy in the near future. Sergeant McGee and Police Officer Geary will train as soon as additional funding becomes available. 
The WBPs goal is to eventually deploy three separate WPB K-9 teams, according to the release. The Bureau estimates that initial training and first-year approximate expenses for each K-9 unit are expected to be as follows:
Team 1, dual-purpose narcotics dog: $34,042.00
Team 2, dual-purpose narcotics dog: $29, 233.12
Team 3, dual-purpose explosives/bomb dog: $30,355.03
The Bureau intends to work with the existing K-9 unit with the Hughesville PD to support all the agencies in the area, including Duboistown, Hughesvillle, Lycoming County Narcotics Enforcement Unit, Lycoming County Prison, Lycoming County Sheriff's Department, Montgomery, Montoursville, Muncy, Muncy Township, Old Lycoming Township, Pa. Attorney General's Bureau of Narcotics Investigation, Penn College, Tiadagton Valley Regional PD, and the United States Marshal's Fuguitive Task Force. 
In addition to supporting these agencies, the K-9 program will be used in area school districts, government buildings, and other areas where searches for illegal drugs, firearms, and possible explosives, including bomb threats, are necessary.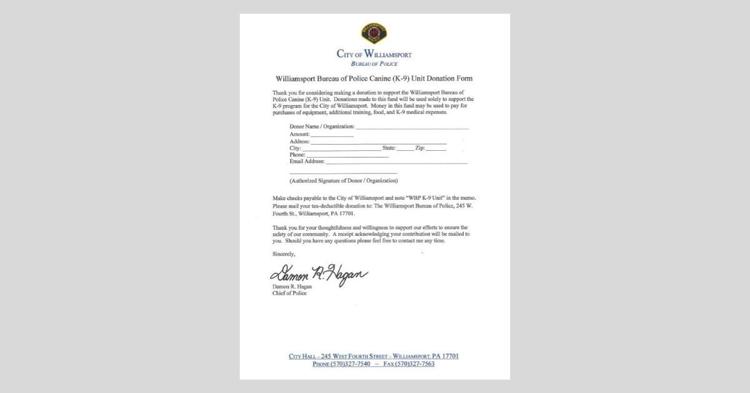 The WPB is requesting the community's help in raising funds for the costs associated, and is asking businesses, community organizations, and individuals to consider making a donation to help with the purchase of equipment, provide training, and other needs that will help support the K-9 program. The WBP would also happily accept donations of equipment and supplies.