Selinsgrove – The 14th annual Snyder County Libraries evening of Wine and Art raised more than $26,000 on October 5, 2019. The event took place at Shade Mountain Winery & Vineyards of Middleburg. This year's theme, "Once Upon a Time," featured jewelry by local artist Cheri DeSiena, which was on display and available for purchase.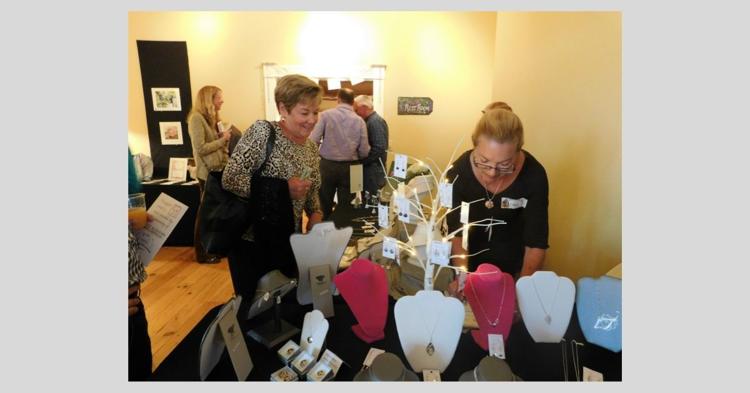 Live music was provided by Allan Combs II and flowers were provided by Rine's Florist of Selinsgrove. 
The Snyder County Libraries would like to thank their many sponsors for this year's event including Best Seller sponsors Fulton Bank, Northumberland National Bank, Penn Fire Protection, Inc., Don and Heather Rowe, and Thomas and Anne Gates.
Classic sponsors included Janie and Mike Coyne, Lynn Buck and Jonathan Green, Marsha and Jay Lemons, Raven and Marv Rudnitsky, Merck Cherokee, Pope Insurance Agency, and Lois and Tom Clark.
Non-fiction sponsors included Dr. Anthony Butto and Pamela White, Julie and Daniel Eriksson Family, Evangelical Community Hospital, Mifflinburg Bank and Trust, Snyder County Times, SRS Electric, LLC, Sunbury Broadcasting Corporation, and W & L Subaru. 
Novel sponsors included Ace of Signs LLC, Amanda Aurand Accounting, Apex Homes of PA, Ax Runkle P.C., Beacon Insurance, Selinsgrove Inn, Bobbie Jean Owens Historic Preservation Services, Bowen Agency Realtors, Engle's Farm & Greenhouses, Don & Grace Housley, Heister House Millworks Inc., John and Ellen Lazur, Karen & Dean Heintzelman, Kieffer Physical Therapy Associates, Lowes, Mid-Penn Beverage Inc., MiddleCreek Signs Inc., Murray Motors Chevrolet, National Beef, Orren Eye Associates, Paige Electrical Services LLC, Purdy Insurance Agency Inc., Richard Lybarger, Selinsgrove Dental Arts, Service Electric Cablevision Inc., Stahl Sheaffer Engineering, The Coup Agency and Twin River Wealth Management.
Snyder County Libraries also extends gratitude to Jim and Carole App, Beth Belotti, Martha Blessing, Ross and Sandra Charles, the Greater Susquehanna Valley Chamber of Commerce, Elizabeth Heim, Jerry and Maria Hensel, Emily and Bruce Johnson, Timothy and Robin Laubscher, Gary and Kay Leitzel, Donna Mattern, Mary A. McClellan, Ira Middeswarth & Son, Peggy Roup and Eunice Zeigler.  
Special thanks to the food and beverage vendors for the event, including Aramark, Weis Markets, Sun Tech, Garfield's Restaurant, National Beef, Reinhart Foods, Giant, Planet Fitness, Rusty Rail, and Shade Mountain Winery.  
The hard working committee, library staff and other volunteers made this event a great success.