Williamsport -- State Representative Jeff C. Wheeland announced today that he will be running for re-election in the 83rd House District.
"As Representative, I have worked with people across our community to focus on issues that matter to our families, our seniors and our children," Wheeland said. "Together we are making a positive difference for Lycoming County and Pennsylvania. With the support of local residents, we can keep moving forward because there is more to be done."
Since his election, Wheeland says he has worked hard to keep his promises, chief among them to bring "common sense" to the state capital when looking at issues.
"My goal on every issue is simple: do what is right for the people I serve and focus on achieving results," Wheeland said in explaining his legislative philosophy.
Wheeland has built a legislative portfolio that addresses the numerous issues he says are important to our community – from supporting policies that spark economic growth and job growth, pushing for a quality education for all children, addressing the opioid epidemic, protecting our Constitutional Rights, or ensuring that our communities get back their fair share.
"I have worked hard to control spending, hold the line on taxes, and ensure sensible and predictable regulation while still freeing the private sector to do what it does best," Wheeland stated. "The result is a booming economy that is bringing new jobs to our area and allowing greater investment in education, public services and the state's Rainy Day Fund."
"I am proud to have joined with Republicans and Democrats to pass a commonsense package of laws that address the opioid epidemic," Wheeling stated. "We are taking a comprehensive approach that focuses on treatment for those trapped in addiction, tough penalties for drug dealers, smart limits on opioid prescriptions, and more."
Wheeland says he has made the issue of election integrity and ballot security a personal priority in Harrisburg, authoring legislation to require Voter Identification for each and every election; his bill would allow both photo and non-photo options to ensure ballot access for eligible voters while still ensuring the sanctity of the ballot.
"Voting is the cornerstone of our democracy and it is a right we must carefully protect. This legislation does that while giving voters the comfort of knowing that election results are uncorrupted," Wheeland said.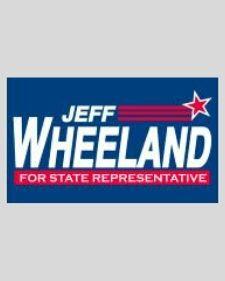 Wheeland has also become a vocal defender of the 2nd Amendment.
"I have stood up against the liberal special interests every time they attack our Right to keep and bear arms," Wheeland explained. "From voting against radical intrusions on the 2nd Amendment, to hosting Gun Law Seminars, I continue to defend the rights guaranteed to Pennsylvania's citizens and always will."
In addition to his efforts on legislation, Wheeland has helped secure important grant money for Lycoming County communities to fund important infrastructure and public safety needs as well as economic growth programs.
"Securing grants for local needs is a way to make sure that Lycoming County taxpayers are seeing a tangible benefit for the taxes they pay the state. Without these grants, local municipalities and organizations would either have to forego important projects or local homeowners would have to pick up the cost through higher property taxes," Wheeland explained.
Wheeland has also focused on ensuring strong constituent services and being actively involved in the community; he and his staff have helped thousands of local residents address their issues with state government, and he has attended countless meetings with local residents, groups, charities, and more.
"Taking the time to listen to residents is the best way I know to put forth their ideas and fight for their concerns in Harrisburg," Wheeland stated. "Helping and meeting the people I serve is the most satisfying part of my job, and it is something that I make a top priority."
Related reading: 
Joe Hamm announces run to replace Garth Everett in State House 
Congressman Fred Keller announces reelection bid