For children who have sensory issues, the world can seem like a minefield of unpleasant experiences with noisy school classrooms, the constant visual stimulus of moving lights from an unending flow of vehicles, or an unpleasant crawling feeling all along the skin from touching a strangely textured object such as unfinished wood or a clothing tag.
The Public Library for Union County (PLUC) recognizes that there are many kids who desperately need an escape from these and other sensory disasters, and offers a free Sensory Night program every fourth Thursday of each month for these children and their families to play safely.
This month's Sensory Night takes place December 26, from 6:30 to 7:30 p.m.
"We have a huge population in our local area that is underserved when it comes to special needs, to sensory issues," said Davena Laverty, Children's Programming Assistant at the library. "Whether they are on the spectrum or premature and still have some sensory issues or are a typical child that just has a hard time and melts down, it makes it difficult for them to access programs at the library because parents can feel out of place or judged. Even if they're not, that feeling is there."
Children with sensory issues often experience difficulty in processing information coming through all seven senses. Aside from the traditional five senses: vision, hearing, taste, olfactory (smell), and tactile (touch), two internal senses are included: proprioception (body awareness) and vestibular (balance and movement).
Engaging these senses in specific ways can help a child with sensory sensitivities experience an optimal level of feeling and regulation, which can allow them to both make sense of and feel safer in the world.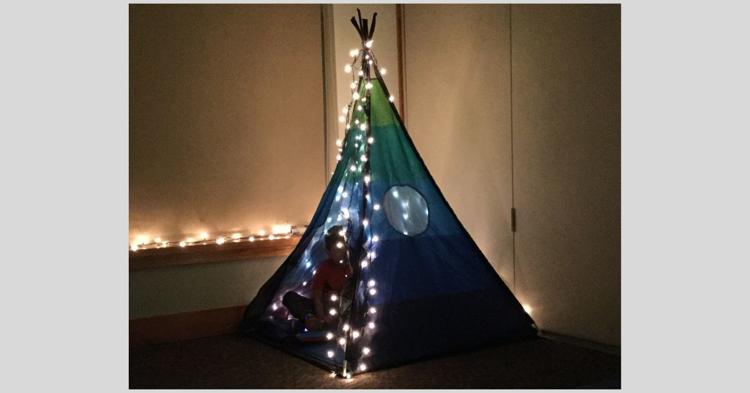 During Sensory Night, activity stations set up in a large room focus on the different types of senses. "We have balance items, trampolines, manipulatives, weighted balls and scooter boards," said Laverty. A second room is available as a calming space. Mats spread along the floor and twinkle lights hanging above offer a soothing environment in case a child may feel overwhelmed at any given point. "One of the new things we've added to the calming area is a large tent that even some of the bigger kids can fit in," added Laverty. A tent allows a safe space for a child to regroup and calm down by limiting auditory, visual, or other input.
While the sensory night program features helpful toys, it is the atmosphere created that is most important. "We want to bring that feeling that they [the families] are welcome," said Laverty. "We want to give them a space where they feel safe. A judgement free zone." The program allows parents, caregivers, and children the opportunity to connect with others and build friendships and a community of support.
Heidi Moore of Northumberland brings her six-year-old son Carter to Sensory Night. Moore said she loves that many of the other moms that attend the group have become her friends. "One of the reasons autism is a blessing to us is the people that have come into our lives because of it," she said.
Lewisburg resident Celina Mull brings her son Parker, 4, to Sensory Night. "It's a safe place for our kids to play and socialize without judgment," Mull said. "Parker loves to run, jump and play but he does get overwhelmed in large crowds. That's why we enjoy sensory night at the library."
"Creating an event at the library allows families to feel safe and meet new people," says Erin Demcher, a Board Certified Behavior Analyst and owner of the Autism and Behavior Resources in Lewisburg. Demcher is on hand at the program to provide additional support. "I am able to connect families and provide resources for behavior management and activities of daily living."