Earlier this week Montoursville Borough dedicated the Indian Park Pond Restoration Project and Nature Trail in a ceremony. Mayor Steve Bagwell, Ginny Gardner, borough secretary and treasurer, former Mayor John Dorin, and Brian Auman, BSA/LA, landscape architect, said a few words to a small crowd who gathered for the ceremony.
Bagwell described the trail as a "great community asset." He acknowledged that most people won't know who was behind the project, but those who were behind it can visit and "see the smiles, receive warm greetings...view the beautiful reflection of a happy child in the restored water. All these things are possible because of you," he said, "and are a form of thanks."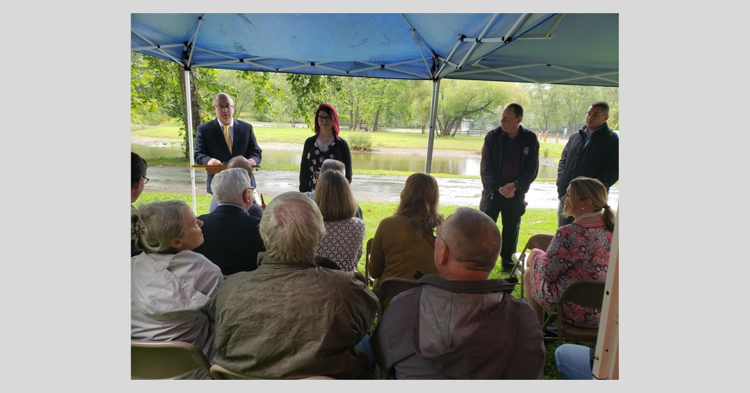 Ginny Gardner highlighted the funding sources for the project, including allocation from Act 13 funds from Lycoming County Commissioners, as well as funding from First Community Foundation of Pennsylvania, the Lumber Heritage Group, and Montoursville Kiwanis Club. Support came from PA State Senator Eugene Yaw, State Rep. Garth Everett, DCNR, and the PA Dept. of Community and Economic Development. 
Additional community partners offered support, including the Montoursville Rotary Club, General John Burrows Historical Society, Volunteers of Indian Park, NorthCentral PA Conservancy, Larson Design Group, and Lycoming College Clean Water Institute.
The Montoursville Borough made cash and in-kind contributions, as well as Borough Council members, Steve Bagwell, John Dorin, Montoursville Borough Recreation Committee, Montoursville Borough staff and crew, and other individuals. 
The pond restoration included an aeration system installed to increase its lifespan. "You'll see bubbles coming up in the pond in about a half dozen places," said Bagwell. "There is also aeration in what would be the ice hockey area."
Read more about Indian Park on Valley Girl Views.