The Lycoming County United Way's mission is to "mobilize the collective resources of our community to change lives by fighting for the health, education, financial stability, and basic needs of every person in every community." In simplest terms, they partner with community agencies who offer a service, help to link the agency with the individuals who are in need, and raise funds to ensure these connections continue to happen. One such collaborative effort is with the Nurse Family Partnership, a program of UPMC Susquehanna Home Care and Hospice.
About Nurse Family Partnership – UPMC Susquehanna
Nurse Family Partnership (NFP) is an evidence-based home visiting program for first-time, income-eligible moms and their babies. Through the program, new moms are assigned a nurse to help them through the first two years of motherhood, from pregnancy to childbirth, and those tender early years from infant to toddler. 
To be eligible for the NFP program, a woman must be less than 28 weeks pregnant with her first child and meet income guidelines as determined by the NFP national service office. 
Forming good relationships with doctors and various health and human services agencies allows NFP staff to find and educate eligible moms about the valuable resources available through this program. Most women come to NFP by referral from local obstetrics and gynecology (OB) offices, Prenatal Centers, the U.S. Department of Agriculture (USDA) Special Supplemental Nutrition Program for Women, Infants and Children (WIC) offices, and at times, the Education Leading to Employment and Career Training (ELECT) program, a free Pennsylvania Department of Education initiative funded by the Department of Human Services and administered by the BLaST Intermediate Unit #17. 
"Being a new parent can be especially overwhelming. And since parenting doesn't come with a manual, our moms find trust and comfort in us, knowing we are their guidebook, their manual for the first two years of their parenting adventure. It's like we are their walking, talking version of What to Expect When You're Expecting," explained Jamie Burns, Nurse Home Visitor with NFP. Burns has been a member of the NFP staff for over nine years and has worked with 119 clients.
It's clear how dedicated the staff and nurses are at NFP, based on their longevity with the program. Many have been working together for more than seven years. With OB or pediatric care backgrounds, they are passionate about their jobs and find great joy in knowing how their services provide such peace of mind for new moms and their babies. Many of the staff maintain relationships with families long after they graduate from the program. 
Julie Mansfield, MSN, RN, is a newer member to the team, with sixth months as Manager for the NFP program. "Transitioning into this job was seamless, she said. "Seamless in the efforts of adapting a new team to my management style and new way of operating. That is largely in part because this team genuinely loves what they do. I couldn't have asked for a better team to do the work they do.
"This program speaks volumes," Mansfield continued. "The fact that our clients allow us into their homes, find trust within our staff, and know we are a resource to help them be the best moms they can be, allows them to feel they can provide a nurturing home environment for their child."
Most recently the NFP program hosted their annual summer picnic for current clients and past graduates of the program and invited the Lycoming County United Way to be a part of it. This gathering offers an opportunity for past clients and family members to celebrate their graduation as well as socialize with current members of the program.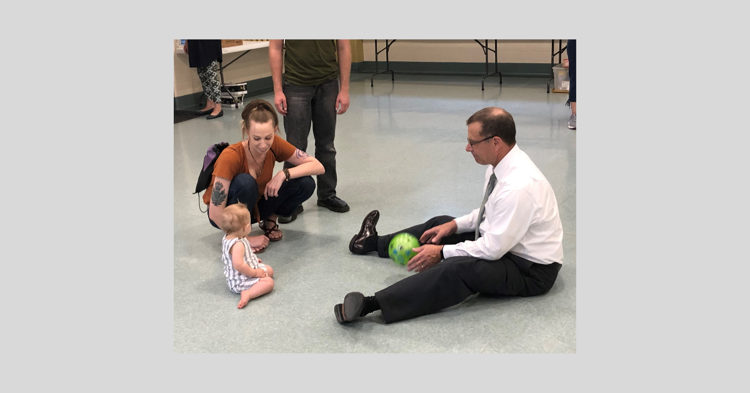 "We were thrilled to be invited and thrilled to participate in this event and to support our partners in any way we can." Said Ron Frick, President of the Lycoming County United Way. "Our community impact efforts, led by Brittany Fischer, are in large part a reason we love what NFP does in our community and the relationship with NFP is among the best." Frick said.
"The NFP has been a great benefit to me and my son," said Stacie Houser  current program participant. "The program gave me peace of mind during my pregnancy and continues to reassure me as my baby reaches milestones. My nurses have been wonderful and the picnic was a fun opportunity to socialize with other moms and nurses, and to offer ways to learn of other programs available."
When you support the Lycoming County United Way, the entire community grows stronger. Without funding from the Lycoming County United Way, programs such as the Nurse Family Partnership, would not be able to remain a resource in our community for those who need them most. 
Questions regarding the Nurse Family Partnership? Call Julie Mansfield, MSN, RN, Manager, Nurse Family Partnership at 570-326-8912, or e-mail mansfieldj@upmc.edu.
Questions regarding the Lycoming County United Way? Call Brittany Fischer, Vice President, Community Impact at 570-666-4381, or e-mail bfischer@lcuw.org
To give to the Lycoming County United Way and Nurse Family Partnership at UPMC, visit at www.lcuw.org and click the DONATE button or text LIVE UNITED to 50155.