You might have the tree, the gifts, and the menu planned. But for many, an essential part of the holiday is the music. Whether you want to listen to voices or join in singing, there are a variety of concerts, choirs, and sing-alongs all around the area this weekend. Music makes the holiday. 
Bradford County
The Rome Fire Company (Route 187) will host a Live Nativity on Sunday, December 15 from 4 to 6 p.m. Members of the Rome Presbyterian Church, the Rome United Methodist Church and the North Orwell Union Church are acting in the Live Nativity, which will tell the story of Jesus' birth as visitors make their way through scenes of the Christmas story. Donations of hats, blankets, and gloves are being collected at the Live Nativity for people who need them this winter.
The East Smithfield Federated Church (located at Church & Main streets) will host The Needhams of Murfreesboro, Tennessee, on Sunday, December 15 at 6 p.m. The Needhams are a family band – comprised of siblings Dave and Diane Needham and Diane's husband, Steve. Dave and Diane grew up playing in a family band with their parents in upstate New York. Expect family harmonies, original Christian music, and a little bit of mandolin. There will be snacks and fellowship time after the free concert.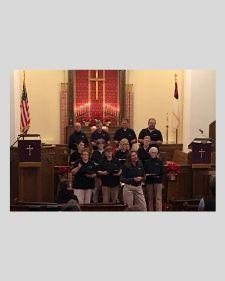 The Endless Mountain Choral Society presents its first annual Christmas Carol Singalong on Sunday, December 15 at 7 p.m. The Singalong will be held at Troy Presbyterian Church (1030 W. Main St.). Drop-in singers are welcome – come to the church early at 5:45 p.m. to sing in the choir that night. The performance is free and open to the public. 
Two performances of the Christmas choral program "Song of Joy" will be held on Sunday, December 15. The Olde Covert Church (on Armenia Mountain) will host the choir on Sunday morning at 9:30 a.m. At 6:30 p.m., Austinville Union Church, 2977 Austinville Rd., will hold an evening performance. Both performances are free and open to the public with refreshments following.
Clinton County 
Chris Pick, Mariah Hostrander, and Josh Billings will perform at a free holiday concert in Lock Haven on Friday, December 13, at 6 p.m. The holiday show, held at Avenue 209 Coffee House (209 Bellefonte Ave.), is a reprise of a surprise show that Pick threw together three days before Christmas 2009. "Ten years ago, I decided to do a Christmas concert three days before Christmas at Avenue 209 in Lock Haven," Pick said in the Facebook event page. "Not expecting a big turnout, I was shocked that many had showed up including a woman who was going through a hard time in her life and needed to hear a little hope and joy. It was requested by many that I do this every year." After a few years off for mission trips, the Christmas show is back. It's free and open to the public.
Columbia County
Katy's Church will host its annual Christmas candlelight service at 6 p.m. on Sunday, December 15. The VanDine family church – where rumors of hauntings are much exaggerated is open for services once or twice a month. Bring some snacks to share and join in the gathering after the service. Katy's Church is located at 440 Katys Church Rd., Muncy. 
Lycoming County City Alliance Church will hold a carol sing and walk on Friday, December 13, beginning at 5:30 p.m. at 380 W. 4th St., Williamsport.Join other carolers in the City Alliance sanctuary for a carol sing, then take a caroling walk through downtown Williamsport to 4th and Pine streets, where there will be a brass band to accompany the singing as part of "Catch the Spirit in Downtown Williamsport."
The Williamsport Flute Choir will present its Christmas concert on Saturday, December 14, at 2 p.m. at First Church. The Flute Choir has performers on the soprano and piccolo flutes that you might be familiar with, and also has members playing the bass and alto flutes that you might not have ever seen. First Church is located at 604 Market St., Williamsport. Free to the public.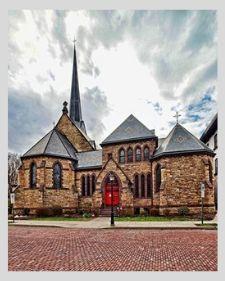 A "Festival of Lessons & Carols" based on the annual event at King's College, Cambridge, England, will be held at Trinity Episcopal Church at 4 p.m. on Sunday, December 15. There will be readings, hymns, and carols sung by the Trinity choir and choral scholars, directed by Dr. Ryan Malone. Trinity Episcopal is located at 844 W. 4th St., Williamsport. Free to the public.
St. Ann Catholic Church of Williamsport will host an advent potluck, vespers, and film screening on Sunday, December 15 starting at 5 p.m. After vespers, there will be a showing of the movie "The Star." St. Ann is located at 1220 Northway Road, Williamsport. 
Loyalsock Baptist Church will host a "Christmas Spirit" musical put on by the church's children at 6 p.m. at 107 Dunwoody Rd., Williamsport on Sunday, December 15. Free to the public. Muncy First United Methodist will present the "Joy Has Dawned" Christmas cantata in two performances on Sunday, December 15. The 50-plus voice choir will perform with a 30-piece orchestra at 10:45 a.m. and 2 p.m. at the church, located at 602 S. Market St., Muncy.
"The Worship of Christmas," a program of carols, Christmas favorites, and drama, will be presented by at Faith Wesleyan Church on Saturday, December 14, at 3 p.m. and twice on Sunday, December 15, at 9 and 11 a.m. Faith Wesleyan is located at 1033 Tucker St., Williamsport.
The West Branch Chorale will sing Christmas classics on Sunday, December 15, at 3 p.m. at Faxon-Kenmar United Methodist Church, 1301 Clayton Ave., Williamsport.
Montour County
A Christmas concert for students of the "Danville Piano Girl" will be held at Landmark Apostolic Church, 1925 Sunbury Rd. on Saturday, December 14 at 6 p.m. Students of all age groups will play on Christmas music on the church's grand piano, with some contribution from guitar and bells players. Free to the public. 
Northumberland County
A "Jingle Jam" will be held at the Milton Library, 541 Broadway St., starting at 10 a.m. on Saturday, December 14. The family fun will start with a Bingo scavenger hunt and a "jingle jam" make and take kids' craft session, along with a visit with Santa. Santa's elf will give storytime at 10:30 and 11:30 a.m. and Gingerbread House decoration will go from 11 to 1 p.m. (or as long as the gingerbread lasts). Free for everyone.
The Susquehanna Valley Chorale and Susquehanna Valley Youth Chorale will present two performances of its Nine Lessons and Carols concert, on Saturday, December 14, at 7:30 p.m. and on Sunday, December 15, at 3 p.m. The concert is hosted by Zion Lutheran Church, The Crossroads Nazarene Church (71 Nazarene Lane, Milton) will host a production of "Re-Creation," a Christmas musical production full of classic songs on Sunday, December 15, at 6 p.m. Tickets are $20. Children 12 and under are free.
Tioga County
Christmas cantata "The Greatest Gift" will be presented by the combined choirs of Marsh Creek Fellowship and Cherry Flats Baptist churches on Sunday, December 15, at 6 p.m. The choirs will perform at Marsh Creek Fellowship Baptist Church, 8733 Route 6, Wellsboro. Refreshments will follow the free performance.
A singalong to Handel's "Messiah" will be held at St. Paul's Episcopal Church on Sunday, December 15 at 2:30 p.m. The Christmas sections of "Messiah" will be played for everyone who wants to sing along – or listen. Student vocalists selected by Alissa Rose, professor of voice at Mansfield University, will perform the solos from Handel's 1741 oratorio. Scores will be available for those who want to sing along. St. Paul's is at Pearl & Charles streets in Wellsboro.
Union County
Rev. Tedd Leininger, an accomplished trumpeter, will present "An Old Fashioned Christmas" on Sunday, December 15, at the Mifflinburg Church of the Nazarene, 12 Market St. The concert starts at 4 p.m.
The West Branch Chorus will present its annual Christmas show, "Christmas Memories," at St. John's U.C.C., 1050 Buffalo Rd., Lewisburg, on Sunday, December 15, at 3 p.m. The West Branch Chorus is a barbershop-style male chorus that rehearses at St. John's on Tuesday evenings.