Rappel spots are filling up quickly for Williamsport's only rappelling event, Over The Edge, set for Saturday, October 26. Those wanting to experience the 105' descent from the roof of the William Hepburn High Rise are encouraged to sign up soon at overtheedge.events/williamsport.
To be guaranteed a participant T-shirt, bag, and other items, register by Thursday, September 12.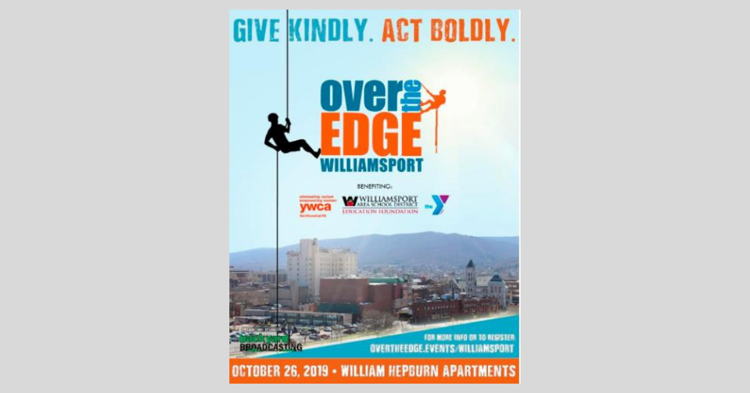 Over The Edge is a daring, urban adventure that urges participants to think creatively and act boldly for those in need in our community. Those who commit to raising at least $1,000 for either the YWCA, the YMCA, or the WASD Education Foundation will experience Williamsport's longest possible rappel, from the roof of the Lycoming County Housing Authority's William Hepburn High Rise apartment building on Saturday, October 26.
Participants are encouraged to get creative with their fundraising. "You can ask your friends and family to make a donation," said Greg Hayes, WASD Education Foundation Executive Director. "But there are so many more ways to make fundraising fun. One creative idea is to host a backyard barbecue and have games. The loser, or winner, makes a donation to your nonprofit."
Ready to commit to Over the Edge-Williamsport? Sign-up today at overtheedge.events/williamsport and a representative from your nonprofit of choice will reach out to you shortly to begin your adventure. The first step you'll take is creating your own personalized fundraising website to share with friends, families and coworkers.