With Martin Luther King, Jr. Day officially celebrated on Monday, January 20, this year, cities and campuses across central Pennsylvania will be marking the civil rights leader's legacy.
In Williamsport, Dream Week 2020 kicks off on Saturday, January 18, with a Walk for Peace. Participants can meet at 10 a.m. at the Penn College Klump Academic Center to walk a mile. After the walk, there will be music, in honor of Richard C. James, and a message from Raphael Mnkandhla, pastor of City Church. After the walk, there will be refreshments. A trolley will be provided for those who can't do the walk, but want to participate.
On Sunday, join Northcentral PA Alternatives to Violence (AVP) for a mini-workshop facilitated by Darlene Little, Star Poole, and Evelyn Landis. The workshop will be at Christ Episcopal Church, 426 Mulberry St. AVP, coordinated by Tony White, presents workshops on how to avoid violence. Email ncpaavp@gmail.com to sign up.
On Monday, January 20, come to the Lycoming College Keiper Recreation Center from 8:30 a.m. until 12 p.m. for the "Pack & Share" effort. Volunteers will be packing nutritious meal kits for hungry families from food provided by the Central Pennsylvania Food Bank. Children can help, but child care will also be provided along with refreshments for volunteers.
Later on Monday, starting at 6:30 p.m., come to the Castellano Center for Community Outreach, 320 Park Ave., for a free meal and a community call to action.
On Wednesday, January 22, the movie "Harriet" will be screened at Lycoming College Krapf Gateway Center. Doors open at 5 p.m. and the movie begins at 6 p.m. It's a first come, first serve situation.
Dream Week 2020 will conclude on Thursday, January 23, with speaker Mike Africa Jr. at the Penn College Klump Academic Center. Members of the Philadelphia activist organization MOVE, Africa Jr.'s parents were incarcerated for 40 years before they were freed in 2018. NorthcentralPa.com will feature an interview with Africa Jr. before his appearance in Williamsport.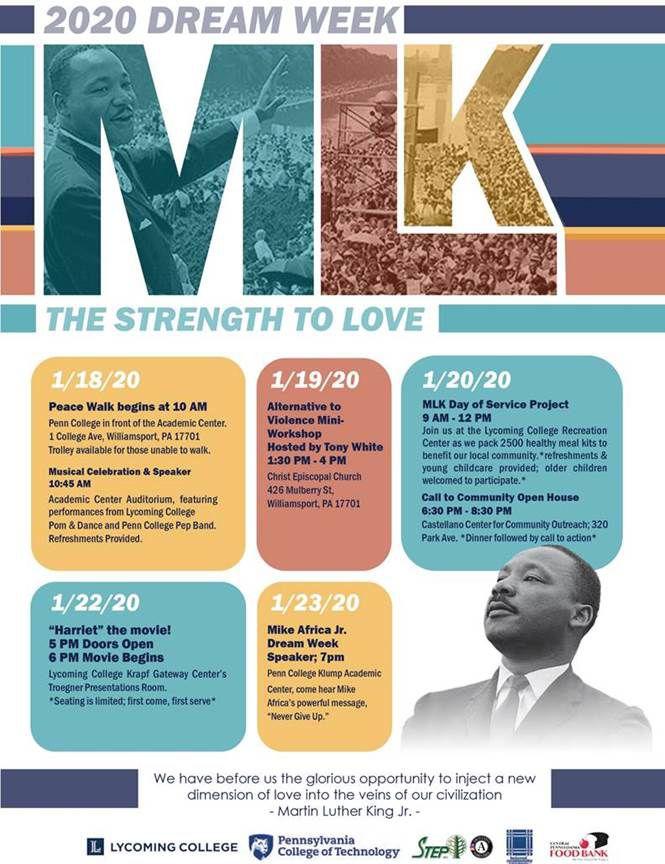 All Dream Week 2020 activities are co-sponsored by STEP AmeriCorps, Lycoming College, Pennsylvania College of Technology, and Beloved Community Council.
At Bucknell University, several events are open to the public in Lewisburg throughout the week.
Monday, January 20, 12 p.m.
The MLK Week lunch will followed by a talk by Julian Agyeman, professor of Urban and Environmental Policy and Planning at Tufts University, on the legacy of MLK in sustainabilities in policy, planning and practice. Walls Lounge, Elaine Langone Center. RSVP to mlkweek@bucknell.edu required.
Tuesday, January 21, 4 p.m. 
Opal Tometi, co-creator of hashtag and movement #BlackLivesMatter) will be participating in a question & answer session in the Forum in the Elaine Langone Center.
Tuesday, January 21, 7 p.m. 
Toshi Reagon, a singer, songwriter, and guitarist will play a free show at the Weis Center for the Performing Arts. Expect rock, blues, and folk from Reagon and her band. This event is open to the public and tickets are not required.
Wednesday, January 22, 7 p.m.
Amanda Gorman, a 21-year-old poet, will present on "Poetry, Power, and Protest: Using Language to Live by MLK's Values" in the Forum at the Elaine Langone Center.
Thursday, January 23, 7 p.m.
Lois Moses and Company present "Say That He Had More Than a Dream," a play that honors Dr. Martin Luther King, Jr. and the sacrifices he made in the last year of his courageous life. Harvey Powers Theatre, Coleman Hall
Sunday, January 26, 11 a.m. 
There will be a Multi-Faith celebration of the life and legacy of the Rev. Dr. Martin Luther King Jr. followed by a reception at noon in Rooke Chapel.
At Susquehanna University in Selinsgrove, on Tuesday, Jan. 21,  Hamilton actor Bryan Terrell Clark will give his speech "Finding Your Purpose: From Baltimore to Broadway's Hamilton," at 7 p.m.n the Degenstein Center Theater for winter convocation. It's open to the public and free.
On Wednesday, January 22, professors and students will again be putting on a full MLK Day of Teaching , with a full slate of lectures and workshops on campus, culminating with a multilingual reading of Dr. King's "I Have a Dream" speech at 4:15 p.m. in Isaacs Auditorium. A full slate of the day's events can be seen here.