South Williamsport – A gift from his grandparents when he was three years old turned into a lifelong love for Matt McCarrier. He recalls receiving his first plastic blow mold holiday figurines 27 years ago. "My grandparents gave me a snowman and a Santa face when I was three years old," said McCarrier, who is now 30. "Ever since then, it's trickled into a hobby."
From that time on, McCarrier became a collector of the hollow plastic figurines. He would ask for blow molds as gifts from family. His collection grew and he began decorating his parents' home in South Williamsport every holiday season. The home, located at the corner of E. Mountain Avenue and Route 15, has showcased a variety of the blow molds during holidays for 20-plus years. McCarrier now owns his childhood home and refers to it as "Christmas Corner" during the holidays.
McCarrier doesn't know exactly how many blow molds he owns. Since he has been building his collection for more than 25 years, he estimates he "has thousands of them." Many of the blow molds are vintage, some from as far back as the 1960s and 1970s. Most of the typical blow mold designs are part of the display every year. This includes choir people, trains, sleds, trees, igloos, candles and toy soldiers, McCarrier said. "I have everything from aliens to polar bears," McCarrier said.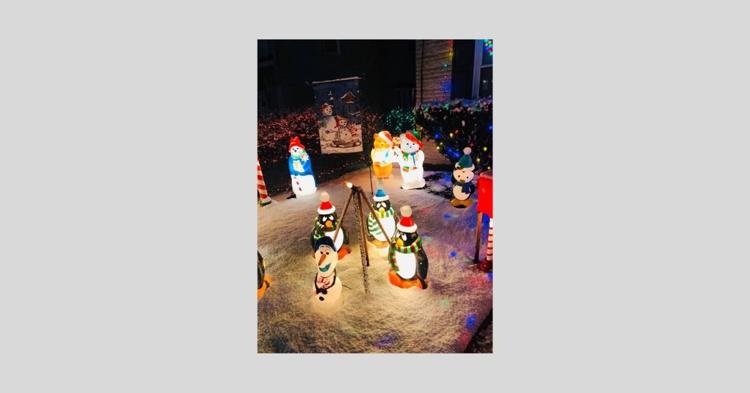 He doesn't point to any particular blow mold as his favorite. "One year it's a snowman and next year it might be a Santa," McCarrier said. Some hold sentimental value for him. "I still have them," he said, when asked if he still has the two blow molds his grandparents gave him.
Setup begins the week before Thanksgiving. It typically takes McCarrier several days to set up the display. Most years, McCarrier takes a week of vacation time off work to devote to setting up the blow molds. "This year the weather was nice around Thanksgiving, and I was able to do it in a weekend," McCarrier said. "I would start when I got up in the morning and work until it got dark," he added. It took him at least a few full days to finish setting up the display. "It's a process. I don't know if people realize it's not just a quick thing."
That process involves carrying pieces out of storage at least two at a time, plugging each one in and testing to see if the light still works. Sometimes bulbs need to be replaced. The bulbs inside the plastic blow molds are all five-watt LED bulbs, McCarrier said. He has learned over time how to make the blow molds weatherproof. "Some are staked into the ground and some have sand in them, so they don't blow over," McCarrier said.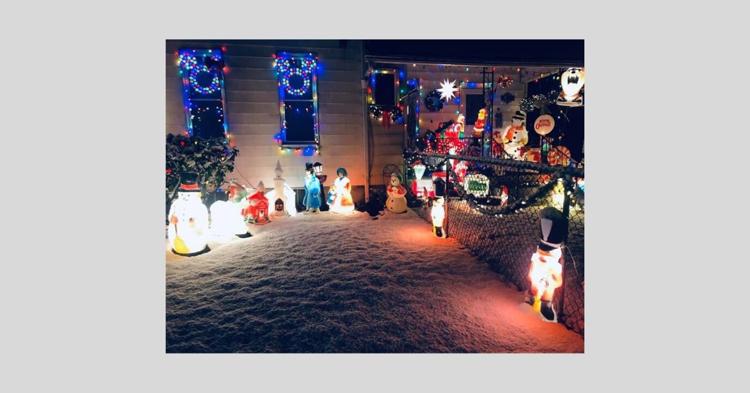 McCarrier doesn't have an exact layout plan when setting up the blow molds for the holidays. It is an ever changing, rotating display. "I look at them and I think of which ones I haven't used in a long time and I cycle them through," he said. "I like to make it look different every year."
This changing display, of course, includes at least a few new blow molds every year. McCarrier shops throughout the year for the blow molds. It's become a hobby for him. He has purchased many of them on websites such as eBay. Several of his pieces are from eBay Europe. The European pieces include several snowmen and a swinging Santa, which is connected to the flagpole in his backyard. McCarrier also scours thrift stores and auctions for the treasured decorations. After the holidays, he checks the clearance sales at local stores.
He even has acquired some orphan blow molds that literally showed up at his door. "I've had two elves just show up on my front step," McCarrier said. "I've had a donkey left on the stoop." "The elves had a note on it that said, 'for you.'" The donors have been anonymous, he said.  
Blow molds have become more difficult to find over the years, mainly because most of the manufacturers went out of business in the 2000s when inflatable yard decorations became popular. The plastic blow mold holiday decorations were very popular in the 1980s and 1990s, McCarrier said. They first emerged as a prominent holiday decoration sometime in the 1960s. Now that inflatable yard decorations are popular, big box retailers have scaled down on their selection of blow molds.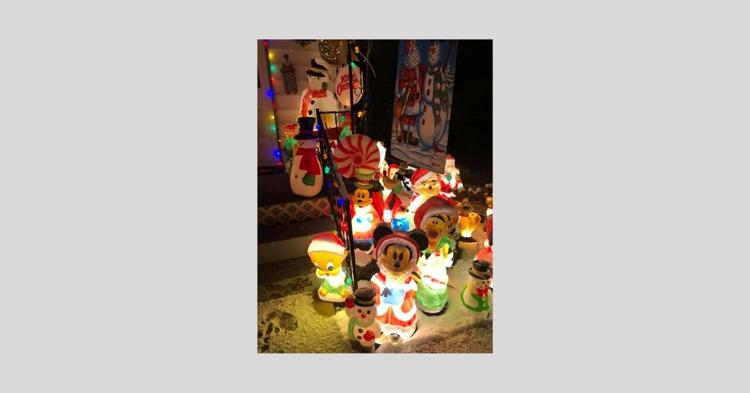 As McCarrier acquires these treasures, he hardly gets rid of any. "I will sell if I have triples," McCarrier said. One question people commonly ask him is where he stores his huge collection. Believe it or not, all are stored on his property. There's a full cellar underneath the first floor of the home that is full of blow molds. He also stores blow molds in the garage, which has an attic for storage as well. The garage also is home to his Halloween, Easter, St. Patrick's Day, and Fourth of July blow mold decorations.
Another question people commonly ask McCarrier is if he has a high electric bill. "Everything is LED now so the bill is not bad," he said. "Before the LED lights, the bill went way up."
Because McCarrier's home is at the corner of Route 15, a main throughway for travelers, hundreds of people see the display every holiday season. Many of these travelers are passing through from out of state. Some of the out of state travelers even send Christmas cards to him, with notes on how much they love his display. McCarrier said he has never met these travelers who send the cards annually.
Sometimes when McCarrier is at the store buying Christmas decorations, he's recognized by other shoppers who realize he is the owner of the Christmas Corner. "Last year, I was at Kmart shopping in the Christmas section and a woman approached me," McCarrier said. That woman then asked him if he was indeed the owner of the Christmas corner. "And then she complimented me on my display." People have honked and waved or given a thumbs up to McCarrier when he's outside adjusting his display. There are many local people who have made it a tradition to include the Christmas Corner on their driving tour of lights.
The borough of South Williamsport recognized McCarrier last year as the winner of their annual holiday decorating contest. "I never won it before," he said, though he added his neighbor had previously won. "They're good neighbors. They're decorators, too."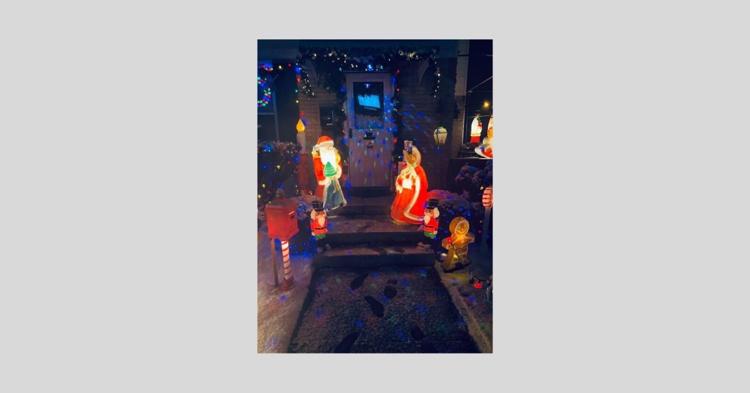 McCarrier has his own Facebook page for the Christmas Corner. Pictures of his display sometimes circulate on local Facebook group pages. Occasionally, a person will make a negative comment about his display, referring to the plastic blow molds as "junk." McCarrier disregards the naysayers and doesn't let it spoil the happiness the display brings to him. "Seriously, it doesn't bother me," he said.
After all, bringing happiness and joy is what it's all about. The blow molds make people smile. For many who grew up here and moved out of the area, they love seeing Christmas Corner when they visit for the holidays. Children seem to particularly like the decorations. McCarrier's nieces, ages seven and three, often come to visit and "they love it." "I honestly really do it for my nieces," he said.
Additional information and pictures of Christmas Corner can be found on the Facebook page: https://www.facebook.com/christmascornersouthwilliamsport/