Both more infectious and infinitely more fun than the flu, the Williamsport Business Association and Lycoming Arts invite you to Catch the Holiday Spirit from December 13 through December 15! With live music spreading cheerful energy through the air and a holiday window decorating contest setting up a feast for the eyes, the spirit of the holidays is going to be unavoidable throughout downtown Williamsport.
December 13: Pine Street Christmas Market
The festivities begin on Friday, December 13, at 5 p.m. with an open air Christmas market on Pine Street running until 8 p.m., featuring night shopping at downtown businesses and arts and crafts vendors. Santa Claus will be camping out in front of the Chamber building and many businesses will have free cookies for late-night shoppers (while they last – at least Santa is preoccupied, so you may have a chance to get some). Wegmans is providing free cider, and Barrel 135 will host a cash bar for mulled cider.
The market will also feature a table for decorating ornaments run by Wine & Design, and a new Holiday Sampler CD from Lyco Arts will debut. To provide the essential background music, the Loyalsock Brass Quintet will be performing two sets throughout the evening.
While making your rounds during the market, consider voting in the window decorating contest: $1 is 1 vote, and each participating business will have a jar to collect their votes. All of the money made from the window decorating contest will be donated to the American Rescue Workers after the votes are tallied and announced by the Mayor at 7:30 p.m.
From 5:15 to 6 p.m., City Alliance Church and the Loyalsock High School Choir will be hosting a carol sing-along in the church on 380 West Fourth Street with background tunes provided by their magnificent church organ. After the sing-along, the two groups will then march down West 4th Street while still caroling. At the intersection of West 4th and Pine, the groups will be performing carols by candle light and invite anyone and everyone to sing along.
Also, don't forget: if you have a Shop Small Passport from Small Business Saturday with an incomplete set of stamps, this is your chance to complete it and hand it in! The deadline for handing in your completed passport is Saturday, December 14.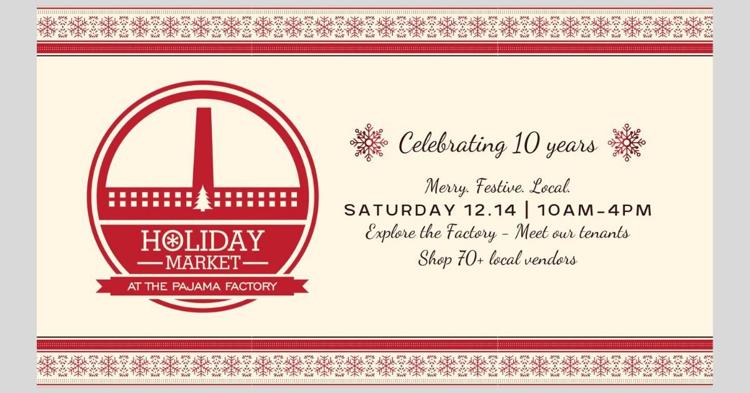 December 14: Pajama Factory Holiday Market; Holiday concert at the Community Arts Center
The Pajama Factory will be holding their 10th annual Holiday Market on December 14, from 10 a.m. to 4 p.m. 2018 was the best year on record for the Holiday Market, and the Pajama Factory's tenants hope that 2019 will be even better! There are over 75 vendors signed up to participate this year including potters, jewelers, and everything in-between. The Pajama Factory has posted a map of parking places and vendors in the Clearstory here.
The Holiday Market will also be Brian James Spies' last event as curator and director of the Factory Works Gallery before retiring from that position; help them step down on a high note!
Later in the day at the Community Arts Center, the Williamsport Symphony Orchestra will be performing a holiday concert beginning at 7:30 p.m. Working with the orchestra, the Williamsport Area High School Choir will be performing Vivaldi's Gloria, a perennial favorite choral and orchestral piece. Other featured songs include White Christmas, Polar Express, and Hanukkah Medley.
December 15: 13th annual Skip Hunsinger Christmas Spectacular
On Sunday, anyone who nabbed one of the tickets to the Christmas Spectacular in the Community Arts Center lobby on November 30 is invited to attend the celebration beginning at 2 p.m. The day's activities will include Christmas storytelling, a Kingdom Kidz performance, and raffles for prizes including Knoebels tickets.
Related reading: The "feeling" of Christmas: Events and celebrations all around the region