The U.S. Food and Drug Administration has learned that some ranitidine medicines, including products commonly known as the brand-name drug Zantac, contain a nitrosamine impurity called N-nitrosodimethylamine (NDMA) at low levels. Since the initial drug recall in September, there have been nine recalls in total for this drug, prompting major pharmacies, like CVS, to pull all name brand and generic medications with the ingredient ranitidine, from their shelves.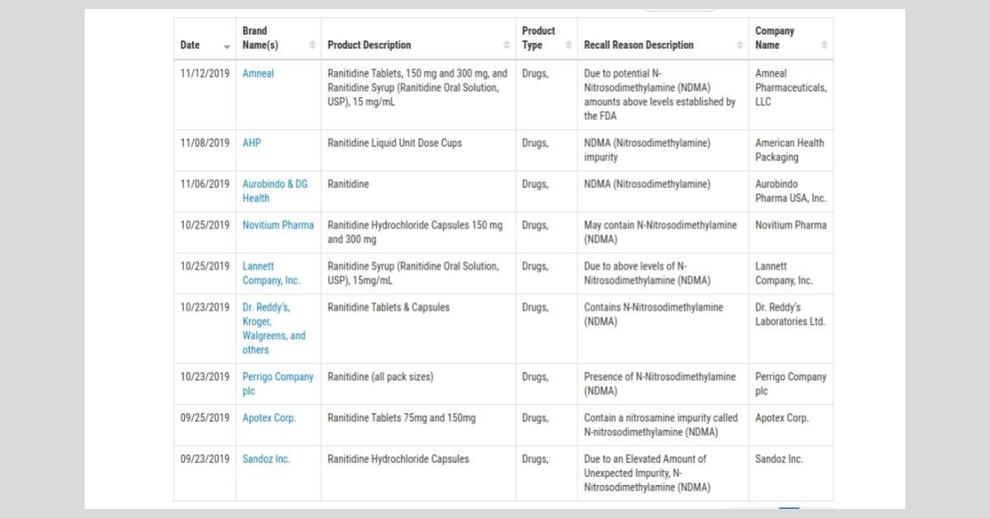 UPDATE: 
Glenmark Pharmaceutical Inc., USA ("Glenmark") announced the voluntary recall of all unexpired lots of Ranitidine Tablets, 150 mg and 300 mg, to the consumer level. The affected Ranitidine Tablets were distributed directly to wholesalers, distributors, retailers, and repackagers nationwide.
The 150mg products, product are packaged in bottle packs of 60's, 100's, and 500's, whereas, the 300mg products are packaged in bottle packs of 30's, 100's and 250's. 
The recalled lots of Ranitidine Tablets 150 mg and 300 mg, which are listed in the picture below, and contain different NDC numbers than previously listed in the other recalls. 

Ranitidine Tablets, USP, 150 mg and 300 mg, and Ranitidine Syrup (Ranitidine Oral Solution, USP), 15 mg/mL, are being recalled because of potential N-Nitrosodimethylamine (NDMA) amounts above levels established by the FDA.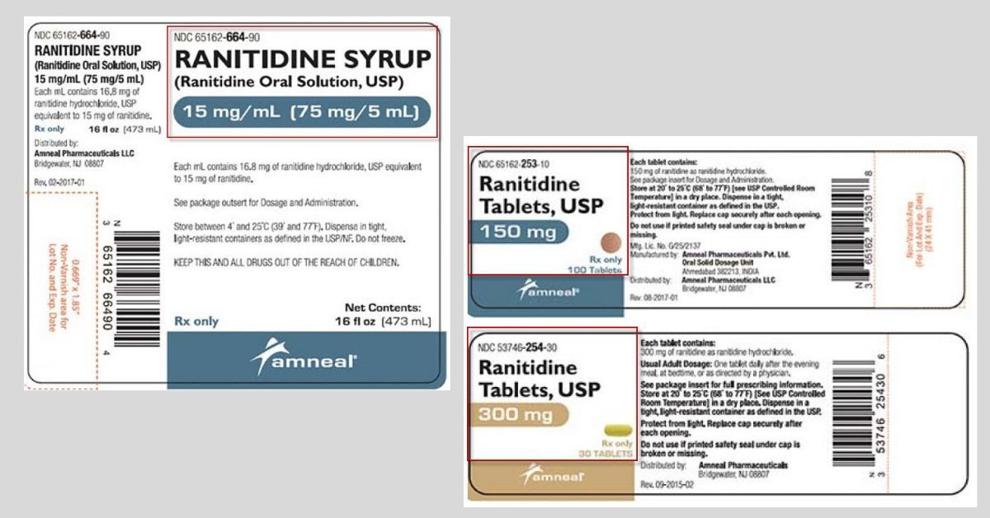 NDMA is classified as a probable human carcinogen (a substance that could cause cancer) based on results from laboratory tests. The laboratory-created chemical was initially used in the making of liquid rocket fuel and, "is not currently produced in pure form or commercially used in the U.S., except for research purposes," stated by the Environmental Protection Agency. NDMA is a known environmental contaminant and found in water and foods, including meats, dairy products, and vegetables.
The FDA has not received any reports of adverse events that have been confirmed to be directly related to this recall. Ranitidine Tablets, USP and Ranitidine Syrup (Ranitidine Oral Solution, USP), manufactured by multiple different companies (listed above), are prescription oral products. 
The Ranitidine Tablets, USP and Ranitidine Syrup (Ranitidine Oral Solution, USP) subject to the recall can be identified by NDC numbers stated on the product label. A list is provided below.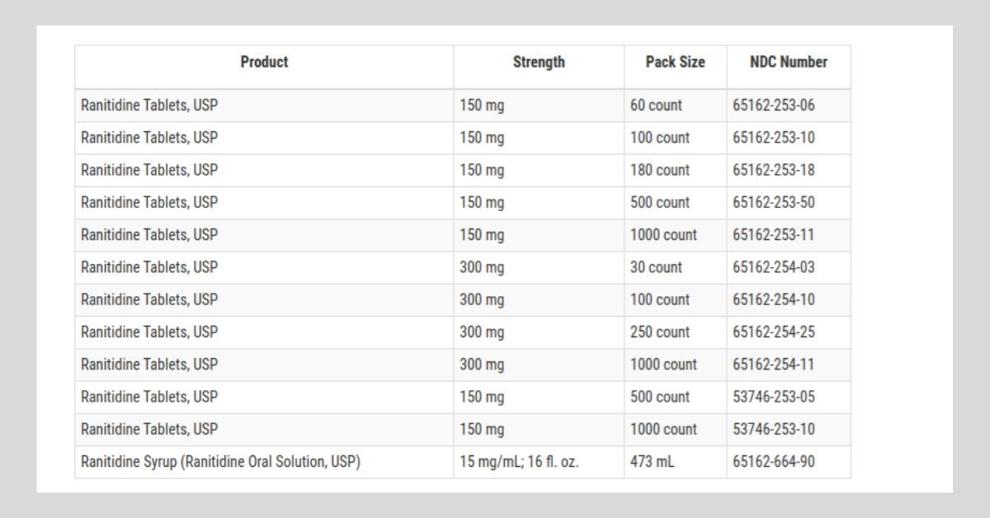 Glenmark is committed to product and consumer safety. It will continue to fully cooperate with the FDA as the agency evaluates ranitidine products for the presence of NDMA above established limits and formulates guidance for ranitidine manufacturers. As a further precautionary measure, Glenmark ceased distribution of its Ranitidine products in the United States while it continues its efforts to test and investigate in cooperation with the FDA.