The Williamsport Home invites the community to Winterfest Open House, offering resident hospitality tours to prospective residents and their families of the Independent Living and Personal Care apartment units of various sizes available on campus. 
Visitors can enjoy cookies and a hot chocolate bar with toppings and get a feel for the atmosphere and warmth of the staff and resident hospitality, on Tuesday, January 21 from 2 - 4 p.m. The Open House will be held in Valley View Apartment C apartment building on The Williamsport Home Senior Living and Continuing Care Retirement Community Campus. (In the event of inclement weather, the snow date will be February 4, 2020.)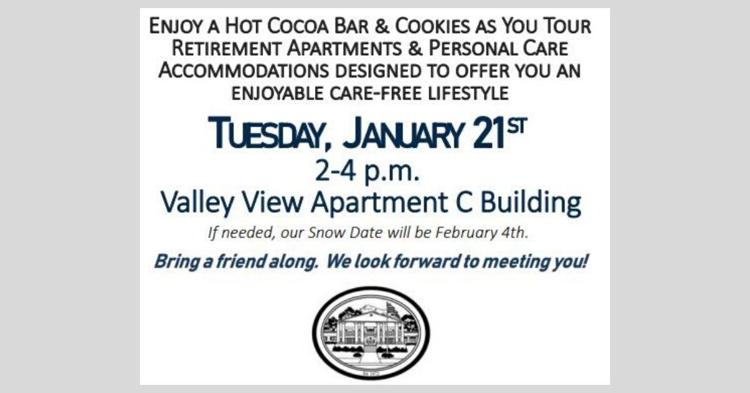 The Williamsport Home Independent Living and Licensed Personal Care Apartments offer carefree living, with home maintenance and care snow removal included, along with secure entrances, free laundry facilities on each floor, a small convenience store, outpatient therapy, beauty/manicure shop, coordinated wellness programming with an outside Pavilion, exercise stations, walking trails, bocce and shuffle board courts.   
The Williamsport Home offers a variety of living arrangements including independent living apartments; two levels of licensed personal care apartments; Ravine Ridge, a  short-term rehabilitation unit; a secure Memory Care unit; skilled nursing and End of Life suites and comfort care. Continuing care means residents will have ongoing options for care as needs change. 
Apartment rent is month-by-month and includes a noon meal seven days a week, private laundry, and public transportation six days a week, five times each day. The campus offers community lounges, programs by their wellness coordinator, and a Resident Governing Council.
A resident travel committee plans quarterly outings to locations such as the Finger Lakes, Dutch Apple Theater, Sight in Sound, Mohican Sun, and Shawnee Playhouse, as well as planned monthly outings to destinations throughout Lycoming County. 
Privacy, security, and a maintenance-free lifestyle with gorgeous views and tasty meals give residents the freedom to live life to the fullest, with assistance or support if needed.
Come experience The Williamsport Home's Winterfest Open House, January 21, 2-4 p.m., at 1900 Ravine Road, Williamsport, PA.