Business relocating to 228 West Third St., Williamsport, now accepting online booking for Friday, Sept. 13
Casey and Jeremy Mitchell, owners of Williamsport Escapes, are used to creating puzzles for other people to solve, so when they were faced with one of their own, they knew just what to do.
Williamsport Escapes opened at 201 Basin St. more than two years ago, but in their short history the business outgrew that location. They enjoyed mostly word-of-mouth advertising, poularity grew steadily, and the Mitchells realized they needed to increase their square footage to give customers the best escape experience.
"It is an experience," said Casey Mitchell of escape rooms. Both Casey and Jeremy notice a common phenomenon: when people are in their escape rooms, they aren't looking at phones, they're talking and working together.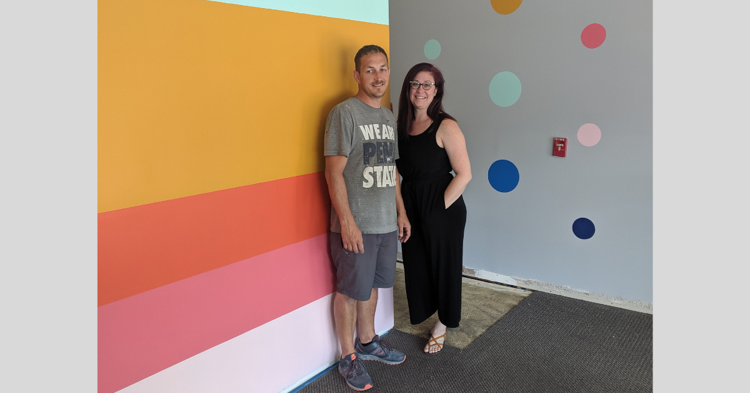 That's the point of an escape room. To figure out clues and prompts, make decisions, solve puzzles—together. Inspired by "escape-the-room"-style video games, participants in a physical escape room are given a set time to "unveil the secret plot which is hidden within the rooms." Each room is wired with audio and video, allowing the 'gamemaster' to monitor the group's progress and offer clues if requested.
"You get to disconnect from social media and connect with people in the room. It's a genuine experience," said Casey.
New location in the city
Now at 228 West Third St., the Mitchells have almost tripled their square footage, and their first room opens this Frday, Sept. 13, with a second to follow soon. 
The Mitchells are excited for their move into downtown Wiliamsport, joining other existing and new businesses that have helped to grow and revitalize downtown Williamsport. They've sourced the talents from local artists, including Lena Yeagle, who painted and created the focal point of one of the rooms, and their new registration desk is a work of art by local craftsman Tye Johnston.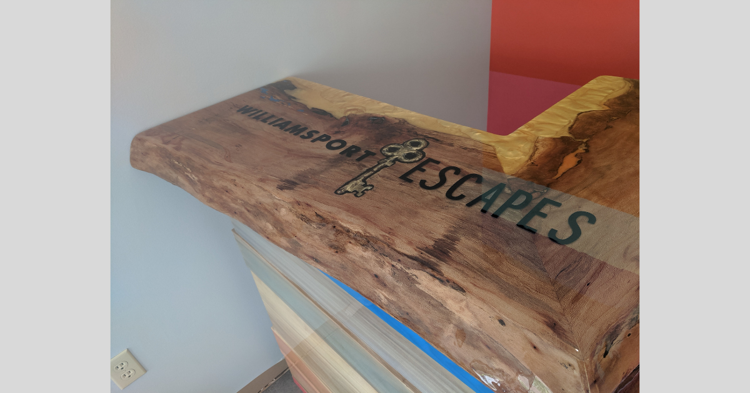 "All the room themes are brand new," said Casey, who takes most of the responsibility of conceiving and planning the themes. She pegs herself as the visionary while Jeremy is the engineer, figuring out how to make his wife's ideas become real.
"She goes big," Jeremy said, "and I make it work." His background in construction brings expertise in constructing the rooms. The puzzles also rely on technology, the "magic" behind the curtain, they say. 
Room themes to tempt the curious
With the new location come two brand new room themes. One is a classic board game theme, Board Game Takeover, where players have been trapped in the fictional Diffendoofer Museum of Toys. A game developer's games have been rejected for museum display once again, and he's overtaken the museum with an evil scheme of destroying all of the games--unless you make it out first.
The other is "D.B. Cooper's Treehouse."
In 1971, a man named D.B. Cooper skyjacked a Boeing 727 aircraft somewhere between Portland, Ore. And Seattle, Wash. He was able to extort $200,000 before parachuting from the plane mid-flight, never to be seen again. Though presumed dead, Cooper's remains were never found. The FBI maintained an active investigation for 45 years, amassing over 60 volumes in a case file. The D.B. Cooper's Treehouse room puts you in the shoes of the FBI, with the job of cracking the case.
Both rooms are suitable for gamers ages 13 to senior citizens. Gamers under 18 must be accompanied by a playing adult. The Mitchells are excited to create a third room in the future for the younger set, with situations and clues that engage curiosity and imagination, tailored to the abilities of kids ages 7-12.
The Mitchells are also planning to open a party room. "The party space will be available for birthday parties, conferences, bachelor and bachelorette parties, and team-building activities," said Casey. It's a place to gather a group after their escape—be it a triumph or attempt--for food and refreshments and socializing.
Regular admission price for an escape experience is $25 a person, and discount group rates are available for school and youth groups.
Online booking is now open for the D.B. Cooper's Treehouse room! Book your escape room experience and solve the mystery of a true-life escape artist!