Williamsport – UPMC Susquehanna Sports Medicine recently recognized and celebrated student athletes from 18 partnering school districts at the 2019 Champions Cup and Student Athletic Perseverance Awards. Student athletes, their family members, and school representatives were invited to attend.
"Our team is honored to serve student athletes, coaches, and athletic directors in our local school districts by providing sports medicine services to keep the athletes performing to the best of their abilities," said Michael Ludwikowski, outreach athletic training supervisor, UPMC Susquehanna. "We take pride in serving athletes across the region and have created a friendly competition among area schools through this award. Congratulations to all of the schools and student athletes for their performances this year."
The 2019 Champions Cup was awarded to Loyalsock Township High School. Thanks to a donation from Collins Sports Medicine, the school also received a $500 gift certificate for athletic training supplies. Student Athlete Perseverance Awards were presented to one athlete from each participating school selected by their certified athletic trainer, for perseverance in overcoming an injury to return to play during the school year.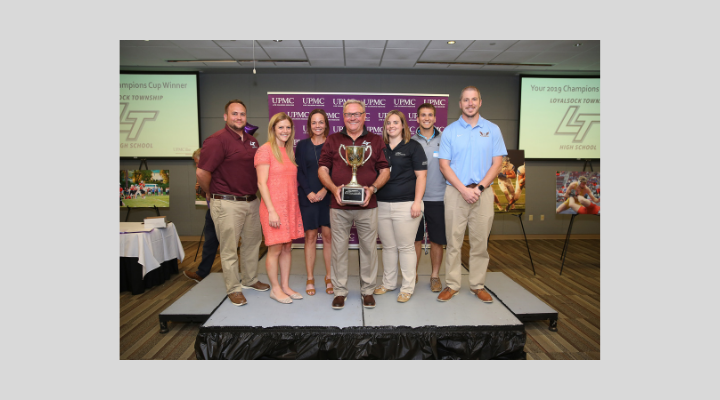 Student Athlete Perseverance Awards were presented to:
Aidan Hauser – Football and Track and Field – Wellsboro High School
Austin Soltesz – Football, Basketball, Soccer, and Track and Field – Warrior Run High School
Brayden Strouse – Football and Baseball – Montgomery Area High School
Cameron Fiester – Soccer – Sullivan County High School
Derek Atherton-Ely – Football – Canton High School
Derek Gee – Football, Basketball, and Baseball – Loyalsock Township High School
Faith Reed – Basketball – St. John Newman Regional Academy
Gable Crebs – Wrestling – Montoursville Area High School
Garrett David – Football and Basketball – North Penn – Mansfield High School
Gracie Snyder – Soccer and Track and Field – North Penn – Liberty High School
Jade Cordrey – Basketball and Softball – Hughesville High School
Julie Green – Cheerleading, Basketball, and Softball – Bucktail High School
Kaylee Sargent – Volleyball and Softball – Williamson High School – Northern Tioga School District
Mallory Eck – Volleyball, Basketball, and Softball – Central Mountain High School
Riley Hilner – Baseball, Wrestling, and Basketball – Williamsport Area High School
Sasha McGonigle – Basketball and Soccer – Muncy High School
Spencer Karasek – Basketball and Tennis – South Williamsport High School
Theodore Madison – Football and Track and Field – Cowanesque Valley High School
For more information, visit UPMCSusquehanna.org/ChampionsCup.