Impact fees collected from natural gas producers hit a record-breaking $251,830,900 for the 2018 reporting year, the Public Utility Commission announced Thursday.
The increase in revenue primarily was driven by a 10% increase in the number of wells subject to paying the fee. That number increased from 8,518 last year to 9,560 this year, the PUC said.
Impact fees are collected annually based on the age of the well and the price of natural gas, according to the trade group Marcellus Shale Coalition. "The price of natural gas has remained relatively constant over the past year and did not impact the well fee calculations," the PUC said in a statement.
More wells paid impact fees this year due in part to a December 2018 Pennsylvania Supreme Court decision on the definition of "stripper wells."
"Payments from producers of "stripper wells" - low-producing unconventional wells - previously were withheld during the years the case was in dispute, PUC wrote.
The collection of disputed payments from these "stripper well" producers accounted for $8.9 million of the total monies collected this year. Counties and municipalities "directly affected by drilling" will receive $134,740,050 - over half of the total impact fee distribution, PUC said.
The top five counties receiving the most impact fees for the 2018 reporting year were Washington County ($8.4 million), Susquehanna County ($7.2 million), Bradford County ($6.2 million), Greene County ($6 million), and Lycoming County ($4.2 million).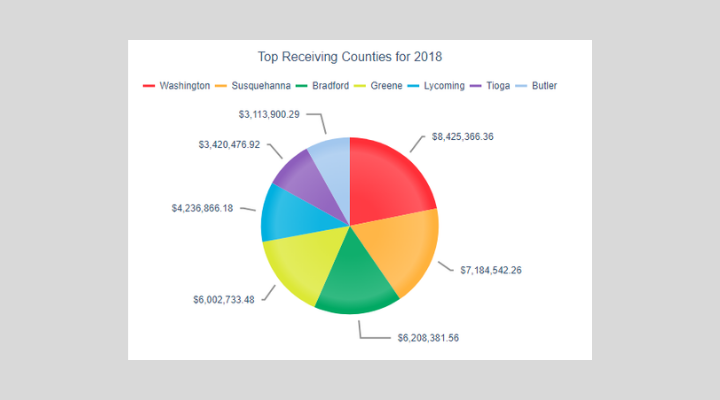 Counties placed over half of their impact fee dollars into their capital reserve funds in 2017, according to the PUC. Other top county spending categories were emergency preparedness/public safety, public infrastructure construction, and environmental programs.
The municipalities with the highest well counts for 2018 were Cummings Township in Lycoming County (248), Center Township in Green County (246), Cogan House Tonwship in Lycoming County (186), Morris Township in Greene County (182), and New Milford Township in Susquehanna County (177).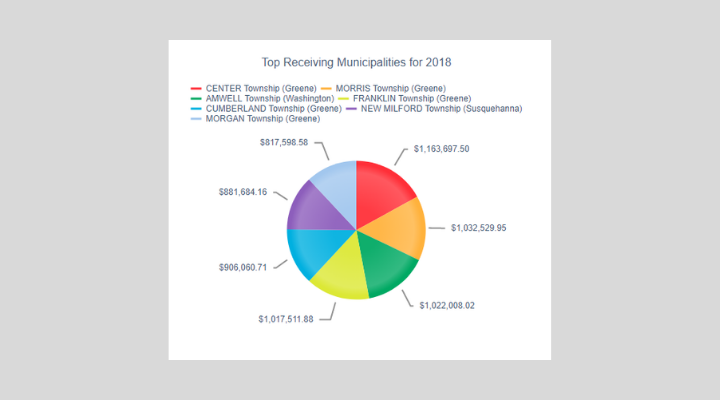 The impact fee assessed on a well decreases over time. A well in its first year of life may pay $40,00-60,000, according to the Marcellus Shale Coalition. By year four, that payment shrinks to $10,000-20,000. Producers pay no impact fee on wells more than 15 years old.
Due to the gradually decreasing rate of impact fee assessment, municipalities in Lycoming County had the highest well counts but were not among the top municipalities receiving impact fees for 2018.