Pennsdale, Pa. – More stores are leaving the Lycoming Mall and its environs, making 2019 a record year for store closings in the area.
Earlier this month, Gander Outdoors announced they were closing the mall location at an outparcel building on the mall grounds. An aggressive liquidation sale began, with initial discount amounts starting at 80 percent for some of the merchandise. The Pennsdale location had been open just over a year. It opened in May of 2018 as a replacement for the former Gander Mountain.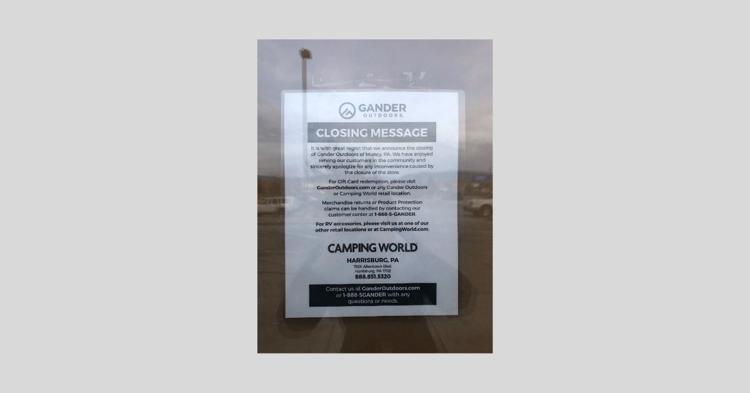 When a reporter visited the store on Thursday, December 26, 2019, the doors were locked. A sign on the doors directed customers with gift cards to shop on the website or visit another Gander Outdoors or Camping World location. The Gander Outdoors website does not currently. list any locations in Pennsylvania.
Inside the Lycoming Mall, the teen clothing retailer Hot Topic has store closing signs posted on its windows. An employee confirmed the store will close by January 25, 2020. The Southern California-based retailer has not initiated mass closings this year, as many other chains have. An article from the New York Times dated April 6, 2019 https://www.nytimes.com/2019/04/06/style/hot-topic-stores.html suggests that the teen retailer still has a viable business, though the owners, Sycamore Partners, have not publicly disclosed its financials since it acquired the chain in 2013. Hot Topic currently has 676 stores in the United States. A reporter attempted to call Hot Topic's corporate office several times to inquire about the Lycoming Mall location's closing, but messages were not immediately returned.
The Kitchen Collection, just two doors down from Hot Topic, was closed for good on Thursday. Employees were removing fixtures from the walls. The chain announced in October they were closing all 160 of their stores in the United States. Gregory Trepp, Chief Executive Officer of its parent company, Hamilton Beach Brands Holdings Company, cited declining sales "as a result of declining foot traffic due to the consumer shift to e-commerce sales."  
The Lycoming Mall has struggled since anchor store Macy's left in March of 2017. Since then, a domino-type effect has happened at the mall. Anchor stores J.C. Penney, Sears and Bon-Ton have left the mall. The only remaining anchor store is Burlington Coat Factory. In February 2019, Cube Smart storage units moved in the former Macy's store. The former J.C. Penney, Sears and Bon-Ton stores remain vacant.
Other stores that have left the Lycoming Mall in 2019 include: The Children's Place, Payless ShoeSource and Pier 1. A.C. Moore, another outparcel store in the mall complex, started liquidating merchandise in November. The arts and crafts retailer is yet another company that decided to shutter all of its stores this year. Payless ShoeSource also closed all operations this year. The footwear retailer had filed bankruptcy twice since 2017, before deciding to dissolve operations.
At nearby Lycoming Crossings, the lights were out Thursday evening at the women's fashion retailer Dressbarn. In October, parent company Acena Retail Group announced they were closing all 650 brick and mortar stores by the end of the year. The Pennsdale location had just wrapped up their liquidation sale by Christmas.
Bed, Bath, and Beyond, which is in the same strip mall, also announced their closure a few months ago. That store has only a few days left until they shut their doors for good. The home goods retailer, citing poor sales, said earlier this year that they would close 60 underperforming stores.
For 2019, there were nearly 9,000 store closings announced – more than were announced in 2018, according to Moneywise.com. The growth of online shopping is cited as one of the main factors for the store closings. Investment bank UBS predicts that another 75,000 stores could close by 2026.
Mike Kohan, owner of Kohan Retail Investment Group which owns Lycoming Mall, could not be reached for comment Friday on future plans for the mall. The investment group, based in Great Neck, New York, owns 28 other malls across the country including Colonial Park Mall in Harrisburg, Pa.
Related Reading: https://www.northcentralpa.com/business/black-friday-shopping-hampered-by-local-store-closings/article_c324d280-113b-11ea-9593-2f4f19767414.html