Guitarley's Open House is November 23, 1-7 p.m., inviting past and future customers, friends, and fans to visit the new location
It's easy to credit good karma or, "the universe," when it seems like everything is falling into place. And maybe Sean Farley has a bunch of good karma coming his way, but his recent successes have a lot to do with straight up perseverance and hard work.
Local musician, songwriter, luthier (the formal term for guitar-builder), and owner of the store Guitarley's, Sean Farley has been hard at work the last few months, renovating and relocating his custom guitar sales and service shop from downtown Williamsport to 611 Oliver St., in the west end of Williamsport.
The move comes at the right time for Farley, who was outgrowing his rented location in the city. He needed more workshop and storage space for materials and tools. He wanted to create a stage area for customers trying out new guitars or testing their own after repair. He was interested to invest in his business and future by paying a mortgage rather than monthly rent.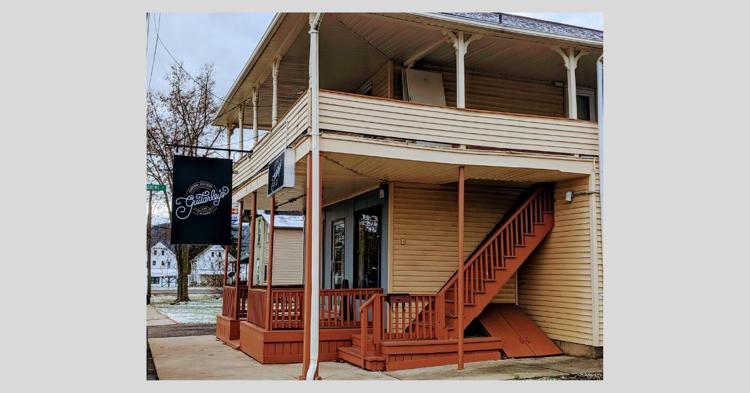 Then the 611 Oliver Street store hit the market. 
Formerly a sub shop, a general store, and even a penny candy store at one point in time, the location seemed, at a glance, to have everything he needed. "This place more than doubled the square footage of my old shop," said Farley, though it needed a lot of work. He contacted his realtor, took a walk through, and his vision for the shop kicked into place.
The new shop carries a bit of the vibe that the original location had; signature colors of orange, natural browns, the rough cut of wood, and the familiar sight of guitars hanging on the walls are all reminiscent of the downtown Guitarley's. Farley is excited about the extras—a lounge/seating area next to the large front window; a more spacious restroom for customers; a bar in the rear of the shop, where customers and friends can gather, and his favorite new feature, the stage.
"I have always wanted a stage area," Farley said. Now customers can get the feel of giving a performance on the new stage area when they try out their repaired instrument or a new guitar in the shop. The space is also perfect for recording professional videos or setting up photo shoots.
The upstairs of the building includes an apartment that Farley is also renovating to live in. "It's a profound feeling," he said of owning his home and his shop. "I was nervous to walk into the bank for a loan," he said, not wanting to be rejected. He's a songwriter, musician, and he's self-employed. "I half expected them to laugh, tell me 'you're not an adult!'" 
Instead, Farley's reputation preceded him, and the bank was eager to work with him. "Me being good at guitar made the bank excited to help," said Farley, with a mix of humility, humor, and a growing confidence in his future.
Blood, sweat, and renovations
Renovating the shop has been nine weeks of grueling labor, late nights, early mornings, and—he'll admit it—calling in favors. "I've been pretty nice," Farley joked, and now he says he's indebted to many friends for the help they've extended and for construction expertise.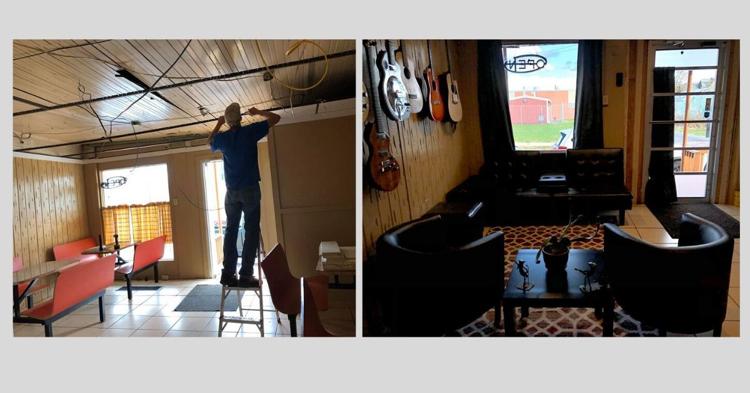 Maybe no one deserves Farley's gratitude more than his father, Bob, who has been by Farley's side from the moment the deed was signed. Now retired, the elder Farley brings extensive construction knowledge and his good humor and camaraderie. "This has been an awesome bonding experience," Farley said. "We're doing all of the work ourselves," he explained. Not every detail is perfect. The building is old and they had to jack part of it up where it was sagging. "When I see an imperfection, a piece of trim that doesn't line up, it makes me smile," Farley said. "There are parts of everyone who has helped in this project."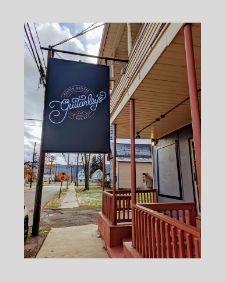 Guitarley's Open House is Saturday, November 23 from 1-7 p.m. at 611 Oliver St., Williamsport. Come enjoy light refreshments, tours of the new shop, and learn about what's next for Sean Farley and Guitarley's.